Scaling internationally – the key to successful Insurtech market penetration into the US Market.
About this event
In this event, we will share key insights, knowledge and resources around scaling successfully into the US market. We will also hear a case study of an insurtech that has successfully done just that.
Key Topics:
What the current landscape looks like for our Aussie insurtechs looking to scale into the US market.
What resources and opportunities are available?
What are the main hurdles to overcome?
Case Study on a successful Start-up that has already scaled into the US, Cover Genius
We will hear from:
David Gritz, Co-Founder of InsurtechNY
Stacey Brown, Founder of InsurTech Hartford
Elise Webb, Investment Director at Austrade (New York)
Justin Turner, VP Strategic Partnerships at Cover Genius
Megan Brandt, Program Manager at Global Insurance Accelerator
Rita Yates, CEO and Co-Founder of Insurtech Australia
Join us at 09:00 am (Australia AEDT time) or 7:00 pm (ET time - 28th September). We look forward to seeing you virtually.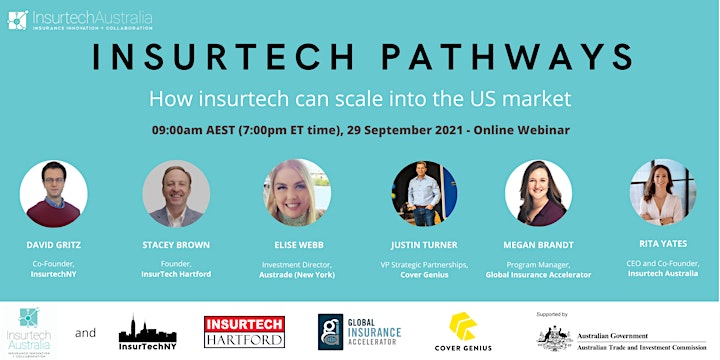 Organiser of Insurtech Pathways: How insurtech can scale into the US market
Insurtech Australia is a national, not-for-profit organisation, run for the benefit of our members and partners across all corners of Australia. We aim to support and grow the Australian insurtech community including insurtech startups, insurers, hubs, accelerators, and investors, and advocate on behalf of our members and partners.
Join the Insurtech Australia Community on LinkedIn at www.linkedin.com/groups/10360377