Inspiring Science: Exploring Inner Space – parasitology & quantum mechanics
Description
Two researchers with two very different interests.
Parasitologist Dr Joel Barratt from UTS takes us inside the fascinating world of parasites to explore the worms, ectoparasites and other organisms that live in our bodies. Joel will talk about representations of parasites in popular culture and advances in the study of parasitic disease.
Dr Gang Zheng, a chemistry lecturer at the University of Western Sydney, develops quantum mechanics-based techniques to manipulate and detect macroscopic magnetisation. Gang will explain how these techniques can be used to reveal the major chemical components in any sample, from rum to animal tissue.

Inspiring Science is a new series of talks by early career researchers, presented by Inspiring Australia (NSW) in partnership with City of Sydney Library.


Image: Chemistry researchers use MRI techniques to analyse internal structures of all kinds of matter ­ in this case a small calamansi fruit.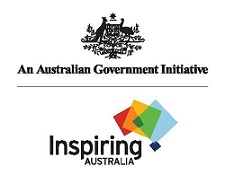 Organiser of Inspiring Science: Exploring Inner Space – parasitology & quantum mechanics
The City of Sydney Library network offers an extensive range of modern library services and resources, including access to over 500,000 items through 9 branches. Relax, meet up, access information, visit exhibitions and be inspired by these vibrant free and accessible public spaces.