Let's support our brothers, fathers, partners, sons, and friends by inspiring men's health awareness. It's a picnic for a cause!
About this event
Restrictions are easing, yet once again in Melbourne. We have shown how resilience can be so powerful to overcome adversity. Well done Melbourne. 👏👏
We are heading back out to live a little, and this time we're having a picnic, and it's not just a picnic, it's a picnic for a cause 🙏
Many of us have heard of Movember, a leading organization that supports men's health around the world.
There are numerous different reasons men suffer many health issues. More than ever before, fueled by COVID, these stats could open our eyes.
Check out some amazing stories of men from different walks of life, their journeys through mental health problems, cancers, and other health issues here
They say precaution is better than cure, our picnic is an initiative to support, care for, and raise awareness regarding men's health. When you purchase your tickets, donate as you wish, all proceeds from the tickets will go to https://au.movember.com/
Please come along and bring a friend. According to current restrictions, this event is open for only 15 fully vaccinated person, we may open more tickets if restrictions eased further.
It's a BYO event, food, and drinks (including alcohol). BBQ will be in the vicinity, you can BYO BBQ items as well if you want.
At Inspiring Singles, we love to see members happy, and this resonates in everything we do 💃🏻🕺🏻
Not a member yet? You can join our private Facebook group here
Give - Live - Make Friends at our charity picnic.
Want to join us? Please get your tickets now 😀
Look forward to meeting you soon.
Hey, don't forget, we are on Facebook, you can join us here or give us a like on our Facebook page here :-)
Cheers,
Founder | Event Organiser | Connections & Empowerment Coach
-COVID Safety - Please follow current COVID-19 restrictions on the day of the picnic. No facemaks are needed. Event is open to only 15 fully vaccinated people.
-By joining the event, you agree to this Liability Waiver here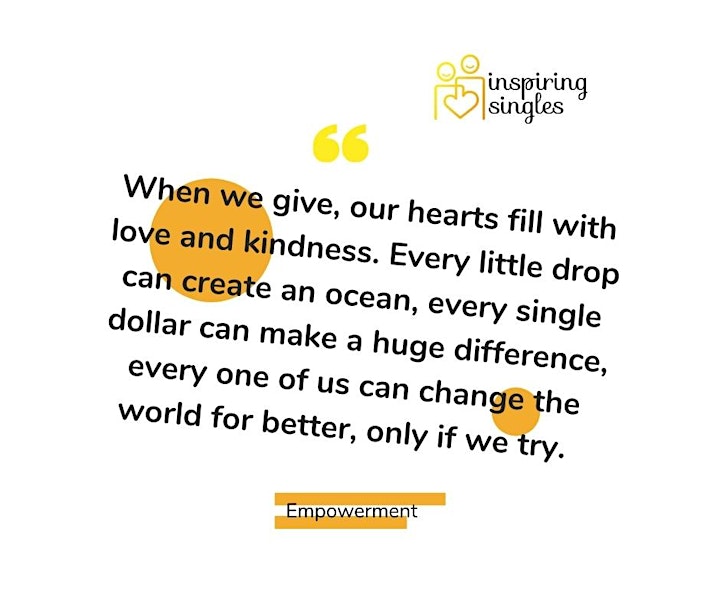 Organiser of Inspiring Mens Health Awareness | Movember Charity Picnic
Inspiring Singles Founder, Coach, and Mentor.
Passionate about supporting singles to build genuine love connections through empowerment.
There are two main reasons why I organise events for you online and offline
To build connections through similar interests of food, tours, socialising, travel, and more. Connections that may turn into beautiful friendships, an amazing romance, meaningful relationship, or more.
To build empowerment through self-belief and confidence by coaching, mentoring, workshops, and more. Empowerment that may help you to come out of the cage of unhappiness so you can start living a fullfilling and happy life.
For support in the areas above, you can contact me here