Inspirational, Fun & Practical Resilience Event for Adults, Parents & Youth
An inspirational and fun evening full of practical tips and strategies to increase resilience and mental wellbeing
About this event
This event will be inspiring, interactive, engaging, valuable and full to the brim with very practical and easy to implement tools and strategies.
I'll share with you a stack of tools and tips to increase your resilience, effectively cope with stress and anxiety (and teach your children how to do the same!) feel better about your body & fill up your wellbeing cup on a daily basis.
We spend money on Uber eats, online shopping, gifts and toys for kids - this investment is towards your mental health and wellbeing and there is just nothing more important than the health of your mind.
I promise it will be worth it!
WHAT ARE PEOPLE SAYING ABOUT AMY'S PRESENTATIONS?
"Amy, you have this positive, upbeat nature that is truly a gift. We have had some very positive feedback from our conference attendees of which I've quoted a couple below:
"Excellent and deeply involving."
"Absolutely fantastic presentation!!!
"Inspirational – excellent use of personal experience very very helpful."
"Beautiful life transforming presentation."
"Amy is brilliant – loved her."
"Too short. Could have listened to her all day"
"Beyond criticism, fantastic."
"So inspirational."
"Amy – Amazing."
"Very insightful."
Melody Dexter, Liaison Officer, The School Volunteer Program
"Amy, there is not much more I can say but THANK YOU!!!!! You certainly touched some nerves amongst the 500 staff; below is a couple of examples of messages for you. Amy, you made them think. You made a difference. Thank you for coming into our lives. Thank you for being our Keynote Speaker. I wish you all the best"
"You were fantastic! I have been telling others how amazing you are and they should have you come speak at their schools. Well done."
"Such a captivating and amazing speech."
"Fantastic and inspirational speech."
"Fantastic presentation this morning. Will be in touch about coming to speak to the kids at our school."
"Thank you very much for speaking from the heart and opening our minds. I really gained from both the presentation and the workshop."
"What an amazing presentation today. Thank you for sharing your story. I hope I get to listen to you again one day."
"Was fantastic. Would have loved to listen to you all day. Thank you for having the courage to share your message."
"Such a moving presentation, thank you for sharing!"
"You were incredible!!! Even as an adult I could relate to so much of what you were saying. Made me a bit teary!"
David Sweet, Network Executive Officer, Joondalup Learning Community"
Thanks so much for today. You were brilliant. So far nothing but positive feedback! You have a natural ability to own the room and connect with the audience. Your story was very touching, inspiring and encouraging. Keep doing what you're doing. You are helping to change the stigma of mental health one event at a time."Stewart McDonald, OSH Manager & Fiona Carlino, Landcorp
"Thank you for your amazing presentation in Melbourne today with the Young Dairy Network Australia team – truly inspiring!" Belinda, Subtropical Dairy
"Amy is energetic and engaging. She is able to connect with a wide range of audiences, from school children to youth, to adults alike. She is a great speaker and her positive attitude towards talking about mental health, hope and recovery embodies all the objectives of National Health Week awareness." Rod Asbury, Chief Executive Officer, W.A. Association for Mental Health (WAAMH)
WHO IS AMY COOMBE?
Amy is a National speaker, facilitator, author, accredited Life and MBIT Coaching Practitioner and PRINT Coach.
Amy has appeared live on the ABC News, on Channel 10 'The Project', Channel 7 'Today Tonight' and been featured in CLEO Magazine, The Mental Health Commission Magazine 'Head 2Head', WA Family Magazine 'Offspring', The Sunday Times, Perth Now & The Australian Online. Amy has been the official Ambassador for Mental Health Week in Western Australia. In 2013 Amy was nominated for the Australian Education and Leaderships 'Most Positive Role Model of the Year' award. Amy speaks with heart, humour and honesty, creating moments of reflective silence followed by roars of laughter and a positive shift of energy.
Amy is a fully recovered survivor of Anorexia, severe Depression and self harm that she lived through as a teenager. She is an advocate for Mental Health and smashing the stigma associated with living with a mental illness.
Amy is also a Wife and Mum to 3 kids (6, 5 and 1) who are her world! She runs a wellbeing and resilience practice where she does one on one coaching and mentoring, group workshops and parenting workshops.
Amy doesn't just teach and preach this stuff, she lives it day in and day out with every fibre of her being.
**Note: Header photo credit goes to Zero2Hero and their 'In Your Head' Annual Youth Event that I had the honour to MC **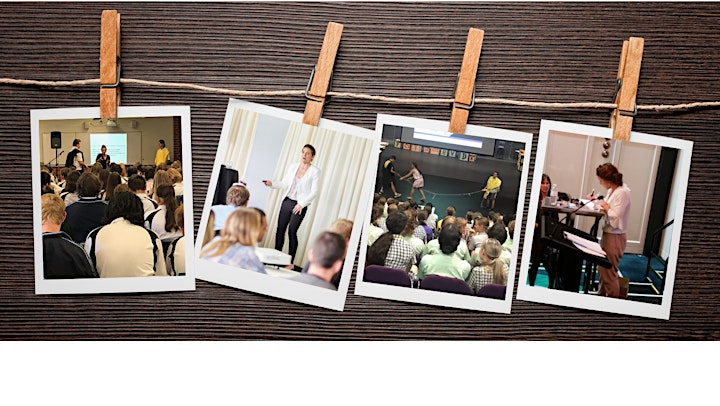 Organiser of Inspirational, Fun & Practical Resilience Event for Adults, Parents & Youth