Description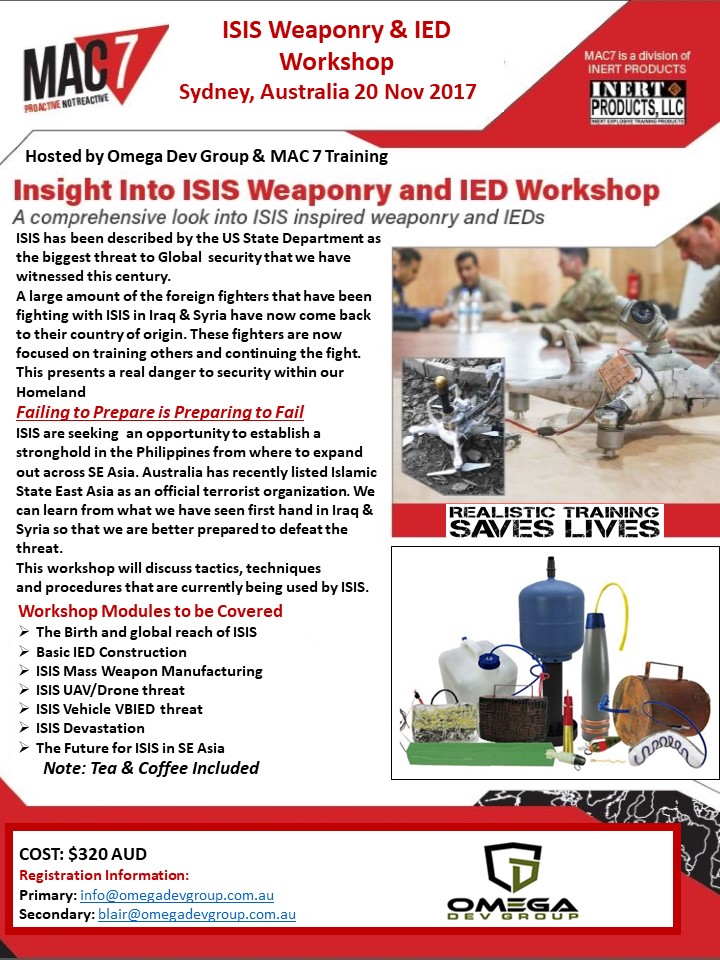 This one-day workshop will provide participants with a fundamental approach to understanding the threats posed by ISIS, Islamic militant groups, and followers inspired by their actions. Students will take a hands-on approach to learning, exposing them to various forms of ISIS-inspired devices and methods of construction. Interaction with examples of realistic IEDs is key to understanding the fundamental approach to device construction and methodology. This workshop provides insight into the birth, global reach, tactics, techniques, and procedures (TTPs) they have adopted.
From its inception, ISIS has demonstrated its effectiveness to produce mass quantities of IEDs and weaponry throughout Iraq and Syria. Unique and sophisticated weapon delivery platforms have emerged and continue to evolve with the increased use of assault suicide vehicle bombs (VBIEDs) and aerial delivered improvised munitions (ADIMs) dropped from commercial drones or UAVs.
MAC 7's ISIS Weaponry and IED Workshop structure will comprehensively cover both basic and advanced subjects surrounding this topic. You will leave this workshop with a more in-depth understanding of ISIS capabilities and why it has been the biggest threat to global security this decade.



George J McKerrow, Director of Training for MAC 7, has over 30 years of experience in Counter Terrorism and C-IED, and is CCTP certified.



George has operational experience in Northern Ireland, Falkland Islands, Bosnia, Kosovo, Afghanistan & Iraq, and has conducted multiple training events in the U.S., United Kingdom, Canada, Germany, Italy, Hungary, Slovakia, Thailand & Japan in support of Counter Terrorism.



FAQs
Transport
8km from Sydney Airport to ICC Sydney with an average drive time of 25 minutes

Easy to get to with 94 domestic, regional and international destinations serviced by Sydney Airport
Sydney Light Rail has two Darling Harbour stations
Train Stations at Central and Town Hall are only a short walk away
Taxis at Darling Harbour are available from two ranks
Ferry terminals nearby include Darling Harbour, King Street Wharf, Barangaroo and Pyrmont Bay
Water Taxis depart from The Rocks, Circular Quay, Sydney Opera House and Luna Park for Darling Harbour
Car Parks are located within ICC Sydney as well as across Darling Harbour
Coaches and Private Cars can deliver guests to the door
Is Food and Beverage provided?
Water IS provided during the event.
Coffee and Tea IS provided for morning tea.
Food IS NOT provided.
A large selection of Resteraunts can be found at the Harbourside Shopping Centre and surrounding areas. A 5 minute walk from the ICC.
What can I bring into the event?
A packed lunch, snacks and water bottle.
Paper pad and pen is provided, however you are welcome to bring your own writing material.
An attitude to learn.
How can I contact the organiser with any questions?
Send all questions to: info@omegadevgroup.com.au