Sales Have Ended
Registrations are closed
Thank you for registering for the 2019 Insight Hack. We look forward to welcoming you to the discussion. You will receive an update in the coming week.
Sales Have Ended
Registrations are closed
Thank you for registering for the 2019 Insight Hack. We look forward to welcoming you to the discussion. You will receive an update in the coming week.
The hack is back: An invitation to get creative
About this Event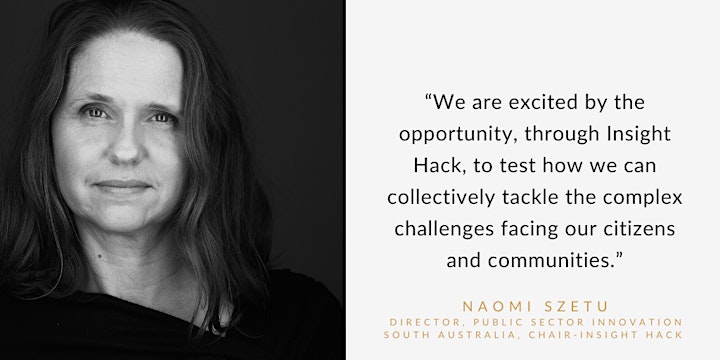 We're organising a hackathon for Australia!
It's free, and it's for everyone in government — not just programmers. So mark your calendar for the weekend of 25 and 26 October, sign up with a friend, and join Insight Hack Australia for the most creative shared intelligence experience you'll spend time on this year. Along the way engage with diverse, rich and disruptive thought leaders on Insight Hack webinars.
First things first: what is a hackathon? Don't worry, it's not illegal, and it has nothing to do with security. It has to do with ideas and collaborative policy creation. Here's a definition from Wikipedia:
A hackathon (also known as a hack day, hackfest, or codefest) is an event in which computer programmers and others involved in software development, including graphic designers, interface designers and project managers, collaborate intensively on software projects.
We would add that we just need a lot of policy innovators — you can bring your knowledge of workflows, attributes, ideation, implementation, cabinet submissions, targets, or behavioural economics. We need all of that.
A real-time, national insight hacking challenge.
Network with peers across jurisdictions
Acknowledgement and awards for solutions
3-month access to Mindhive
Online events and forums
The three public sector nominated issues are live. Join these important discussions:
Government in the digital age - collaboration & transformation
The Future of Work - preparing Australia's workforce
Mental health - Towards Zero Suicides
The Hack has three Awards:
'Insight Leader Award' - voted by your peers
'Fostering Innovation Award' for cross-jurisdictional collaboration
'Insight Impact Award' as voted by the Insight Hack committee.
Registration is free and open for the duration of the hack.
Creativity in policy
The best thing we can do with our skills — and to acquire new ones — is create things. And if we create things with and alongside others, we learn from them and they learn from us, and we make lasting connections with people. We saw all this last year, when we built Austrade's ideas and solutions platform.
The event is online — less than 1min from wherever you are 😀. We are opening up especially for you — so we'll have the platform to ourselves. Just us, our laptops, high-speed WiFi, and lots of virtual tacos. Sign up here. It's going to be awesome.
The best in Australia
This hack is blessed with some forward-looking governments that know all about innovation in policy design and implementation. We are thrilled to have some of them as partners in the initiative. So far we have generous support from South Australian Public Sector Innovation Lab — creators of the Connected Youth Journey Lab — IPAA — creators a national series of activities for Australian government departments, and LGAQ — creators of Local Buy, a core business focusing on contracts; establishing common-use procurement arrangements for councils and government entities. A massive thank you to them all.
If you think your department might be up for supporting the event, please get in touch! And remember, a fantastic way to support the event — for free! — is just to come join and take part. Sign your team up here!
Graduate support
We know there's a lot going on for most departments, and we know it's easier to get money for traditional things like courses. So... We promise that this hackathon will bring you at least as much lasting joy, insight, and skill development as any course. And, if you'll write and tell us what you'd like to contribute, we'll consider you for help to cover any event costs. No strings. Send your ideas to hello@mindhive.org.z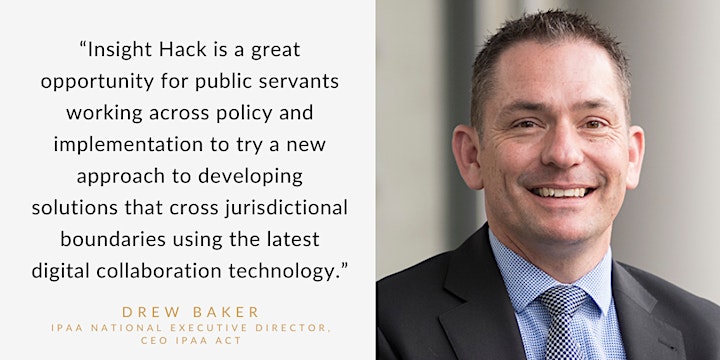 Insight Hack Webinar Series
The world has gone non-linear, yet more often than not, we're still running a linear and analogue approach to consultancy projects. From finding domain knowledge to the unrealised potential and value of bringing together seasoned problem solvers
The Insight Hack Webinar Series brings thinkers from different domains to think out loud on the landscape of seemingly unsolvable challenges. Why? The best answers can come from the strangest places. Join the webinar and then explore the insights further in the dedicated Mindhive discussion space.
NEXT UP
Webinar #3 with Martin Stewart-Weeks | TBC
Join Mindhive CEO and founder, Bruce Muirhead with "Are We There Yet" author Martin Stewart-Weeks as they share helpful framing of the many different approaches to "co" in public governance ...how to calibrate the scope and intensity of engaging people and communities in planning, thinking and deciding the public work that impacts their lives.
Upcoming Webinars:
MISSED OUT?
Webinar #1 with Naomi Szetu | 6 November 2019
Access the recording > here
2019 Insight Hack Chair Naomi Szetu (Director, SA Public Sector Innovation) and Bruce Muirhead (CEO, Mindhive) explore how collective intelligence can help the public sector tackle our most complex policy challenges.
Webinar #2 with Nick Burnett | 19th December 2019
Access the recording > here
Education and learning entrepreneur, author and executive coach Nick Burnett (Co-Founder Learn Tech Lab and Director FutureWe) connect his thought leadership in education and exponential technologies with the Hack challenges - Government in the digital age; The Future of Work in Australia; and Mental health – Towards Zero Suicides.
Powered by Mindhive
Mindhive is a global crowdsourcing platform accelerating innovation and building community around quality insight. Mindhive is inexpensive, modern, inclusionary and efficient – allowing us all to get to to good ideas and actionable insights.
Designed by Josephmark, Mindhive won the World's Boldest Crowdsourcing Platform Award in Venice in April, 2019.