Description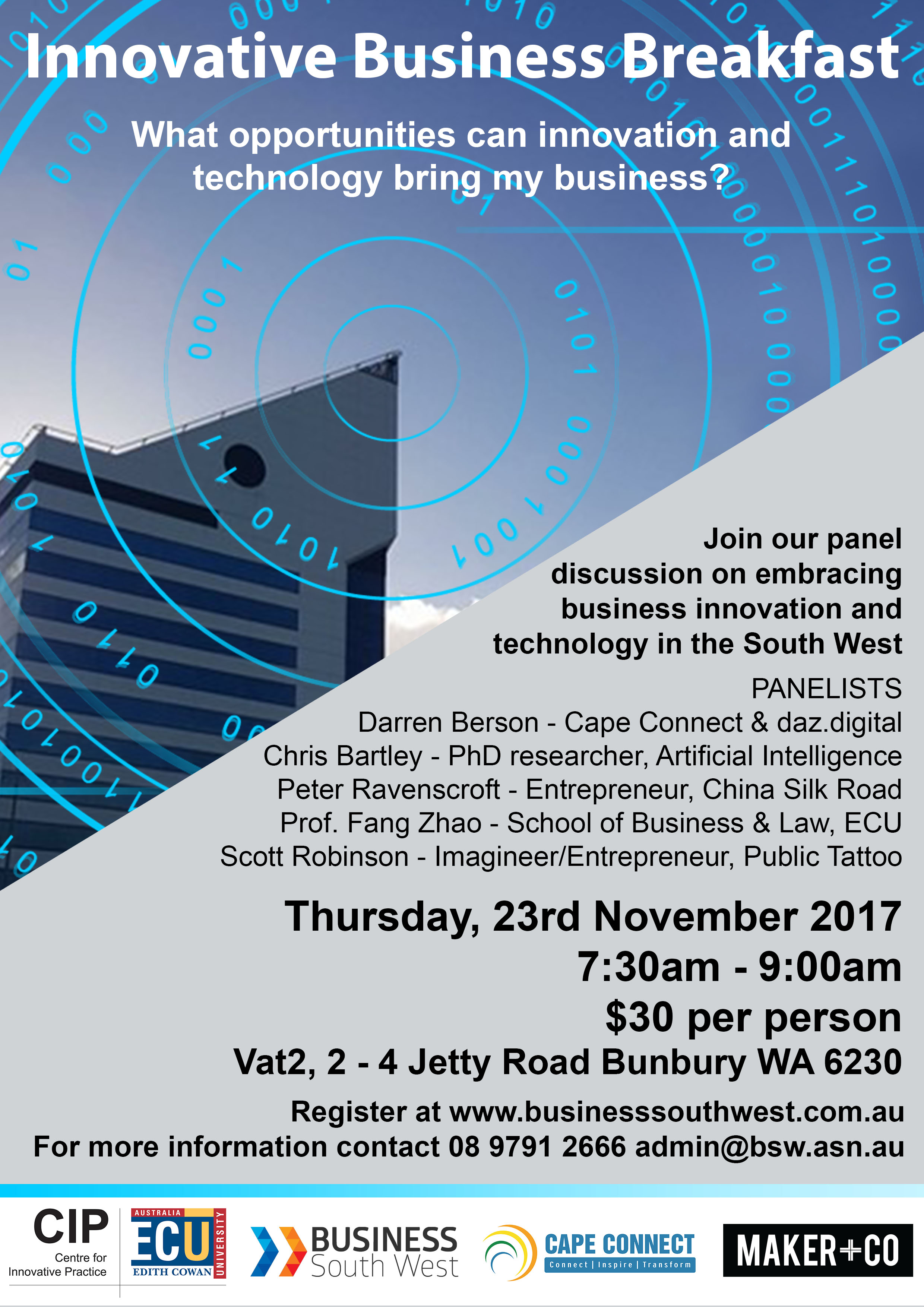 Come and join our panel of speakers in a conversation on how innovation and technology can create opportunities for your business. Our team of panelists will take you on a fascinating and insightful journey that will help you better understand how you can embrace business innovation and technology to future-proof your business.

Topics of Discussion

Prof. Fang Zhao - The future of business and work in a world of digital technology and digital entrepreneurship.
Darren Berson - Embracing automation in your business today.
Scott Robinson -Future-proofing your business through creative thinking and embracing innovation and technology.
Chris Bartley - What Artificial Intelligence can mean for South West businesses.
Peter Ravenscroft - Going global - on the road to China in pursuit of niche markets.


Meet Our Panelists

Darren Berson has completed a Bachelor of Commerce at Murdoch University and Postgrad in Information Systems and Masters in Electronic Commerce at Curtin University. Over the last 20 years, Darren has had experience working with international corporations in software implementation, management of technology contracting firms and in recent times has started and developed 3 major business ventures specialising in technology contracts management, workforce management and cloud based business automation. A finalist in the WA Business News 40 under 40 in 2010 for his innovation in formulating a consortium turning over in excess of $30 million in 5 years providing technology professionals to the WA government, Darren has continued his innovative spirit having moved to Busselton in 2013. Since moving, new business ventures and opportunities have been created including managing technology contract resources around the country and the delivery of digital business solutions to a range of clients throughout Western Australia.

Chris Bartley earned degrees in Mechanical Engineering and Computer Science at UWA in 2001. He worked as an engineering consultant until 2007 before moving into project management at the Water Corporation. As a Senior Project Manager Chris managed teams to deliver major water pump-stations and treatment plants in the North West, until 2014 when he won an APA scholarship to study a PhD in Computer Science (Machine Learning). He is now completing the final year of his PhD, and is excited about the potential for machine learning and AI to transform stagnant industry sectors.

Peter Ravenscroft has grown up in Busselton and has a real heart for the region and its marketplace. He is an Entrepreneur who is eager to promote and support Innovation in the now and coming generation. His latest venture is working on projects with China's One Belt One Road, aiming to bring sustainable opportunities to the South West Region and Australia. Peter is constantly seeking new business opportunities that can further his Entrepreneurial spirit and opportunities for the South West.

Fang Zhao is a Professor of Management at the School of Business and Law of Edith Cowan University. She is a passionate researcher and educator who inspires people and organizations to embrace and capitalize on the challenges of disruptive digital technologies and prepare for the future. Her current research focuses on the rapidly growing phenomena in the digital economy – Digital Entrepreneurship and Smart Cities/Regional Centres.

Scott Robinson is the mind behind Public Tattoo - a unique constancy dedicated to problem solving.
With his unorthodox approach and unbridled passion, Scott is a unique beast. Creative yet analytical, crazy yet calm, he exudes energy and is infectious by nature.
While his LinkedIn profile will provide you with a clear snapshot of his remarkable achievements in a relatively short amount of time, Scott is not someone you read about. He is someone you experience.
With a focus on conceptualisation, idea generation, innovation and technology integration, Public Tattoo is a unique blend of strategic thinking, creative ideology and tech engagement.
Scott is synonymous with his highly successful and internationally awarded agency Jack in the box. Not content to sit still, he created Public Tattoo to challenge peoples thinking, shift ideas on how to solve problems and create an impact - a permanent mark.