The Innovation Playground is a family festival of Science, Technology and Innovation!
About this event
Between 9am and 2pm on Saturday 26th June, Civic Park in Darwin's City Centre will come alive with robots, drones, eSports, rockets and much much more.
Enjoy a beautiful dry season day picnic in the park while learning to build a robotic arm, fly a drone, design a spaceship, launch a rocket, code a game or even challenge a friend while learning to code games for eSports.
Attendance is free, registration is appreciated!
This event would not be possible without the combined efforts of Charles Darwin University, City of Darwin, Inspired NT and the NT Government.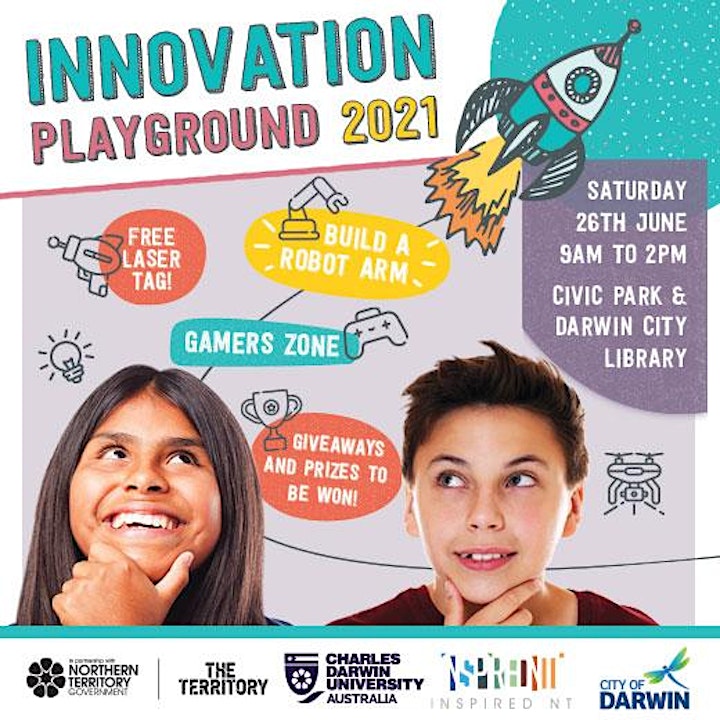 Organiser of Innovation Playground
Department of Industry, Tourism and Trade
The Business Innovation team maintains responsibility for innovation and research support to Northern Territory (NT) based businesses. The role of the unit is to stimulate research, innovation, and knowledge development and their application in the private and public sectors. Its goal is to increase the benefits that the people of the NT derive from research and innovation through resulting economic expansion and enhanced quality of life.