Description
James Chin Moody, Sendle CEO, former CSIRO director and ABC New Inventors panellist, presents The Warren Centre's 2018 Innovation Lecture: Delivering the future: A systems engineer's journey into entrepreneurship.
The world is experiencing non-linear change. We are about to experience some very significant tipping points.
This disruption creates huge opportunities for engineers, as the people who can understand and navigate these changes. Engineers need to become entrepreneurs, for the good of the nation and the good of the profession. But are we stepping up? How can we bring an engineering mindset to entrepreneurship?
We need to meld creativity and engineering excellence, and focus on the applications and the domain rather than solely the technical skills. The choice used to be between analytical vs creative - but these days it's not an or, it's an and.
So how are we going to train the next generation of engineers to embrace this future? Find out in Sydney on Tuesday 11 September 2018.
About James Chin Moody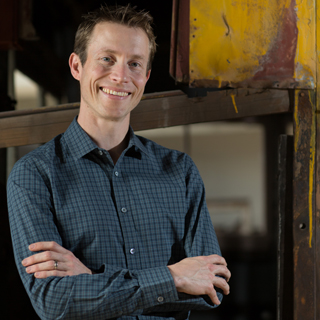 James Chin Moody is a co-founder and CEO of Sendle, Australia's highest-rated parcel delivery service. Sendle helps small business thrive through delivery that is simple, reliable and affordable, is Australia's first technology B Corporation and its only 100% carbon neutral delivery service.
Previously James has held roles as Executive Director, Development at the CSIRO, Australia's national research agency. He was an Australian National Commissioner for UNESCO, member of the Australian Bureau of Meteorology and Australian Bureau of Statistics Advisory Boards and Trustee for the Australian Museum. He is a member of the World Economic Forum's Global Future Council on Technology, Values and Policy.
From 2004-11 he was a panelist on the ABC TV television program The New Inventors.
James has a PhD in innovation theory from the Australian National University and was Chief Systems Engineer for the Australian Satellite FedSat, the first Australian satellite to be launched in 30 years. James is an expert and leading thinker on the interface between sustainability and innovation and is the co-author of The Sixth Wave: How to Succeed in a Resource-Limited World which has been published in English, Korean, Japanese and Chinese.
Registration commences at 5:30pm for a prompt 6:00pm lecture start.
Ticket price includes lecture, drinks and canapés.
About the Innovation Lecture
The Warren Centre's Innovation Lecture is an exemplar event hosting Australia's innovation leaders to share their insights and experience, supporting Australia's drive for global competitiveness.
The Warren Centre's Annual Innovation Lecture challenges the perception that Australia is lacking in innovation capability. The prescient Smart Card Forum in 1995 and Chris Nicholls's Innovation Lecture 'Spitting Chips' in 2007 demonstrate the power of public lectures, industry forums and focused projects in triggering and accelerating productivity-enhancing innovations years ahead of their widespread public awareness.
The Warren Centre has been privileged to provide a platform for innovation leaders, to share their experiences and insights, and to highlight Australia's innovation and technology capability for over 20 years.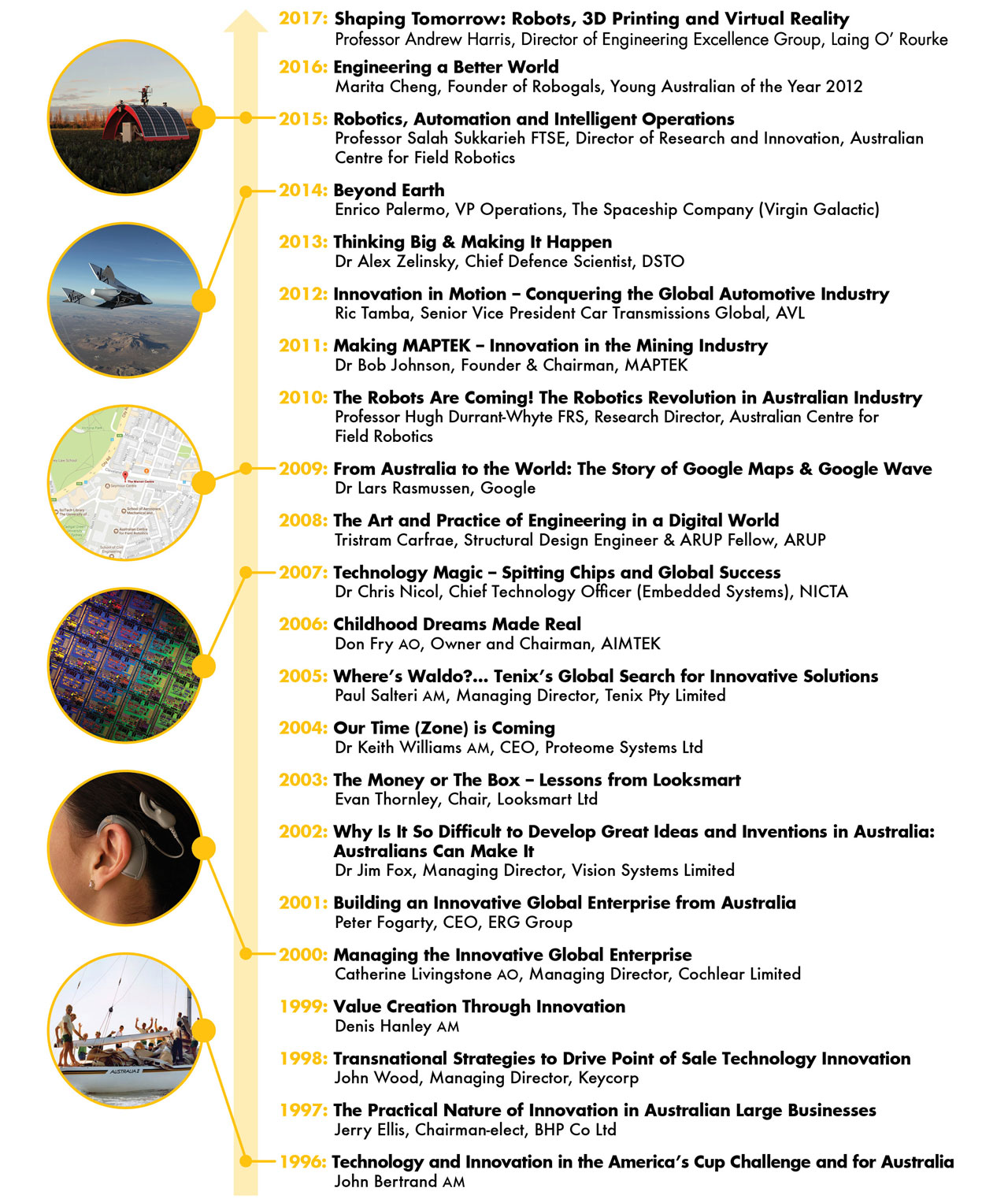 Find out more about the history of our Innovation Lecture program