Event Information
Location
Peter Shergold Building, Western Sydney University
169 Macquarie Street
Level 9, Conference Room 3 & 4
Parramatta, NSW 2150
Description
Construction is not often thought of innovative and yet the world around us is changing rapidly.
Virtual reality enables project managers to show a stakeholder the future. While virtual reality can bring to life each milestone through to the completed project, 3D printing and automation are driving new efficiencies in modular construction and intricate design.
Where is Australia's engineering and construction capability in all this and what does it take to be globally competitive?
Andrew Harris is Professor, Chemical and Biomolecular Engineering, University of Sydney and Australian Director, Engineering Excellence Group, Laing O'Rourke.
Andrew is an innovator and a future thinker who will reveal the leading edge of construction innovation. He has explored the use of plants to harvest gold deposits and the design of beetles to guide highly efficient façade design. Andrew has worked at the intersection of industry and academia throughout his career and is the 'intrapreneur' driving innovative thinking for global construction giant, Laing O'Rourke.
Ticket price includes lecture, drinks and canapés.
Professor Andrew Harris


Professor Andrew Harris PhD, BEng, BSc, CEng, FIChemE, CPEng, FIEAust, NER, RPEQ, MAICD is a Professor and Director of the Laboratory for Sustainable Technology School of Chemical and Biomolecular Engineering at the University of Sydney and the Australian director of Laing O'Rourke's future engineering and innovation consultancy, the Engineering Excellence Group.
At the University of Sydney, Andrew's research is focused on developing cutting edge technologies to assist with the transition to sustainability. His research typically occurs at the interface between established scientific disciplines, i.e. chemistry, physics, biology, engineering and materials science. By working at the intersection of these disciplines, Andrew is able to adopt a multi-scale, multi-disciplinary approach. It is this approach that has enabled Andrew to explore truly innovative solutions in large scale complex construction projects at Laing O'Rourke.
Laing O'Rourke is Australia's largest private engineering and construction business, with local turnover of approximately $3 billion per annum. The organisation is an internationally focussed engineering enterprise with world-class capabilities spanning the entire client value chain providing services across engineering, construction and asset management services, offering single-source solutions for some of the world's most prestigious public and private organisations. Laing O'Rourke funds, designs, manufactures, constructs and maintains the built environment – providing the facilities to accommodate, educate, employ, transport, care for and sustain communities.
Andrew is a non-executive Director of Hazer Group, a listed clean tech and serves on the industry advisory board of the Australian Research Council Centre for Robotic Vision.
Andrew received his PhD from the University of Cambridge in 2002 and is a Chartered Engineer and Fellow of the Institution of Chemical Engineers (IChemE) and Engineers Australia (IEAust). In 2006 Andrew received the Shedden Uhde Medal and Prize as the leading early career chemical engineer in Australia and New Zealand, and was recognised as one of Australia's 50 most innovative engineers by Engineers Australia in 2017.
Sponsors
The Innovation Lecture's primary sponsors are Laing O'Rourke and the University of Sydney.


About the Innovation Lecture
The Warren Centre's Innovation Lecture is an exemplar event hosting Australia's innovation leaders to share their insights and experience, supporting Australia's drive for global competitiveness.
The Warren Centre's Annual Innovation Lecture challenges the perception that Australia is lacking in innovation capability. The prescient Smart Card Forum in 1995 and Chris Nicholls's Innovation Lecture 'Spitting Chips' in 2007 demonstrate the power of public lectures, industry forums and focused projects in triggering and accelerating productivity-enhancing innovations years ahead of their widespread public awareness.
The Warren Centre has been privileged to provide a platform for innovation leaders, to share their experiences and insights, and to highlight Australia's innovation and technology capability for over 20 years.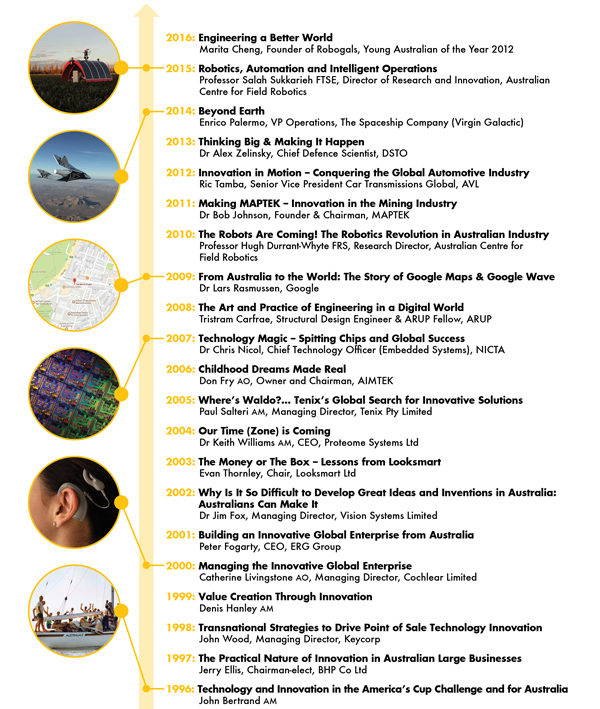 Find out more about the history of our Innovation Lecture program
Date and Time
Location
Peter Shergold Building, Western Sydney University
169 Macquarie Street
Level 9, Conference Room 3 & 4
Parramatta, NSW 2150