Description
"Engineering is all around us, so it's important that the engineers who create our world are as diverse as the people who are in it." - Marita Cheng
The Warren Centre's 2016 Innovation Lecture will be delivered by 2012 Young Australian of the Year Marita Cheng. As a globally recognised entrepreneur who has demonstrated vision and leadership well beyond her years, Marita is dedicated to encouraging young women to pursue careers in engineering. Join us for an exciting evening of insights, Q&A, drinks and canapés.
Ticket price includes lecture, drinks and canapés. Images below are from last year's Innovation Lecture:

About Marita Cheng
Marita was born and raised in far north Queensland and studied at the University of Melbourne. She founded Robogals Global in 2008 as a response to the traditionally low levels of participation by women in engineering and technology. Robogals has run robotics workshops for 25,000 girls across 300 schools in Australia and now has 27 chapters across Australia, the United Kingdom, the United States and Japan.
Marita has a Bachelor of Engineering and a Bachelor of Computer Science and is the recipient of numerous awards and scholarships including a Paterson Scholarship, a Nancy Fairfax Churchill Fellowship, an International Youth Foundation YouthActionNet Fellowship and an Anita Borg Change Agent Award. A former panellist on ABC TV's New Inventors, Marita serves as a Board Member for the Foundation for Young Australians.
Marita stepped down as the Executive Director of Robogals at the end of 2012 in order to start 2Mar Robotics, creating robots that will take care of many everyday tasks, including robotic arms for wheelchair users. In 2013, 2Mar Robotics swept the fifth annual Tech23 awards, winning top honours - the Innovation Excellence Award - in addition to four other awards.
Marita serves on the boards of Robogals Global, the Foundation for Young Australians, and RMIT's New Enterprise Investment Fund, where she helps decide on startup investments. Marita continues to mentor Robogals, and remains dedicated to changing the way that girls view their capacity to contribute to engineering and technology.
21 years of innovation
Showcasing some of Australia's great thinkers from John Bertrand's insights in delivering a successful America's Cup campaign, to Catherine Livingstone's vision to drive world leading technology at Cochlear, to Lars Rassmussen's incredible development of Google Maps, the Innovation Lecture has never failed to inspire, educate and celebrate Australian innovation.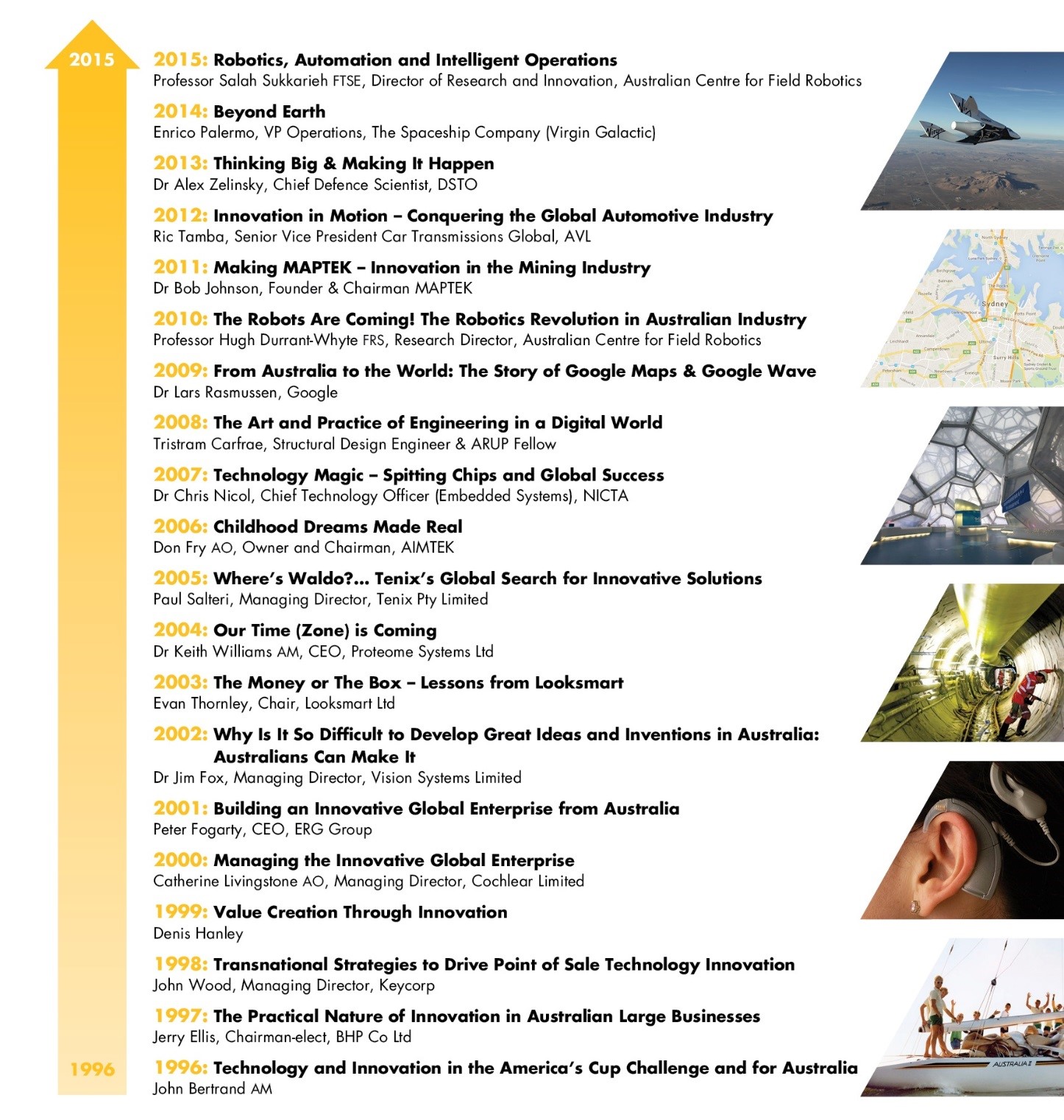 Find out more about the history of The Warren Centre's Innovation Lecture series
Proudly sponsored by: