Discover the key to unlocking your inner-self & potential that is currently hidden behind anxiety & fear, in a safe & supportive environment
About this event
In this workshop I will share the basic principles to unlocking your inner self and your potential through the use of easy to understand and implement strategies and ideas.
Everything we will ever need to have the life we dream of already within us, however for many people those resources and skills remain locked away behind a door of fear and anxiety.
In this workshop you will be provided with some of the keys to start unlocking those doors and exploring what is on the other side.
This will be done in a safe, supportive and encouraging environment. There will be no judgment, but heaps of curiosity and wonder as we explore together the elements of unlocking your inner self and discovering your full potential.
What can you expect within the workshop?
Attitude of Gratitude – how to create an attitude of gratitude and the benefits of it.
My 3 Selves – Learn about the 3 levels of self that are contained within all of us and how breaking through them will empower us to connect fully with our inner-self and potential.
Vital Needs – Discover the inner world needs and how they correlate with our outer world needs. During this exploration we will discuss elements such as Boundaries, Emotional Intimacy, To Matter and To Love.
Vulnerability – We will unpack vulnerability and discover how it is actually the key to meaningful relationships and should be embraced rather than hiding away from it.
7 Key Areas of Choice – Every single thing that happens in our life is a result of a choice that we have made, even the crappy stuff. We will discuss, unpack and shed light on the 7 Key Areas of Choice that impact us the most. Because, when we have understanding, we have greater perspective and with that understanding we can much better, informed, choices that will positively impact us.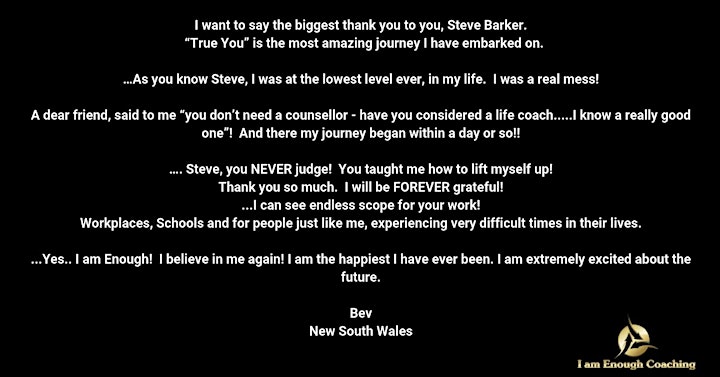 Organiser of "Inner Work" Workshop - 23rd February
Steve Barker is a Royal Air Force veteran from the UK. For 26 years Steve served his country. Moving to Australia in 2013, he brings with him his worldly experience and knowledge from serving and living globally for the best part of his adult life. 
Known for being a people's person, a leader and a behavioral expert, Steve uses over 15 years of leadership, training and mentoring experience to life by sharing his insights, lessons and wisdom with others. 
Based in a wonderful inland city in NSW, Steve serves both local and international clients, covering all walks of life. Steve assists his clients achieve excellence in their desired outcomes through a blend of coaching, facilitating and mentoring.  He structures life changing workshops and one on one coaching with a variety of groups and communities bringing about graceful, life enhancing changes.  
Steve is also an accomplished Public Speaker and has been delivering Keynote Speaking and running Team Training Events for Business such as Bendigo Bank and Charles Sturt University. 
Recreationally Steve likes to spend time by the sea, paddle boarding and learning to surf. He always believes in working on himself daily so he can be of better service to his clients.  
"My Mission is to positively impact as many people I can, with the skills I have now" 
- S Barker