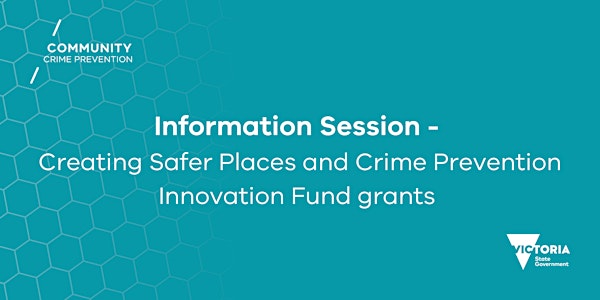 Info Session – Creating Safer Places and Crime Prevention Innovation Fund
Information Session – Creating Safer Places and Crime Prevention Innovation Fund grants
About this event
Victorian councils, not for profit community organisations and other specialist organisations are invited to apply for grants of between $25,000 to $300,000 for projects which help promote community safety and prevent crime in communities across Victoria.
The Creating Safer Places grants support urban design projects that apply an inclusive environmental design approach to deter crime, increase safety and activate public places. 
The Crime Prevention Innovation Fund support projects that deliver and evaluate innovative community safety and crime prevention initiatives, with a focus on addressing the underlying causes of crime.
This session will provide information about the Creating Safer Places and Crime Prevention Innovation Fund grants and will also answer some of the questions you may have regarding the grant application process.
Topics to be covered include:
Overview of the Building Safer Communities grants
How to design an effective crime prevention project
How to write a quality application
Urban design for crime prevention
Questions and answers
The Creating Safer Places and Crime Prevention Innovation Fund grants are part of the Victorian Government's Building Safer Communities Program which includes a series of community forums and grants for Victorian Councils, community organisations and other stakeholders.
The online session will be hosted by the Department of Justice and Community Safety's Community Crime Prevention Unit.
The information session will be held on Zoom and a link to join will be provided closer to the event.
Please RSVP by 5pm Monday 29 November.
Find out more about the grants at https://www.crimeprevention.vic.gov.au/buildingsafercommunities
Organiser of Info Session – Creating Safer Places and Crime Prevention Innovation Fund
The Community Crime Prevention Unit is part of the Victorian Department of Justice and Community Safety. The unit works closely with local government and communities, providing grants to address local crime issues, supporting cross-sector partnerships in relation to crime prevention and building knowledge about effective responses to prevent crime.