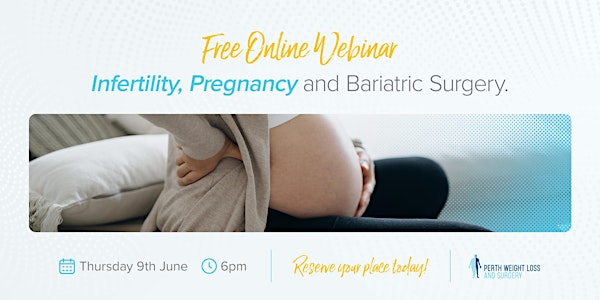 Infertility, Pregnancy And Bariatric Surgery - PWLS Free Online Webinar
Don't let your weight stand in the way of starting a family! Join our FREE online webinar to find out how Dr Siva Gounder can help.
About this event
Each patient has their own reasons for losing weight. Some have had a health scare, others are aware that they're sitting on the sidelines of life because they don't have the energy to join in.
One growing group of patients is women in their 20s and 30s who want to start a family and have realised that their weight is affecting their fertility.
More than half of Australian women are now overweight or obese, including 35% of women in the peak childbearing ages of 25-35.
If you're hoping to start a family, you may find your efforts frustrated by weight-related hormonal imbalances and problems with ovulation if you do become pregnant while overweight, you face a higher risk of miscarriage, pregnancy complications like gestational diabetes or pre-eclampsia, and health risks for your baby.
In this FREE Online Webinar, hear from Dr Siva Gounder who has had over 20 years of surgical experience, and multinational training and has performed thousands of operations.
He is fully qualified to perform gastric banding, sleeve gastrectomy, gastric bypass and duodenal switch operations as well as revisional surgery.
This is a no-pressure, no-obligation event.