Description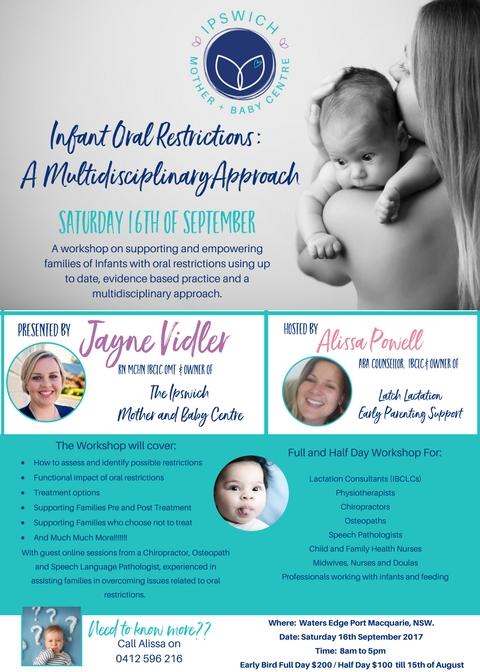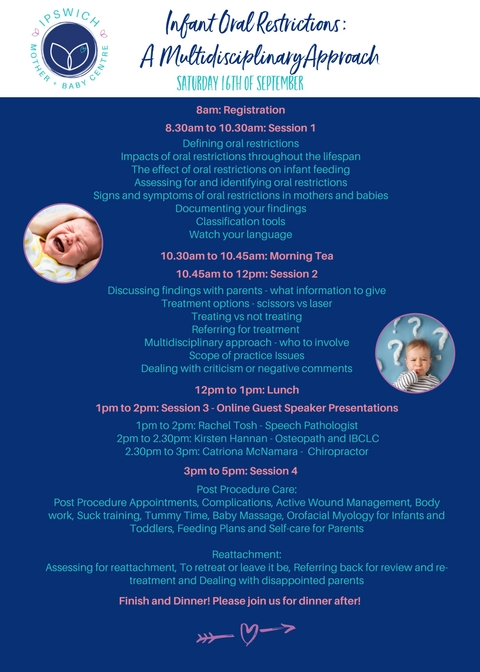 A workshop on supporting families of Infants with oral restrictions using up to date, evidence based practice and a multidisciplinary approach.
A Full or Hald Day workshop for:
Lactation Consultants
Physiotherapists
Chiropractors
Osteopaths
Speech Pathologists
Child and Family Health Nurses
Midwives, Nurses and Doulas
Any Health Professionals working with Infants and feeding (breast or bottle feeding).
Presented by Jayne Vidler - Registered Nurse, Maternal and Child Health Nurse, Lactation Consultant (IBCLC), Breastfeeding Without Birthing Certified Educator, trained in Orofacial Myology and Hypnomothering.
With Guest Live Online Presentations from:
Rachel Tosh Speech Language Patholgist
Kirsten Hannen Osteopath and IBCLC
Catriona McNamara Chiropractor
The Workshop will Cover:
Assessing and Identifying possible oral restrictions
Referral Processes
Functional Impact of Oral Restrictions in relation to Infant Feeding
Supporting Families Pre and Post Treatment
Supporting Families who choose not to treat
How Speech Pathology can assist these families
How Osteopathic care can assist these families
How Chiropractic care can assist these families
And Much Much More!!
Date: Saturday 16th of September 2017
Time: 8am to 5pm
Location: 1 Buller Street (Corner of Buller and Hollingworth Streets) Port Macquarie NSW 2444 Australia
Early Bird Price Full Day : $200, Half Day: $100 up until the 23th of August 2017
Full Price Full Day: $300, Half Day $200.
The full day is recommended for those who work with families pre and post oral restriction release. The Half Day is for those who work with families in the early postnatal days and may not be involved in the follow up care after release.
Fully Catered - please advise of any dietary requirements as soon as possible.
L-Cerps are going to be applied for, however, cannot be guaranteed at this stage.