Industrial Hybrid & Warrior Double Pass with Aradia (from QLD) - Bellydance...
Description
Industrial Hybrid & Warrior- Fusion Bellydance Workshop Double Pass
This double pass lets you in to BOTH of Aradia's workshops! Everyone who attends both workshops will get a copy Aradia's "Industrial Elements" DVD for free! Sign up to both workshops for a discount by going to "Industrial Hybrid & Warrior Double Pass"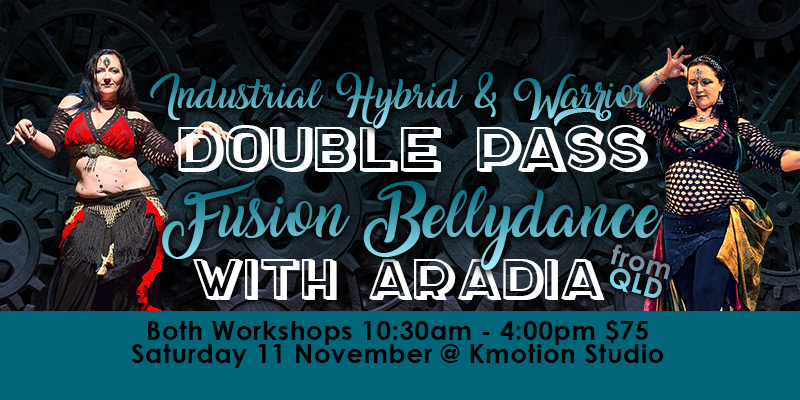 Workshop 1: Industrial Hybrid - All Levels
The Industrial Hybrid workshop blends the precise isolations and fluidity of Industrial Bellydance with two unique and colorful movement stylisations: The Siren and The Cyborg. The Siren is characterised by fluid, sophisticated, expansive movement. The Cyborg, features the surreal style that defies the eyes and human bio-mechanics.
In this two hour workshop, Aradia will take you through a brief overview of the 3 movement methods of Industrial Bellydance. Then you'll be guided through a series of unlikely movement combo's to create the hybrid between the Siren and the Cyborg… so you can find your own Industrial Hybrid. Then your combos will be explored from the two perspectives to expand your dance vocabulary using expression, projection, timing and intensity.
Workshop 2: Industrial Warrior - Level: Intense!

A (non) subtle reminder of what Aradia is (and does) to audiences worldwide. In this workshop your mind and body will be separated and then reintroduced in a wicked workshop of muscular mechanics. Not for the faint hearted, this workshop will push your mind to it's limits of what you thought was possible through layering, drills, transitions, combinations, level changes and isolations.
Entries into individual workshops also available. Please see eventbrite to register.
These workshops are proudly presented by #JazidaProductions (www.jazidaproductions.com) in association with Arabian Nights at Polit (https://www.facebook.com/events/211335706046749/)