Location
Macquarie University City Campus
Level 24, 123 Pitt St
Sydney, NSW 2000
Australia
AIBC - Macquarie University Indonesian Innovation Showcase
About this event
As part of our commitment to strengthen the collaboration between Indonesia and Australia, Macquarie University along with Australia Indonesia Business Council (AIBC), supported by Arkblu Capital, will be hosting Indonesian Innovation Showcase to connect industry, government, academia, and the start-up community.
Indonesian Innovation Showcase
The goal of this event is to provide the opportunity for participants to:
• Hear / learn about success stories and understand the trials and tribulations from those who have experience in industry.
• Immerse or deep-dive into the Indonesian start-up environment, success story journeys, opportunities, and funding / support available.
• Explore, develop, and scale ideas with like-minded people and broaden their horizon in the start-up industry.
• Provide Macquarie University students the opportunity to learn on a real-life business case problem.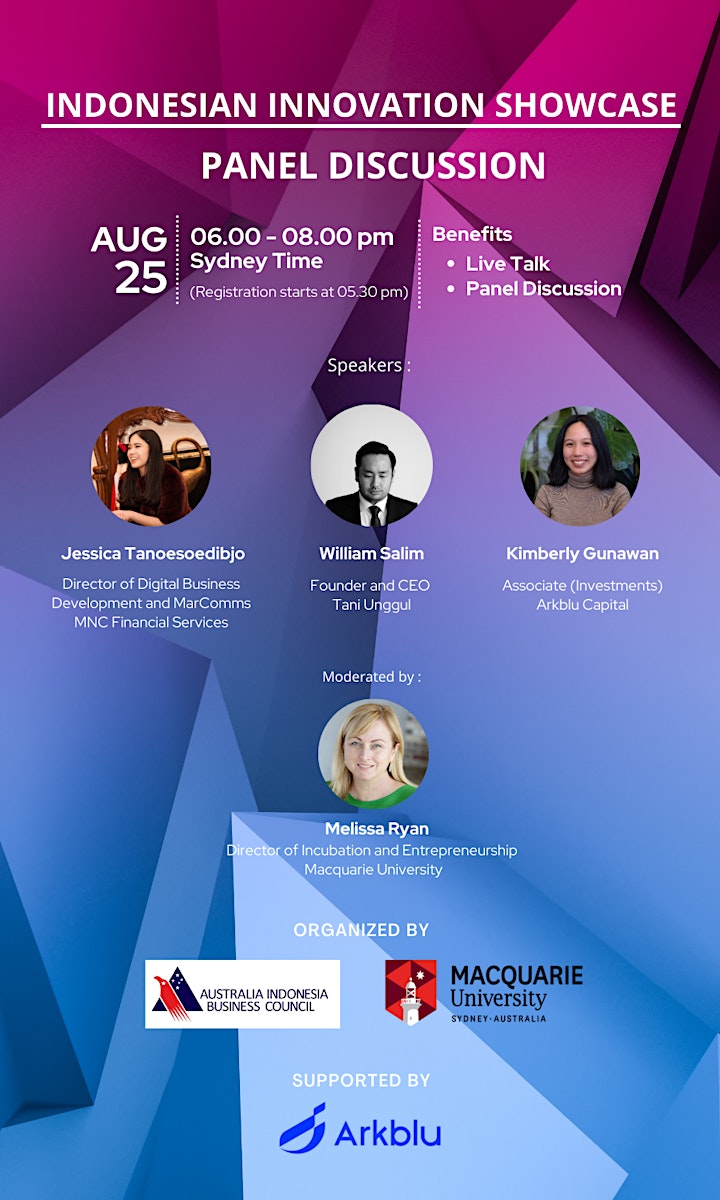 AIBC
The Australia Indonesia Business Council Ltd (AIBC) is the peak, non-profit business association involved with the promotion and facilitation of trade and investment between Australia and Indonesia.
Macquarie University
Ranked among the top 1% universities in the world, Macquarie University is recognized globally as a leading university with a strong tradition of innovation and exploration. Our location is within the Macquarie Park Innovation District, one of the largest business and technology precincts in the NSW Southern Hemisphere.
Our campus includes multi-billion-dollar infrastructure, providing cutting-edge learning opportunities where students, staff and partners could benefit from: Australia's most high-tech library, Australia's first and only not-for-profit hospital at a university campus.
Arkblu Capital
Arkblu Capital is a multi-asset private investment firm with a focus on the alternatives asset class with offices in Jakarta, Indonesia and Sydney, Australia. Arkblu Capital is both a venture capital fund-of-funds investor and a direct investor in early-stage technology companies with focus on Indonesia. The Arkblu Capital portfolio includes SEA house of digital brands Hypefast, MSME tech startup Wahyoo, and proptech startup Izy.