Sign up for an unforgettable night; fun-packed networking events with talk show and Cultural Events from Indonesians in Australia.
About this event
Indonesian Diaspora Network New South Wales
Proudly Presents
Diaspora Night 2019
"Jauh Dimata, Tetap Dihati, Cinta Indonesia"
Out of Sight, but Still at Heart, Love for Indonesia
With our society moving at a faster and more detached manner due to technology, busy schedules and the frequency at which we change jobs, homes and locations, it is harder to feel sense of cohesiveness among a group of Indonesian people in New South Wales. While there continues to be programs to introduce the specific characters of each group, we would like to make a special event that can bring together all groups of Indonesian people in New South Wales, be proud to participate in Indonesian cultural heritage, inspire each other and be motivated to make positive contribution to Australian community at large. Supported by the Consulate General of the Republic Indonesia in Sydney, Diaspora Night 2018 which is a collaboration event between IDN-NSW and Indonesian Association of NSW Inc. will strive to achieve the above goals. We are inviting all of the group leaders of Indonesian community and all of Indonesian diaspora in New South Wales to attend this event.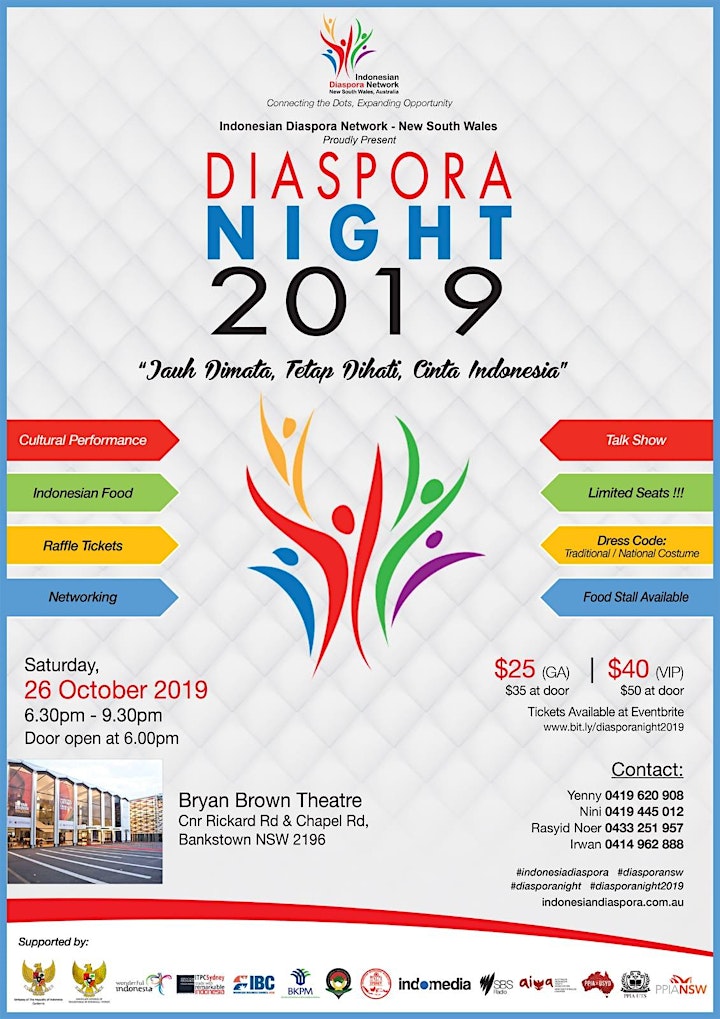 Organiser of Indonesian Diaspora Night 2019
Indonesian Diaspora Network - New South Wales (IDN NSW) was established as one of IDN Australia's chapters and was registered on 15th of May 2013 in Sydney. Having been part of IDN Australia, IDN NSW is also part of the global Indonesian diaspora network (IDN Global) which was initiated by the Ambassador of the Republic of Indonesia to the United States of America in 2012, Mr. Dino Patti Djalal. To date, IDN NSW has organized many successful events, namely Diaspora Night 2016 which was attended by more than 300 Indonesian community in NSW and Jalan Bersama (fun walking) 2018 at the Royal Botanical Garden to commemorate the 73rd Indonesian Independence Day.