Indigenous Women: Activism and the Arts
About this event
Aboriginal women's continued activism against colonialism is multifaceted and the arts, poetry, theatre, music and dance, have been critical to women's resistance and voice.
You're invited to take part in a discussion with Alison Whittaker, award winning poet and author of BLAKWORK (Magabala Books) and local Aboriginal women including Della Rae Morrison, Irma Woods, Michelle White and Hannah McGlade who engage in the arts as a means of social activism.
This event will be broadcast by Noongar Radio 100.9FM and showcase Indigenous women's music.
Free event, but registration essential for catering purposes.
Date And Time:
Thursday 8 August 2019
3:00-4:30pm
Location:
Foyer of Curtin Centre for Aboriginal Studies (Building 211), Curtin University, Kent Street, Bentley
This event is hosted by the Australian Hub of the Deathscapes team: Michelle Bui, Hannah McGlade, Suvendrini Perera, Joseph Pugliese, Ayman Qwaider, Charandev Singh.
The Deathscapes project is funded by a grant from the Australian Research Council.
See www.deathscapes.org or @Deathscapes for more info.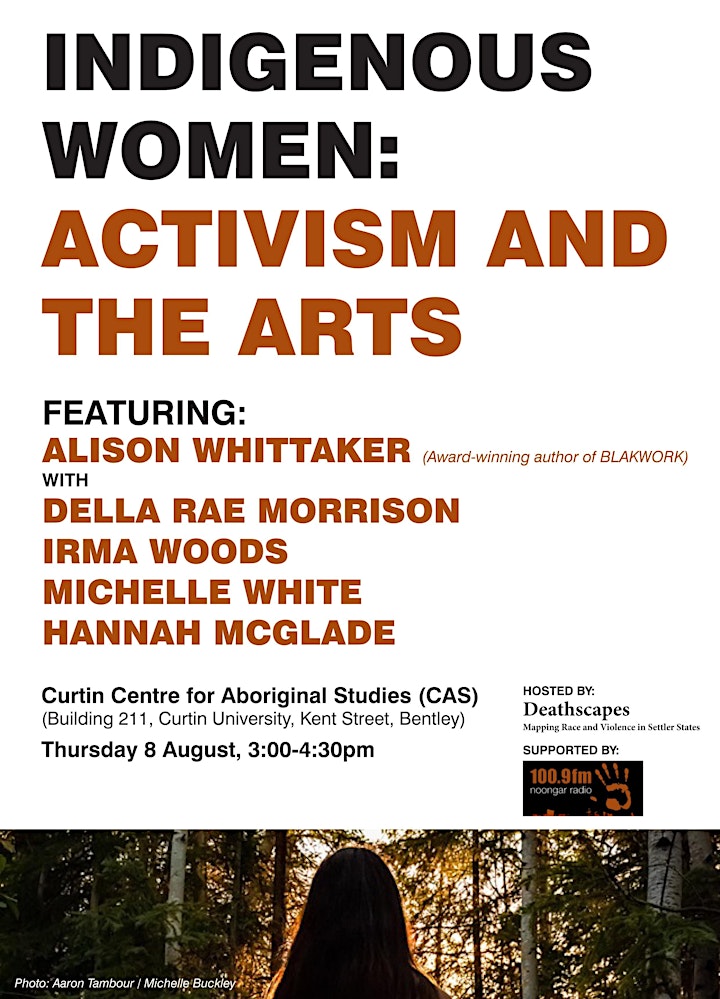 Organiser of Indigenous Women: Activism and the Arts