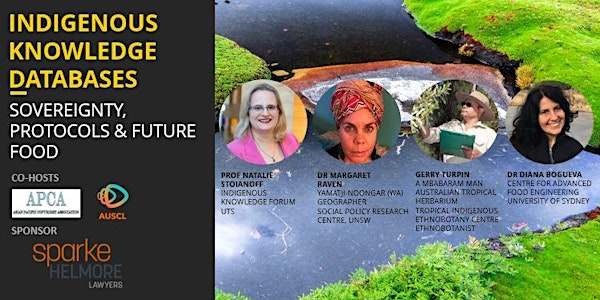 Indigenous Knowledge Databases: Sovereignty, Protocols and Future Food
Be inspired by our thought leaders on indigenous knowledge databases, sustainability and the future food in Australia
About this event
APCA Asia Pacific Copyright Association and AUSCL present:
Indigenous Knowledge Databases: Sovereignty, Protocols and Future Food
The organisers of this event acknowledge all Aboriginal and Torres Strait Islander Traditional Custodians of Country and their continuing connection to land, sea, culture and community and pay our sincere respect to Elders past and present.
Indigenous knowledges and cultural heritage have been recognised for their significant contribution, not only to the health and wellbeing of Indigenous communities around the world, but also to natural resources management, the pharmaceutical, biotechnology and food technology sectors, arts and cultural production industries.
Model regimes for the protection of Indigenous knowledges and cultural heritage against misappropriation often require the development of databases and registers as key components in the operation of such regimes. But in addition, the GLAM sector (galleries, libraries, archives and museums) have digitized such Indigenous cultural heritage raising issues of consent and control of such collections and for whose benefit.
The legal issues around the creation, maintenance and use of these databases are many, ranging from copyright in those databases and other forms of IP rights in relation to the data recorded in, or used in the establishment of those databases, to issues of Indigenous data sovereignty, protocols and governance.
Professor Natalie Stoianoff of the Indigenous Knowledge Forum at UTS will be moderating this session featuring UNSW Scientia Scholar, Dr Margaret Raven, James Cook University ethnobotanist, Gerry Turpin, and University of Sydney Centre for Advanced Food Engineering Manager, Dr Diana Bogueva.
About our co-hosts
APCA Asian Pacific Copyright Association provides a forum for discussion and promoting, through legislation, dialogue and education the maintenance and development of copyright and related rights in the Asian Pacific Region. Click to subscribe
AUSCL The Australian Society for Computers + Law is one of Australia's leading interdisciplinary inter-generational think-tank promoting sustainable law, technology and society through open dialogue, its leading education program and its Policy Lab. Click to subscribe
Proudly sponsored by
About our speakers
Professor Natalie Stoianoff is a Professor and Director of the Intellectual Property Program at the Faculty of Law, University of Technology Sydney. She is also the Chair of the Indigenous Knowledge Forum Committee, a member of the UTS Commercialisation Advisory Panel and co-convenor of the Technology and Intellectual Property Research Cluster. Her international leadership both academically and professionally has resulted in her election in 2021 as President of the Asian Pacific Copyright Association. Natalie's interdisciplinary research is concerned with new technologies including the legal, ethical and commercial aspects of biotechnology. Her research interests include patenting of living organisms, software and business methods, protecting traditional/Indigenous knowledge and culture, technology transfer and environmental taxation.
Natalie has an extensive track record in investigating the operation of intellectual property law across multiple jurisdictions and cultures. As a joint recipient of an Australian Research Council (ARC) Discovery Grant (2005-08), Natalie investigated intellectual property enforcement and awareness building in the People's Republic of China. She also led an Indigenous Knowledge Forum project on Recognising and Protecting Indigenous Knowledge associated with Natural Resource Management (2013-14), funded by the Aboriginal Communities Fund of the North West Local Land Services. The White Paper produced by that project led to the award of an ARC Linkage Grant (2016-19) for the project - Garuwanga: Forming a Competent Authority to Protect Indigenous Knowledge - which explores the governance framework for an access and benefit-sharing regime.
She is the author of numerous publications, including Commercialisation of Intellectual Property (as lead author, Lexis Nexis, 2019) and Intellectual Property Law: Text and Essential Cases (as co-author, Federation Press), which has been adopted by several Australian universities and is now in its fifth edition. She is currently the managing editor of the series for the Indigenous Knowledge Forum (Lexis Nexis, first edition published 2017). Natalie's current research includes collaborative work on information literacies with colleagues at the University of Library Studies and Information Technology, Sofia. This project, A Conceptual Educational Model for Enhancing Information Literacy in an University Information Environment, is funded by a three year grant (2020-2022) from the Bulgarian National Science Fund.
Dr Margaret Raven (a Yamatji-Noongar woman from Western Australia) is a Senior Scientia Lecture (Research Only), UNSW Australia with the Social Policy Research Centre; and the Environment and Society Group in the Faculty of Arts and Social Science. She previously worked as Macquarie University Fellowship for Indigenous Researchers at Macquarie University, and a Research Fellow at the Social Policy Research Centre (SPRC), University of New South Wales, Australia. Dr Raven is a geographer with experience on food insecurity related to urban dwelling Indigenous people. She also has experience working for a Native Title Representative Body, the Australian Human Rights Commission, and the WA Department of Aboriginal Affairs. Her research interests include Indigenous food security; Indigenous protocols; the spatial analysis of policies; and the role of Indigenous knowledge(s) in biodiversity conservation.
Margaret's PhD, Gatekeepers, guardians and gatecrashers: the enactment of protocols to protect Indigenous knowledge, and how protocols order these practices, explored the enactment of protocols in an Australian Cooperative Research Centre (CRC). Her current research takes the study of protocols further to explore them in the context of Indigenous food security at the household level, and the implementation of biodiversity conservation. She is undertaking this research through her Scientia Fellowship position, and as a co-Chief Investigator, along with A/Prof Daniel Robinson (UNSW Australia), on the ARC Discovery Project (DP180100507) Indigenous knowledge futures: protecting and promoting Indigenous knowledge. Dr Raven is a member of the Australian Research Council College of Experts.
Dr Raven has engaged in international negotiations through the World Intellectual Property Organization (WIPO), and the UN Convention on Biodiversity Conservation. She was a 2003/2004 PhD Fellow with the United Nations University Institute of Advanced Studies (UNU-IAS), Yokohama, Japan, and a 2009 Indigenous Fellow with the UN Office of the High Commissioner for Human Rights, Geneva, Switzerland.
Here is a link to Dr Raven's UNSW Sydney profile and her many publications.
Gerry Turpin (a Mbabaram man) is an ethnobotanist, and member of the Australian Tropical Herbarium and recently established Tropical Indigenous Ethnobotany Centre (a partnership between James Cook University, the Queensland Department of Environment and Science (DES), CSIRO and other government agencies and organisations). The Functions of the centre include: Supporting indigenous intellectual and cultural property rights over plants, passing cultural knowledge on to the younger generation, and includes many projects, including: (1) Recording and documenting traditional plant use with various Indigenous communities in North Queensland, particularly on Cape York Peninsula. Plant collections are incorporated into the Australian Tropical Herbarium and (2) Researching history of ethnobotany in North Queensland from literature such as explorer's, early science and aboriginal protector journals/diaries from DES, university and state libraries, (3) The Miromaa Database system is used so that it is easily accessible by the members of the community and (4) Medicinal plants of the Mbabaram peoples – pilot project. To learn more about the critical work of the Australian Tropical Herbarium and to review selected publications click here.
Dr Diana Bogueva is a Centre manager at the Centre for Advanced Food Engineering (CAFE), the University of Sydney and an Inclusion Research Fellow at the Curtin University Sustainability Policy (CUSP) Institute, Australia. She is an interdisciplinary researcher focused on alternative proteins, novel food processing technologies and generational consumer behaviour, food sustainability and harmonization. Diana's work has won three awards: the Australian National Best Book winner in 2019 and the World's Best Book award 2020 in the Vegetarian book category at the prestigious 24th and 25th Gourmand Awards, considered equivalent to the Oscars in the area of food books, for her co-edited book 'Environmental, Health and Business Opportunities in the New Meat Alternatives Market'. She also won the 2020 Faculty of Humanities Journal Article of the Year Award at Curtin University for her co-authored paper "Planetary Health and reduction in meat consumption", which was at the top 5% of all world research outputs scored by Altmetrics. Diana is also a finalist in the 10th International Book Award at America's Book Fair 2019 for her co-edited book 'Handbook of Research on Social marketing and its influence on animal origin food product consumption'. To learn more about CAFE click here.
We look forward to you joining us. Be sure to subscribe to AUSCL's mailing list for invitations to future events by clicking on this link