Sales Have Ended
Registrations are closed
Thank you for supporting Indigenous Business! The Telstra Business Technology Centre - Perth North look forward to seeing you on the day
Sales Have Ended
Registrations are closed
Thank you for supporting Indigenous Business! The Telstra Business Technology Centre - Perth North look forward to seeing you on the day
About this Event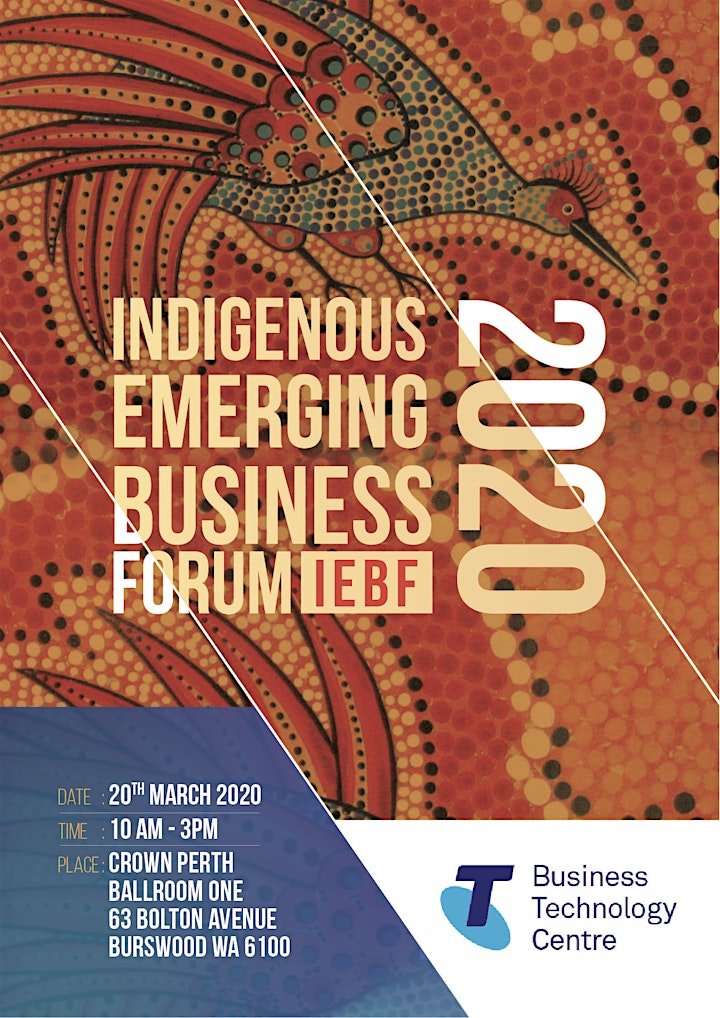 The key objective of IEBF2020 is to encourage and assist Aboriginal business development and bridge the digital divide for greater access to information and technology for community economic development. Supported by CDM Australia and Telstra Business Technology Centre's economic and social wellbeing objectives by showcasing a forum of cutting edge technology to encourage growth in Aboriginal - owned and run businesses.
The Forum is specifically designed to help and support Aboriginal businesses to make the most of technology to grow their business opportunities.
We bring this together by the following:
• IoT- Better connectivity through internet and voice services
• Video conferencing to enable more productivity and greater reach
• Security – data security end point security and mobile security trio safe guard business
• Wireless technology- the power of a wireless age, greater connectivity
• AI – Artificial technology and Machine to Machine technology
• Solar energy and powering devices completely off the grid, using nature to power business
• Fleet management – GPS tracking real time and asset management
• Leasing & ROI – CDM & TBTC's offering and strategy to procure business hardware
• Grants & Tech funds – Partnering with TBTC and finding what's available
• Culture & Language preservation – Using technology to fastrack linguistic and storage for future generations
Master of Ceremonies
Internationally acclaimed Mr Phillp Walley- Stack with a very special Welcome to Country performance, not to be missed!