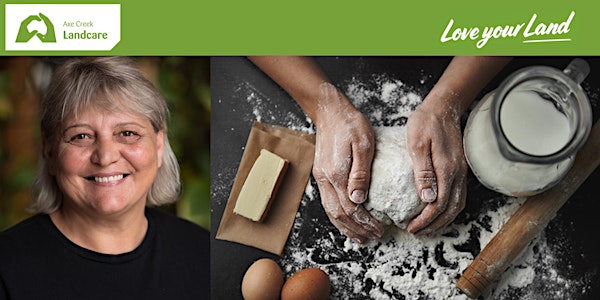 Indigenous Cooking & Conversation with Peta: Lemon Myrtle Wattleseed Scones
Cook-along with Peta Hudson as she shares conversations and knowledge for growing and cooking indigenous plants.
About this event
Join indigenous healer and teacher Peta Hudson in an afternoon of scone-baking with Axe Creek Landcare Group.
Peta is a devoted Djaara, Taungurung and Yorta Yorta woman with ancestral bloodlines in Indian Healing. She draws on her deep ancestral history and connection with Country, to provide a traditional take on a modern recipe.
This session will be an intimate zoom workshop where participants will be encouraged to set up an iPad and cook-along as Peta demonstrates her cooking method and discusses the role plants play in restoring Country to its former glory.
Prior to the workshop participants will receive specialty indigenous ingredients for use in this easy scone recipe. Participants will be required to supply their own cupboard staples and cooking equipment.
Supplied Ingredients:
• Wattleseed flour
• Lemon myrtle
Additional Ingredients:
• Self-raising flour
• Butter
• Salt
• Milk
• Toppings
More on Peta:
Through her Wunyun business, Peta has revived ancient traditional medicinal practices passed down to her by her ancestors. Peta shares her wealth of ancestral knowledge through teaching and delivering a contemporary take on ancient medicine and healing practices.
More information about Peta can be found on her Wunyun website https://wunyun.com.au/
Our Supporters:
The Axe Creek Landcare Love Your Land event series is supported by the Victorian Government.