THE INAUGURAL INDIE-VIN EVENT IS BEING HOSTED AT PROOF BAR, ADELAIDE.
About this Event
Ethereal Wines & Vanguardist are delighted to announce the arrival of indie-vin.
A collective of like-minded winemakers and wine importers with a passion for high quality sustainable, artisan wines. Born out of the mutual respect and admiration we have for our fellow members' wines and a desire to share our love of these wines.
Presenting some of the best offerings of domestic & imported wines through consumer & trade events.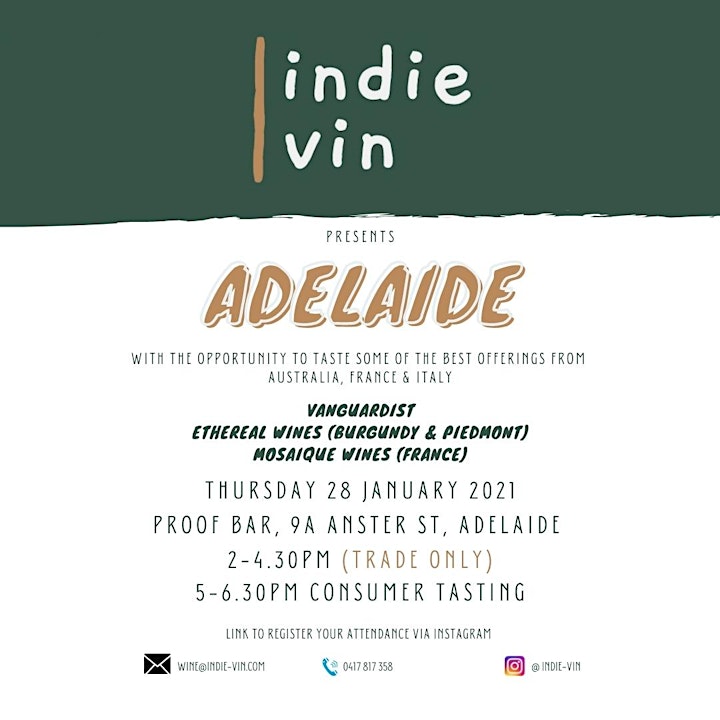 VANGUARDIST - in it's heart, a collaborative project between three friends, each from varying walks of life, that came to the realisation (after many a late evening in the sleepy town of Hawkes Bay, New Zealand) that they held the same ideals about wine. We all have jobs and take time outside of our everyday lives so that we have our own creative licence to produce wines that we love to drink. Winemaker Michael J Corbett is meticulous both in the vineyard and the cellar to ensure his wines are the best representation of their site each vintage.
ETHEREAL WINES - is an importer of artisan wines exclusively from Piedmont & Burgundy. Director Rody Hall travels Piedmont & Burgundy extensively each year tasting from barrel and bottle before shipping - favouring sourcing from cellars than the trade show circuit and immersing himself in the local culture & customs. Ethereal Wines distribute many of Piedmont's greatest growers and increasingly their Burgundy portfolio continues to grow. Always with an emphasis quality over quantity and sustainable viticultural practices.
MOSAIQUE WINES - imports and distributes artisanal wines from France. Founder Thomas travel extensively throughout the country each year to bring you a collection of wines that reflect the heart and soul of this land- a mosaic of small and beautiful parts that make a bigger picture. Since moving from France to Melbourne, Thomas has thrown himself into the Australian wine scene, sharing the best of his native land while enjoying the wares of his adopted home.