Indian Economy: Strengths and Opportunities
Mr Manish Gupta (Consul General of India, Sydney) on Indian economy, its strengths and opportunities.
About this event
Sydney Investors, Professionals and Business Networking Group (SIPBN Inc.) invites you to a free webinar proudly featuring Mr Manish Gupta - Consul General of India, Sydney.
Investors worldwide are seeking new opportunities to invest and expand. India has one of the largest and fastest growing economies in the world, making it a lucrative investment option.
Key Note Speaker:
Mr. Manish Gupta (Consul General of India, Sydney)
Manish Gupta is a career diplomat and a member of the Indian Foreign Service since 1998. In the course of a diplomatic career spanning over 20 years, he has held various positions in New Delhi and abroad. He has extensive experience in dealing with multilateral issues.
Prior to assuming his current responsibilities, he served in the Ministry of External Affairs as Joint Secretary for Overseas Indian Affairs overseeing migration and mobility, emigration policy, labour and manpower cooperation, skill development initiatives and welfare and protection of Overseas Indians related matters. He was also CEO of India Centre for Migration (ICM), which is a think-tank of the Ministry on matters related to international migration.
Earlier, he has served as Consul General of India in Istanbul, Turkey (2013-2016) and in Permanent Mission of India to the United Nations, New York (2009-2013). His other diplomatic assignments were in Dakar (2002-2005) and Brussels (2000-2002). He has also served as desk officer for Nepal in the Northern Division (2005-2009).
Mr. Gupta holds a B.Tech degree in Electronics and Communication Engineering from the Institute of Technology, Banaras Hindu University. He is married to Nimeesha Gupta and has one son.
Raman Bhalla (President - SIPBN Inc.)- Host
Raman Bhalla is President and Chief Executive Officer of Sydney Investors, Professionals and Business Networking Group Incorporated (SIPBN Inc).
Raman is a partner of RSB Hexagon which provides end to end services in business advisory, accounting, tax, financing, real estate investments and wealth management. Raman is the founding principal of Proactive CFOs and Business Advisors which specialist provider of resident director services, capital raising, mergers and acquisitions and joint ventures advisory services.
Previously, Raman worked with several Australian and Global investment banks in senior executive management roles. Raman is a Chartered Accountant, FCPA, CIMA and holds Bachelor of Commerce.
Raman is hugely passionate about building businesses and facilitating international trade, business, and investment. His extensive international business, professional and political networks include Australia, US, India, Israel, Hong Kong and China.
Raman acts as Non-Executive Director and Company Secretary for ASX listed entities, start- up enterprises, private companies and not-for-profit organisations and adds significant value for stakeholders.
About SIPBN Inc:
Sydney Investors, Professionals and Business Networking Group (SIPBN Inc) is a not for profit organisation which provides a premium platform to connect business, markets, capital and projects with investors, opportunity, and information at one place through our global contacts in the investor community, business, trade missions and government departments. Our focus is to facilitate international investment to and from Australia particularly Western Sydney.
Our members include business owners, CEOs, professionals, investors and entrepreneurs from different business sectors including not for profit organisations.
For more information, please e-mail info@sipbn.com.au or visit www.sipbn.com.au.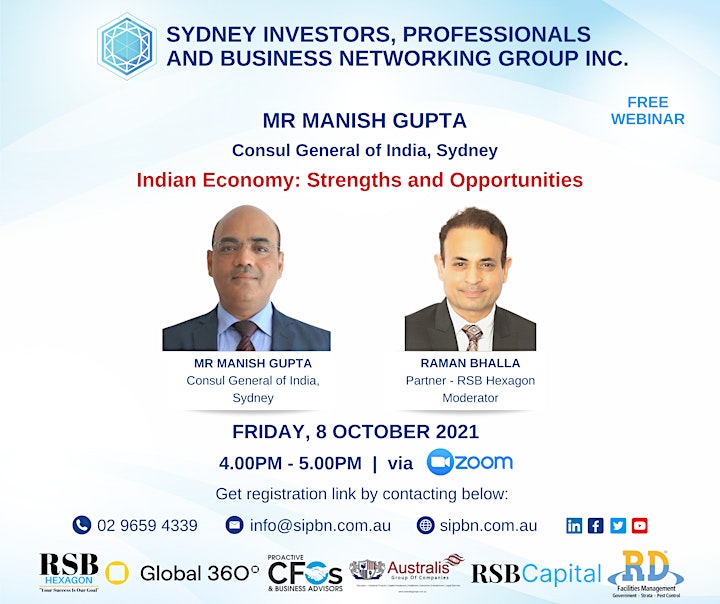 Organiser of Indian Economy: Strengths and Opportunities