Sign up for this online session, presented by True, to learn more about inclusive education for LGBTIQ+ students!
About this event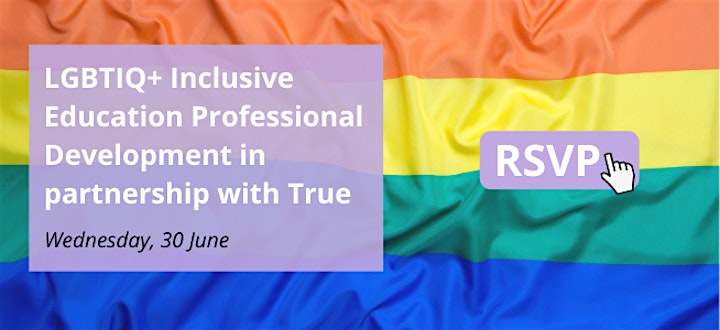 At 10am on Wednesday, 30 June 2021, our union will be offering online training, presented by True, focusing on inclusive education.  In this free 90 minute professional development session, True will be assisting members to provide support to students who may identify as, or be questioning whether they are part of the LGBTIQ+ community. 
Attendees of this session will be provided with a certificate of attendance and will be able to have their questions answered by an expert in the field.
This training is particularly important for staff in schools and will be offered via zoom so members from all over Queensland and the Northern Territory can access the training.
All members are encouraged to attend this training so please RSVP as soon as possible to secure your place.
Attendees will receive a joining link approximately 24 hours prior to the session.
Organiser of Inclusive Education Training
The Independent Education Union - Queensland & Northern Territory Branch (IEU-QNT) is an organising union representing more than 17,000 teachers, principals and school support staff in non-government schools across Queensland and the Northern Territory.
We provide networking and training opportunities to ensure members have a strong collective voice on the key issues impacting our sector, as well as the opportunity to develop their professional skills.
Our BEnet-badged events are open to members who are aspiring educators and teachers in their first five years only.