Description
The Graeme Clark Institute for Biomedical Engineering is pleased to announce a new event series, In The Know. This series invites the public to hear entrepreneurs, company founders and business executives share the key success factors and important lessons in building medical technology, biotechnology and pharmaceutical businesses. These sectors are important and growing contributors to innovation and the economic development of the State of Victoria.
In The Know is an opportunity for existing and budding entrepreneurs, business founders, people running businesses, policymakers and the public at large who have an interest in learning from practitioners about the secrets of their success.
The series is called In The Know since establishing any business venture requires its founders and leaders to be knowledgeable, informed, aware and up-to-date with a range of issues that come in to play in building a successful enterprise.
Guest Bio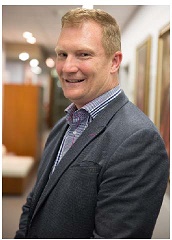 Prof. Darren Kelly, OccuRx, Australia

Darren is the Company's CEO and Managing Director bringing over 25 years of management and research expertise in the life sciences and biotech sector. Concurrent to his role with OccuRx, Darren is the Associate Dean (Innovation and Enterprise, MDHS) at The University of Melbourne, the Director of Innovation and Enterprise at the Centre for Eye Research Australia (CERA) and the Director Biomedical Research in the Department of Medicine, St Vincent's Hospital Melbourne, where his research expertise lies in progressing pre-clinical novel interventions and developing experimental models of cardiovascular disease. He has published over 200 manuscripts in the field of translational research and novel interventions many of which have had a direct impact on human disease. In 2009, Darren was a recipient of the prestigious TJ Neale award for outstanding contribution to nephrology. In 2015 Darren joined the Medical Research Commercialisation Fund as Venture Partner.

Darren has proven history in translational research. He was previously Founder, CEO and Director of Fibrotech Therapeutics, a company that developed orally active anti-fibrotic inhibitors to treat underlying pathological fibrosis in kidney and heart failure, which was ultimately acquired by Shire Plc for a record 75 million USD upfront including milestone payments up to 600 million USD.

Darren has a PhD in Translational Medicine from the University of Melbourne. He is a current member of the Australian Institute of Company Directors, AusBiotech, BioMelbourne Network and a Fellow of the American Society of Nephrology.
Please note light refreshments will be served at the conclusion of the event.