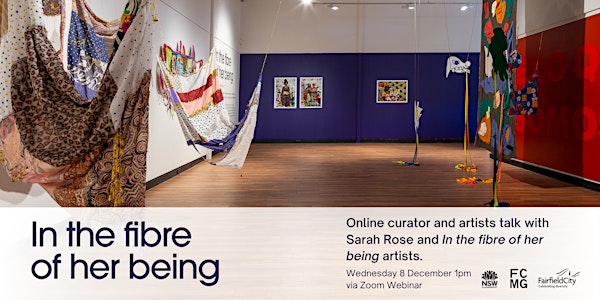 In the fibre of her being - Curator and Artists Talk with Sarah Rose
In the fibre of her being - Curator and Artists Talk Wednesday 8 December 2021 1.00pm
About this event
In the fibre of her being - Curator and Artists Talk
Saturday 12 June 2021 | 2.30pm - 4.30pm
Join In the fibre of her being curator Sarah Rose and exhibiting artists for an online exclusive webinar of conversations and reflections. Hear from some of the artists discuss their work and how they use textile-based practices as mechanisms to write their personal and collective histories. This will be followed by an open Q&A facilitated by Sarah.
Questions can be submitted prior to the webinar or during the webinar.
Sarah Rose is an independent curator based in Sydney. She has curated extensively across independent and council-run spaces, collaborating closely with artists to develop group and solo exhibitions. Her research often explores the body as both a material and a subject, traversing notions of trace and embodied materiality.
Date: Wednesday 8 December
Time: 1 - 2.30pm.
Image credit: Document photography
Logo credit: Kathie Nad.