About this Event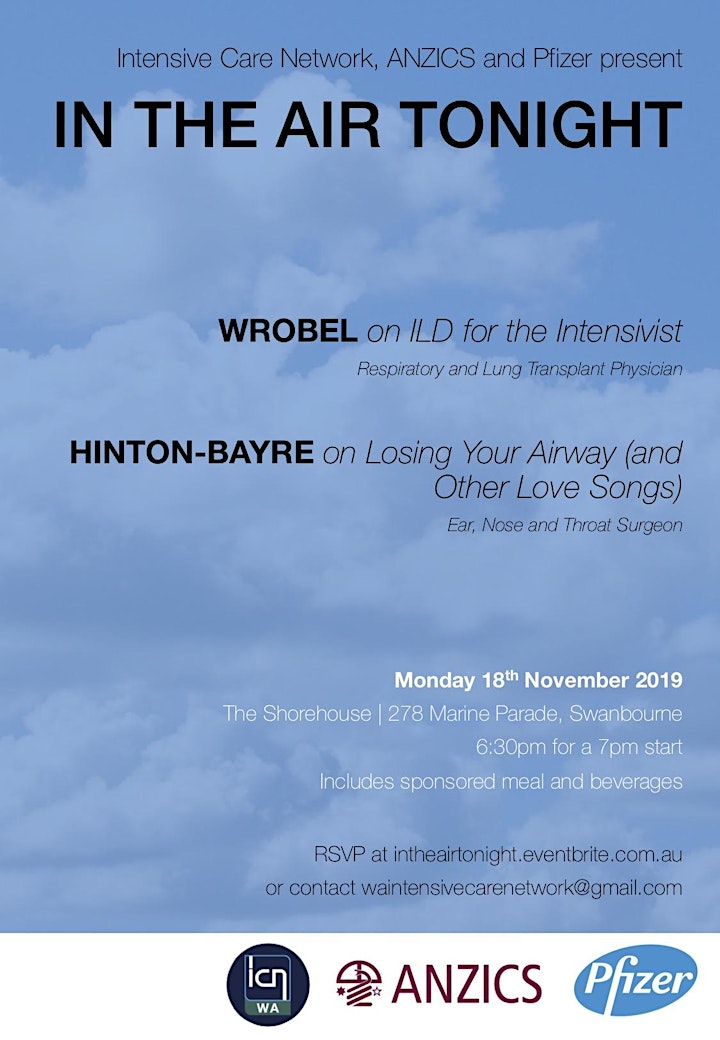 Join us at the next combined INTENSIVE CARE NETWORK WA and ANZICS Dinner Meeting
MONDAY 18 NOVEMBER 2019
Featuring:
ILD update for the intensivist - beyond the alphabet soup of TLAs
Dr Jeremy Wrobel
Advanced Lung Disease Unit
Clinical Lead for Interstitial Lung Disease
Fiona Stanley Hospital
Dr Jeremy Wrobel gives an update and insight on new Interstitial Lung Disease therapies and their influence on Intensive Care Unit practice.
Losing your airway and other love songs
Mr Anton Hinton-Bayre
ENT unit
Royal Perth Hospital
Rural and remote Northern WA, Northern Territory
Mr Anton Hinton-Bayre explores airway disasters and tracheostomies from an ENT surgeon perspective. Invaluable experience for the intensivist.
Dinner and Drinks sponsored by Pfizer
Frequently Asked Questions
Who can attend?
This event is open to all Intensive Care Consultants, Registrars and Intensive Care Staff by RSVP only.
We are unable to cater for Partners at this event.
Seats are limited so please RSVP early to avoid disappointment
Do i need to bring my ticket on the night?
No. Just arrive and we will tick your name off the door list
Tell me about the venue
Shorehouse restaurant boasts amazing beach views and great food. We are incredibly grateful to our sponsors for allowing us to offer you dinner at one of Perth's premier restaurants, to provide the perfect backdrop for our fantastic speakers.
How much will it cost to attend?
There is no cost and the evening includes dinner and drinks kindly sponsored by Pfizer
What if I cannot attend anymore?
Please let us know if you have RSVP'd attending but are unable to attend so we can adjust our catering provisions on the night.
What are the parking options getting to the event?
Shorehouse restaurant has ample parking behind the restaurant in the adjacent carpark.
What is ICN WA?
ICN WA is an addition to the Intensive Care educational scene and is partnered with the intensivecarenetwork.com. Through a series of evening dinners, we will be showcasing the best and fairest educational talent Perth has to offer.
The aim is to bring our WA Intensive Care community closer together, as well as to add to the treasure chest of online Free Open Access Medicine resources that the ICN has already established.
ICN WA extremely grateful to our sponsor, Pfizer, without whose support this project could not have got off the ground.
How can I contact the organiser with any questions?
Please direct any questions to waintensivecarenetwork@gmail.com
http://intensivecarenetwork.com/about/icn-wa/