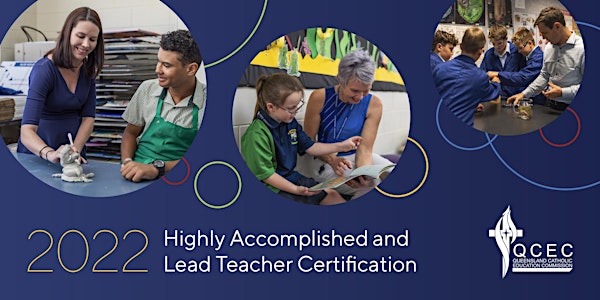 In-Depth Certification Workshop - Online (RI/PJP Schools)
QCEC and trained facilitators will be delivering in-depth workshops (3 hrs) within each diocese.
About this event
QCEC and trained diocesan facilitators will be delivering in-depth workshops (3 hrs) within each diocese, for teachers who intend to apply for Highly Accomplished and Lead Teacher (HAT & LT) Certification in 2022 and 2023.
This workshop will be conducted online within each diocese. Registered attendees will receive Zoom meeting details prior to the workshop.
This workshop details the certification process in greater depth, building on the understandings gained in the introductory session. It is recommended that aspiring applicants attend an introductory session and then an in-depth workshop prior to submitting a notification of intention to apply.
The In-Depth Workshop focuses on:
Unpacking the Australian Professional Standards for Teachers (APST)
Planning the portfolio
Understanding the importance of Direct Evidence
Planning an Evidence Set
Annotating the Evidence Set
Stage 1 and Stage 2 Processes
This workshop is an opportunity to reflect on your teaching journey and build a supportive network of teachers aspiring for Highly Accomplished or Lead Teacher Certification.
These workshops were offered in Term 4, 2021 and are also being offered in Term 1, 2022. Prospective applicants may attend more than one in-depth workshop as they continue to develop their portfolios over time.
There is no charge for attending this workshop, however please cancel your registration if your plans change and you are not able to attend.
If you have any questions or require further information please contact Bernadette Moodie, Education Officer, QCEC at bernadettem@qcec.catholic.edu.au or phone 3316 5840.
Organiser of In-Depth Certification Workshop - Online (RI/PJP Schools)