About this Event
The Urban Developer proudly welcomes Shane Quinn, founder and executive chairman of Quintessential Equity to our webinar series.
Regarded as one of Australia's most dynamic diversified property groups, Quintessential Equity (QE) has built an enviable reputation as both a developer and owner of quality commercial and industrial real estate.
The Melbourne-based Quinn uniquely brings together the best of traditional property - relationships, patience and trust, - with modern innovations such as wellness, sustainability and technology.
Through this combination of old and new, QE has delivered market-leading returns for shareholders, resulting in being awarded the Property Fund of the Year in 2018 and 2019 by the Royal Institute of Chartered Surveyors (RICS).
The conversation will explore:
His career journey and the creation of Quintessential Equity (QE)
The values underpinning QE's approach to property, investors and stakeholders
His outlook for office and industrial tenant demand in the wake of Covid-19
His outlook on the capital values of commercial and industrial real estate
How his approach to tenants results in a 95% tenant retention rate
How the pandemic will change workplaces into the future
How wellness and sustainability enabled QE to deliver shareholder returns in excess of 22% IRR*
Why QE is on the hunt for $300 million of new acquisitions at a time when others are retreating from the sector
Shane Quinn will join The Urban Developer founder and chief executive Adam Di Marco for this discussion on Zoom.
Attendees will be able to submit questions prior to and during the discussion which will be moderated by Adam.
* Based on weighted average net Internal Rate of Return (IRR) by sale prices/values at 30 June 2019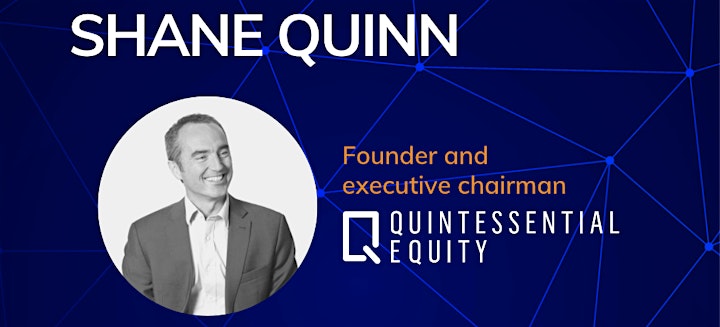 About the speaker
Shane Quinn is a qualified civil and environmental engineer who co-founded Quintessential Equity in 2010 with Harry Rosenberg. Shane has more than 15 years' property experience – from concept planning through to acquisition, as well as construction and asset management, finishing with the sale. His strong relationships with agents and fund managers ensure he has a detailed market perspective on the full breadth of property opportunities available across Australia.
As the Executive Chairman, Shane actively oversees and sets the strategy for all aspects of the business, with a focus on identifying and acquiring properties that meet the strict Quintessential Equity purchase criteria.
Frequently Asked Questions (FAQs)
Why are we charging our audience for webinars?
In response to COVID-19, The Urban Developer is adapting by bringing together our extensive network of experts, influencers and industry leaders to share with you - our community.
In doing so, we can continue to support the free independent journalism that is being delivered to you on a daily basis.
The Urban Developer can confirm that there is no financial exchange between the speaker and the host.
How did we come up with the pricing?
We arrived at the pricing model after much discussion with our team and our community.
We believe $50 + GST is a fair and reasonable price for an hour-long session that includes a moderated discussion and interactive audience Q&A with hard to access industry leaders.
Are you suffering financial hardship and want to invest in your future?
Contact david.dimarco@theurbandeveloper.com directly and we will do our best to respond in the most compassionate way we can.
What about if I can't attend the webinar - Can I watch a recorded version?
Yes - register for the webinar and you will be able to view a recorded version of the webinar.
Please contact david.dimarco@theurbandeveloper.com to source the link.
What if I am a corporate user and would like to watch with my team?
Great idea! We love it when corporate teams engage with us.
Contact david.dimarco@theurbandeveloper.com directly to arrange access as a corporate user.
Do you provide discounted registrations for not-for-profit, community organisations or full-time students?
Yes - we absolutely do. Please contact david.dimarco@theurbandeveloper.com for further details.
Disclaimer
The Urban Developer cannot accept any liability or responsibility for loss occurring as a result of anyone acting or refraining from acting in reliance on any material contained in this presentation.