Join the postponed interview of Justice Virginia Bell AC. You are invited to register to attend in-person or for the livestream.
About this event
In Conversation with Jon Faine deep-dives into the minds of some of Australia's major movers and shakers as they explore some of the biggest legal, economic and social issues of our time.
Virginia Bell has always been a trailblazer.
From the early days of Redfern Legal Centre, to the Sydney Bar, the Supreme Court and Court of Appeal in NSW and then the High Court, Virginia Bell has not smashed glass ceilings so much as ignored them.
Her reputation as a jurist is matched by her wit. She is the only High Court judge to have also worked as a barrel girl for a TV quiz show and a host for ABC Radio.
This is a conversation sure to enlighten as well as entertain.
In this very first In Conversation event, you are invited to join in: whether you attend in person or online you can share your questions with Jon and Virginia and be part of what's sure to be a fascinating evening.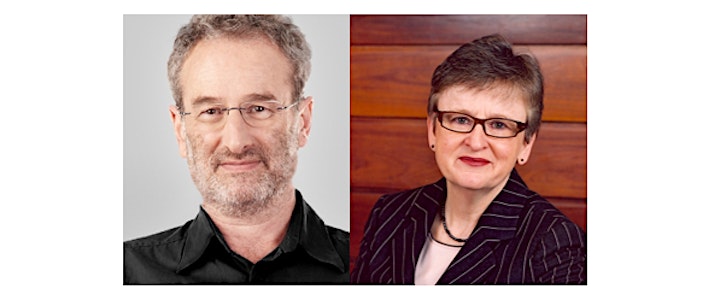 Speakers
Special Guest: Justice Virginia Bell AC
Virginia Bell served on the High Court of Australia for 12 years from February 2009. At the date of her appointment, she was a judge of the Court of Appeal of the Supreme Court of New South Wales.
After graduating in law, she practised as a solicitor for seven years with the Redfern Legal Centre, the first community law centre to be established in New South Wales. She was admitted to the Bar in 1984 and was appointed Senior Counsel in 1997. Between 1994 and 1997 she was a counsel assisting the Royal Commission into the Police Service.
Justice Bell was appointed to the Supreme Court of New South Wales in March 1999. She served as President of the Australasian Institute of Judicial Administration between 2006 and 2008. Justice Bell was made a Companion of the Order of Australia in 2012 for eminent service to the judiciary and the law through judicial administration, and as an advocate for the economically and socially disadvantaged.
Interviewer: Jon Faine AM, ABC Broadcaster of the Year, keynote speaker and best-selling author
Jon Faine has been at the forefront of public affairs in Australia throughout his 30-year career. Moderating live-to-air debates on every topic imaginable day after day over decades equips Jon with a sharp mind and quick wit.
He also has a broad knowledge of topics that marks him as a conference facilitator and speaker extraordinaire. Jon is an ABC Broadcaster of the Year and holds multiple media and legal awards. He has also received an Order of Australia and the Monash University Distinguished Alumni Award.
Agenda
5.45 pm - Registration
6.00 pm - Interview begins
6.45 pm - Q+A
7.00 pm - Drinks reception
8.00pm - End of event
Ticket types
In-person ticket - To attend in-person at our Monash Law Chambers in Melbourne CBD
Livestream ticket - To receive the link directly to the LinkedIn live (where you can ask your questions) or YouTube live (watch content only).
How to watch on LinkedIn Live:
✅ Make sure you are following Monash University on LinkedIn: https://www.linkedin.com/school/monash-university/ by visiting our profile page and clicking FOLLOW (*you will need a LinkedIn account).
✅ Open LinkedIn a few minutes before our live stream begins.
✅ When we go live, you will receive a notification from LinkedIn and we'll have sent you the link in advance as well.
✅ Have a question for Jon and his guest? Comment on the live stream of this event.
*Don't have a LinkedIn account? Go to: https://www.linkedin.com/ to join
About the series
In Conversation with Jon Faine features some of Australia's leading thinkers and doers discussing the major legal, economic and social issues of our time.
Hosted by iconic broadcaster Jon Faine AM, In Conversation is an opportunity to reach beyond the sound bite, take a breath and deep-dive into the minds of some of our community's major movers and shakers.
Join Jon Faine as he draws upon decades of broadcasting experience to enlighten, to ask those difficult questions, and to have a little fun along the way.
Proudly presented by Monash University.
Contact us
e-mail: law-engagement@monash.edu
Organiser of In Conversation With Jon Faine: Justice Virginia Bell AC