Description
Please join us for a conversation with Louise Swinn on the topic of her new book Choice Words: A Collection of Writing About Abortion.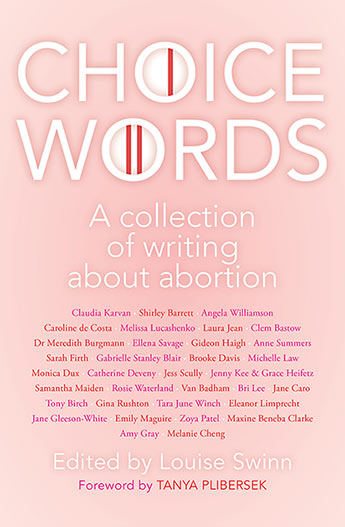 Abortion is simultaneously a deeply personal and political issue. This book gives voice to experiences previously unheard, and agitates for change.
Our discussion will be complimented cheese and wine :)
---
Choice Words: An Anthology of Writing About Abortion Edited by Louise Swinn
A timely collection of stories, essays, rants and raves that seeks todemystify abortion and its surrounding stigma.
At a time when abortion is a criminal act and prosecution is a real risk in parts of Australia, this book is needed more than ever. Just last year, the world watched aghast when a Tasmanian woman lost her job at a high-profile sporting agency for tweeting the truth: even in states where abortion is legal, access can be nearly impossible.
This treasury of stories highlights the sheer unspoken commonality of abortion. Women have been dealing with the risks and the fall-out for longer than there is record.
It is poignant, wise, funny and true; a salute to those who have been working in the field, a celebration of how far we've come, an electrifying caterwaul at how far we still have to go, and a clarion call to action.
Contributors include Jane Caro, Claudia Karvan, Laura Jean, Melissa Lucashenko, Emily Maguire, Tara June Winch, Michelle Law, Tony Birch, Melanie Cheng, Anne Summers, Gideon Haigh, Monica Dux, Bri Lee, Jenny Kee, and a Foreword by Tanya Plibersek. Proceeds from Choice Words will go to the charity Marie Stopes Australia, the only national, independently-accredited, not-for-profit safe abortion provider, that has helped more than 600,000 women in the past twenty years.
---
ABOUT THE AUTHOR
Louise Swinn is a writer, editor, publisher, reviewer, prize judge, and literary event chair. She was one of the founders of Sleepers Publishing, the Small Press Network, and the Stella Prize. Louise's written work appears regularly in The Age, The Australian and The Sydney Morning Herald. Her interest in women's rights began when she was very young, listening to stories of women's suffrage on her grandmother's lap.