About this event
Understand why thinking can be difficult
Learn how to divide thinking and focus
Experience free vs sequenced thinking
Improve teamwork and morale
Increase thinking productivity by 200%+
Ian Carter is a Management Trainer with many years experience in Sales, Marketing and Advertising. He trained over 1,000 people in applied thinking skills in Indochina and has now relocated to Darwin.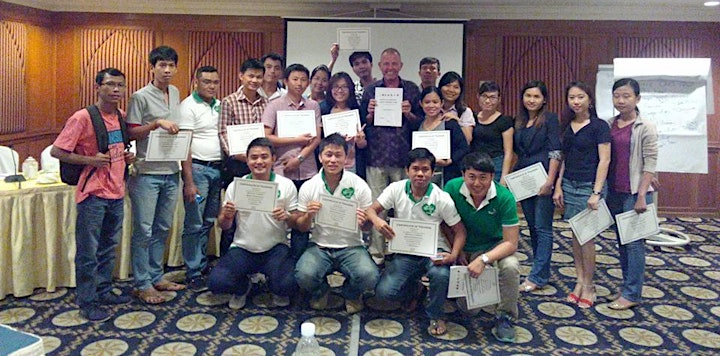 Organiser of Improved Thinking Skills
Ian Carter: B. Bus (Marketing) 1989 SAIT/UniSA, Cert. Direct Marketing, '94 ADMA '94, Copy-Writing '93, AWARD School, Cert. Vietnamese Language and Culture, '97, Gen. Uni. HCMC.
Ian has held Sales and Marketing positions with IBM, REPCO, and Faulding Pharma; and  Managment positions in Advertising agencies DDB, Y&R/Mattingly, & George Patterson-Bates (Melbourne) In 1996 he moved to Vietnam as GM of BBDO Advertising 96 – 97. 12/97 Ian completed 2-week "Train the Trainer" course in "Lateral Thinking" & "Six Thinking Hats". From 98 to 02 he was an active trainer in Vietnam and Australia & trained over 1,000 people in "Six Hats" from leading organisations including IBM, Colgate-Palmolive, Australian Consulate General, Siemens, Unilever, ANZ Bank, Ernst & Young, McCann-Erickson, Cargill, Mobil, Castrol, RAAF, and more. He trained over 100 in Lateral Thinking.
Ian moved to Cambodia in 07 as G.M. at DG Advertising, then AdsCom Advertising (08-10). He also lectured Corporate Comms. at Raffles College and Marketing at Limkokwing University (11). He restarted training in 12 as the first trainer in "Seven Thinking Caps' with the Seventh Grey Cap for "Wisdom" as added by Dr. Michael Hewitt-Gleeson in 07 who created "Six Hats" in 83. Ian also trains Lateral Thinking 2d, Presentation Skills 2d, Customer Service 1d & Time Management 1 d.
 In 01/19 Ian relocated to Darwin and is offering training and consulting.