Sales Have Ended
Ticket sales have ended
Thank you! Email us at staff@laugh-masters.com.au for any questions or clarifications.
Sales Have Ended
Ticket sales have ended
Thank you! Email us at staff@laugh-masters.com.au for any questions or clarifications.
Learn narrative structures to punch up your performance
About this Event
Level 4 - The Harold!
Improv Level 4 is all about "Harold" and yes, you can take this class as many times as you want, you can never have too much practice!
Level 4 takes your improvisation skills developed in levels 1-3 to the next level, bringing it all together in the granddaddy of improvised show forms: The Harold.
This class explores The Harold and develops your skills as an improviser through ensemble play and individual player coaching and feedback.
Students who are already familiar with the Harold will also benefit from exercises and feedback personalised for their level of play.
Completion of Level 4 at LMA is a prerequisite to gaining a position on a House Team.
One day all of this will make sense and it will be hilarious!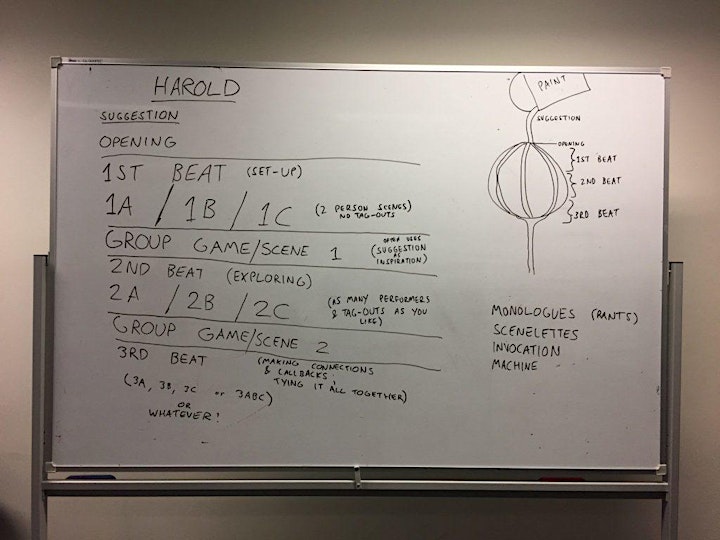 Level 4 Improv Focuses On:
The history and structure of the Harold, variations and styles
Individual student notes and feedback
Multiplayer and split scene focus techniques
Openings and Group games, types, options and variations of standard games plus more
Editing techniques and support moves, what, when and how
Scene initiation types and uses
Harold performance graduation show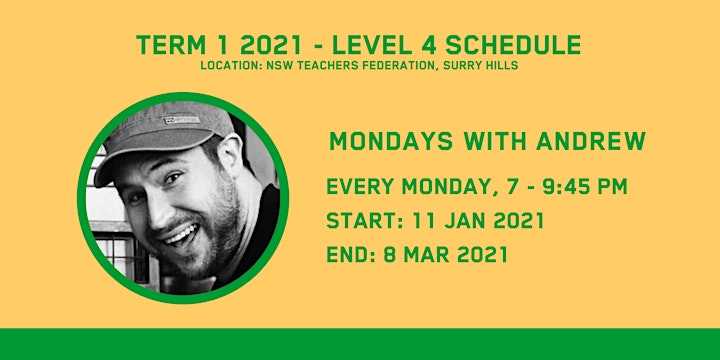 Prerequisites:
Passed and completed Level 3.
Class Notes
Classes run for 8 weeks.
Monday evening classes start on 11 Jan.
No classes on Australia Day weekend (23-26 January)
The 3rd session will resume in the first week of February.
Wear comfortable clothes and shoes
Our venue is very near Central Station. Street parking is available but limited.
We plan a graduation showcase after the end of the course. It is scheduled on 20 March. Further details TBC.
How to book your class
Click the green "TICKETS" button on this page.
To avail of the early bird promo (until 23 December only) enter the code: hello2021
Testimonials:
"Signing up for LMA is one of the best decisions I've made. You'll go in not knowing what to expect and leave with a growth mindset. The coaches are highly experienced, inclusive and not afraid to challenge you." - Ryan
"Such amazing teachers to help break into this world of Improv. Originally I had planned on completing one course, but after experiencing such a good learning environment and so much progress, I'm excited for Level 2! Highly recommend!" - Alyx