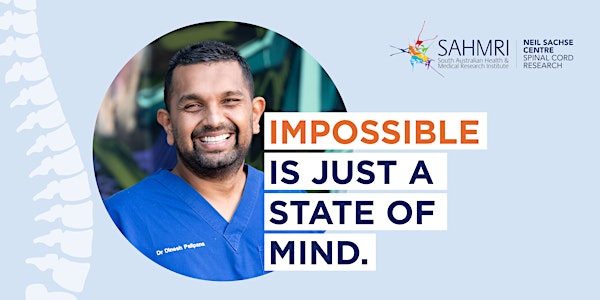 Impossible is just a state of mind - Dr Dinesh Palipana OAM
Join us as we hear the incredible story of Dr Dinesh Palipana OAM, Queensland's Australian of the Year.
About this event
Dinesh was the first quadriplegic medical intern in Queensland, and the second person to graduate medical school with quadriplegia in Australia. Dinesh is a doctor, lawyer, disability advocate, and researcher.
Halfway through medical school, he was involved in a catastrophic motor vehicle accident that caused a cervical spinal cord injury. As a result of his injury and experiences, Dinesh is an advocate for inclusivity.
Dinesh was the Gold Coast Hospital and Health Service's Junior Doctor of the Year in 2018, and is a founding member of Doctors with Disabilities Australia. He was awarded the Medal of the Order of Australia in 2019 and he was the third Australian to be awarded a Henry Viscardi Achievement Award. Dinesh's commitment to advocacy for doctors with disabilities had him awarded the Queensland Australian of the Year for 2021.
The presentation will be followed by a Q&A session.
If you would like more information, contact Sarah Boucaut neilsachsecentre@sahmri.com.

Organizer of Impossible is just a state of mind - Dr Dinesh Palipana OAM
The South Australian Health and Medical Research Institute (SAHMRI) is South Australia's first independent flagship health and medical research institute. It's home to more than 700 medical researchers working together to tackle the biggest health challenges in society today. The team at SAHMRI believe in conducting inspired research that will lead to improved health outcomes for the community.