Description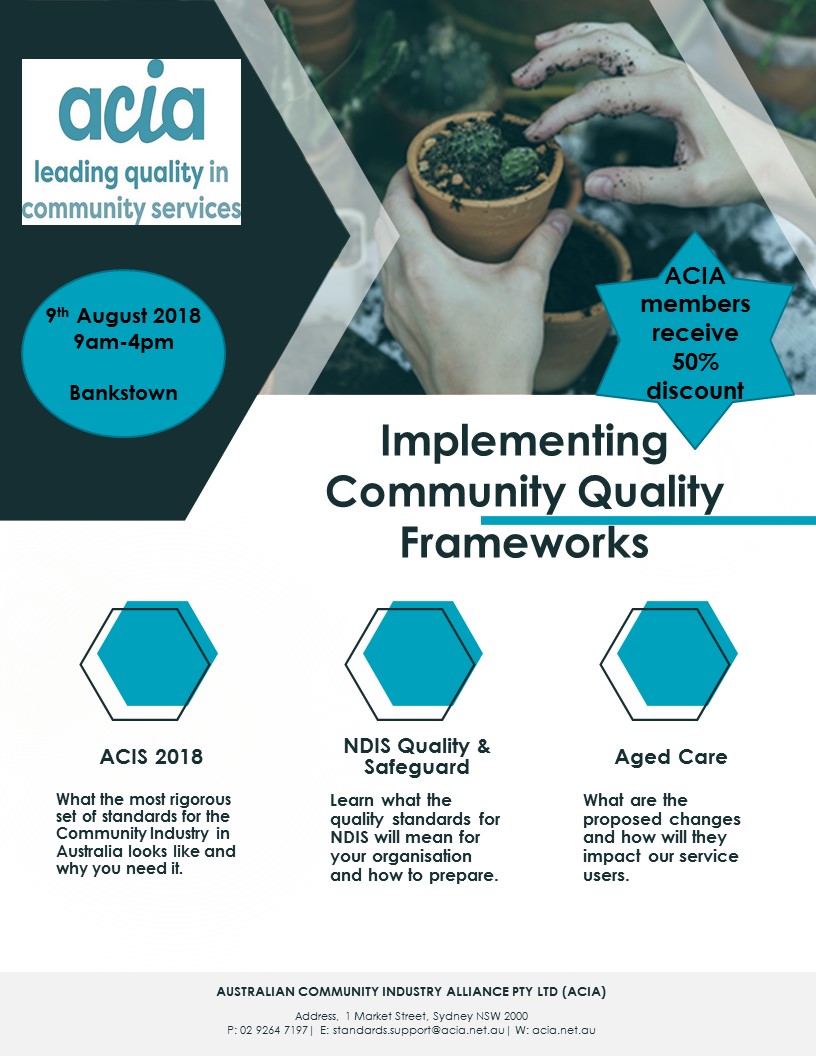 ACIA has contributed to the development of the National Quality and Safeguard Standards which have now been released.
Attend our session the following day the NDIS Provider Information session is held in your area and learn what is required to meet the requirements.
ACIA has practical training options to guide organisations who are managing multiple quality frameworks or are new to the implementation of a quality framework. This training will support a number of community standards that are required to meet industry compliance in the community.
Why should you do this training?
The aim of this training is to support Service Providers in Community to implement or maintain Quality Management frameworks that will support;
Australian Community Industry Standards (ACIS 2018)

NDIS Quality and Safeguard Standards - PREPARE FOR THE NDIS REQUIREMENTS

Aged Care Quality Standards
and will provide;
Practical Information and Case Studies, to help you build and maintain a Community Quality Management Framework

A refresher for community providers working with a quality management system
Training can be delivered in 2 parts to meet all organisational needs.
1. A 1 day training workshop in key locations across Australia – both Metro and Regional. The cost of this training is $250 for ACIA members and $500 for non-members - includes lunch and refreshments. *Please email standards.support@acia.net.au to advise of any dietary retrictions. If you are not a current member and wish to become one, please contact us for further information of membership benefits.
2. Webinar sessions are then scheduled to focus on and drill down on the key components of a community quality framework. Cost of each session will be $40 for ACIA members and $60 for non-members.
We look forward to your participation!
Regards,
The Australian Community Industry Alliance (ACIA) Team