Description
Immigration Law Review 6
Join us for in depth analysis and discussion of immigration law developments.
Morning - Review of legislative changes and caselaw developments
The morning seminar will provide detailed consideration of legislative changes in the immigration portfolio from April 2017 to November 2017 including:
- changes to skilled migration requirements;
- expansion of SHEV pathways; and
- amendments to the offshore humanitarian program.
We will also discuss the Australian Citizenship Bill 2017 and its Parliamentary Inquiry.
In addition, we will provide caselaw analysis of recent decisions of the High Court, Federal Court and Federal Circuit Court of Australia and reflect upon developments in judicial review.
Afternoon – Shining light on immigration decisions
- Do you understand the role of computers in immigration decision-making?
- Do you know how to challenge a decision based upon protected information?
Our afternoon session will shed light on how decisions are being made in the immigration portfolio and consider the ways in which lawyers can advocate for transparency.
We will consider the legal framework underpinning computer assisted decision-making and examine the extent to which decision-making power can be delegated to computers.
This session will consider the legal frameworks best suited to an increased reliance upon computer aided decision making and the grounds of judicial review best suited to challenging such decisions.
We will also undertake a detailed examination of the High Court's recent judgment, Graham v Minister for Immigration and Border Protection [2017] HCA 33, concerned with review of a Ministerial decision based upon protected information.
Program
Morning seminar: 9:00 AM – 12:00 PM.
Lunch and professional networking: 12:00 PM – 1:30PM.
Afternoon seminar: 1:30 PM –4:30 PM.
Cost
Full day seminar including lunch, $715 including GST.
Morning seminar, $495 including GST.
Afternoon seminar, $330 including GST.
Morning attendees, being those who attend the full day or morning seminar, will receive a complimentary edition of our latest publication, valued at $110.00.
Please visit our website for our refund policy, at www.immigrationlawreview.com.au
Firm Discount
We are offering a 50% discount on the full price for 3rd and subsequent attendees from the same firm. To secure this offer, email us at info@immilr.com.au


CPD
From 22 August 2016 an Australian legal practitioner receives 10 CPD points for registration as a migration agent on account of holding a current practicing certificate and meeting CPDrequirements for their practicing certificate.
Australian legal practitioners may obtain CPD points for attendance at seminars and workshops relevant to their practice area of the law.
Further information can be found at the NSW Law Society and the Law Institute of Victoria
Guest Speaker
Carina Ford
Carina Ford is recognised as one of Australia's pre-eminent migration lawyers. She established her own practice in 2004, having previously worked as an Associate at Gadens Lawyers, Melbourne. She has been a registered migration agent since 1998. She is a practicing lawyer and an Accredited Immigration and Administrative Law Specialist. She is a member of numerous legal boards and committees including:
As of April 2017, she is the Vice Chair of the Migration Law Committee of the Law Council of Australia
Fellow of the Migration Institute of Australia (MIA)
Member of the Law Institute of Victoria (LIV) Immigration and Administrative Law Specialisation Law Committees
Member of the LIV Migration Law Committee (of which she was also chairperson in 2009 and 2010
Member of the Administrative Law and Human Rights Executive Committee of the LIV of which she was also chairperson of this committee in 2011 and 2012
Part of a group of lawyers who have established LIV's refugee legacy caseload group established in 2015 to help meet the need of 30,000 applicants who have little to no legal funding
Part of the UNHCR Roundtable on Protection and Mental Health Concerns for the Asylum-Seeker 2016
Carina Ford Immigration Lawyers supervises a legacy caseload clinic as part of a joint venture between the ASRC and Maurice Blackburn after hours. Carina is a regular contributor to submissions about Bills in this area for the LIV and LCA and has appeared before numerous Australian Senate Committees. She is part of a group providing assistance on split family Applications – applications by refugees under the age of 18 who wished to bring family to Australia. She also writes the Student visa section of the Lexis Nexus Migration service.
Presenters
David Prince
David Prince is an accredited immigration specialist with an established reputation for successfully solving difficult immigration cases. David has been recognised in the Australian Financial Review from 2008- 2017 as one of the country's finest immigration lawyers through inclusion in Best Lawyers – Australia, Immigration Law. In 2012 and 2017/2018 he was voted Lawyer of the Year, Immigration – Sydney.

Joanne Kinslor
Joanne Kinslor is a specialist immigration lawyer who has extensive experience and exceptional knowledge of immigration law. Joanne has been recognised in the Australian Financial Review in 2008- 2016 as one of Australia's finest immigration lawyers through inclusion in Best Lawyers – Australia, Immigration Law. She was voted the 2016/2017 Lawyer of the Year, Immigration – Sydney.
What Previous Attendees Have Said
"It's wonderful to have good quality CPD in this area of law"
"Joanne and David are charismatic and engaging presenters with a thorough understanding of the law"
" A highly informative and entertaining session. Comprehensive and well presented"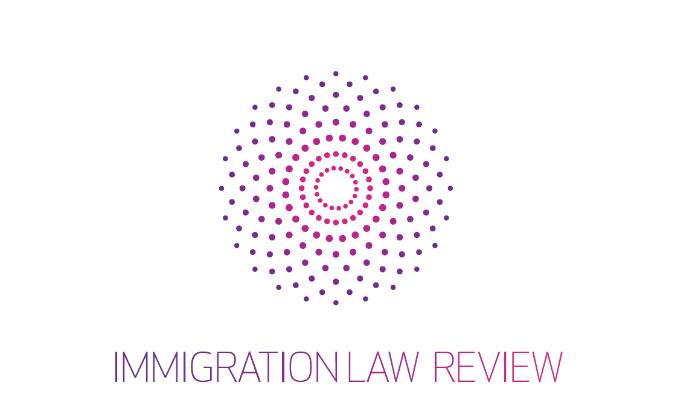 Contact
P: (02) 9223 4242
E: info@immilr.com.au
W: immigrationlawreview.com.au