Description
Immigration Law Review 6
Join us for in depth analysis and discussion of immigration law developments.
Morning - Review of legislative changes and caselaw developments
The morning seminar will provide detailed consideration of legislative changes in the immigration portfolio from April 2017 to November 2017, including:
- changes to skilled migration requirements;
- expansion of SHEV pathways; and
- amendments to the offshore humanitarian program.
We will also discuss the Australian Citizenship Bill 2017 and its Parliamentary Inquiry.
In addition, we will provide caselaw analysis of recent decisions of the High Court, Federal Court and Federal Circuit Court of Australia and reflect upon developments in judicial review.
Afternoon – Shining light on immigration decisions
- Do you understand the role of computers in immigration decision-making?
- Do you know how to challenge a decision based upon protected information?
- Have any of your clients received a health assessment without reasons?
Our afternoon seminar will shed light on how decisions are being made in the immigration portfolio and consider the ways in which lawyers can advocate for transparency.
We will consider the legal framework underpinning computer assisted decision-making and examine the extent to which decision-making power can be delegated to computers.
This session will consider the legal frameworks best suited to an increased reliance upon computer aided decision making and the grounds of judicial review best suited to challenging such decisions.
We will also undertake a detailed examination of the High Court's recent judgment, Graham v Minister for Immigration and Border Protection [2017] HCA 33, concerned with review of a Ministerial decision based upon protected information.
Guest speaker: Caryn Sandler and Mathew Golab Join
ILR

Discussion: Computer Algorithms – The New Immigration Officer?

Immigration Law Review is delighted that Caryn Sandler and Matthew Golab will be joining our afternoon workshop (NSW) to shed light on how artificial intelligence and technology may be utilised by the Australian Government in the immigration portfolio. As Head of Legal Service Innovation at Gilbert + Tobin Caryn has highly specialised knowledge of the ways in which technology is being integrated into the practice of law and her firm has filed patents for technology used in automated legal processes. Matthew Golab is Manager of Legal Informatics at Gilbert + Tobin. Matthew specialises in electronic processing, the application of data analytics and AI as well as project management of large scale document review.

Caryn and Matthew's knowledge of how technology can be used in legal processes will provide valuable insights for immigration lawyers concerned to understand better the ways in which technology is and is likely to be employed in immigration decision-making, in a landscape where:
• the Migration Act 1958 authorises visa decisions to be made by computers;
• automated decisions are assisting the Department of Immigration process high volumes of visa applications within budgetary constraints;
• data-matching is a critical component of modern government decision-making; and
• immigration officers are being assisted by computer risk profiling of detainees, as highlighted by the Sydney Morning Herald



Guest speaker: Peter Papadopoulos illuminates MOC Health Assessments
Immigration Law Review is pleased to announce that Peter Papadopoulos will be joining us as a guest speaker on 2 November 2017.
We are grateful that Peter has agreed to share insights from his extensive experience acting for visa applicants to challenge health assessments made by the Medical Officer of the Commonwealth (MOC). Peter will focus upon questions of:
• How visa applicants can obtain the calculations used by the MOC in determining the care costs of visa applicants.
• How merits review proceedings can be employed to seek transparency for MOC decisions.
Peter is accredited as a specialist in immigration law and has over twenty years of experience in the practice of Australian immigration law. In addition to working as a migration lawyer in small private practice, he has led large teams of migration lawyers and agents in multinational law firms and consultancy firms.
For many years, he has been an active member of the Law Institute of Victoria Migration Law Committee and the Migration Committee of the Law Council of Australia. He has been part of the organising committee of the Law Council of Australia's two-day Immigration Law conference and has been a regular presenter at this annual conference.
For over fifteen years, Peter has regularly presented at conferences and seminars in immigration law and policy held by the Australian Institute of Administrative Law, Law Institute of Victoria, Kessels Goddard + Ajuria Lawyers, Fragomen, Ernst and Young, The College of Law, LexisNexis and the Migration Institute of Australia. Together with Kathryn Viegas, he currently presents continuing professional development seminars and workshops to migration lawyers and agents around Australia through Nomos Education and The College of Law.
Peter has been an editor and author of the Lexis Nexis Immigration Law service since 2008 and has also published in the Law Society Journal. Since 2011, he has been recognised by his peers as amongst Australia's best immigration lawyers and civil rights lawyers in the Best Lawyers peer review.
Program
Morning seminar: 9:00 AM – 12:00 PM.
Lunch and professional networking: 12:00 PM – 1:30PM.
Afternoon seminar: 1:30 PM –4:30 PM.
Cost
Full day seminar including lunch, $715 including GST.
Morning seminar, $495 including GST.
Afternoon seminar, $330 including GST.
Morning attendees, being those who attend the full day or morning seminar, will receive a complimentary edition of our publication, Immigration Law Review Vol. 5, valued at $110.00.
Please visit our website for our refund policy, at www.immigrationlawreview.com.au
Firm Discount
We are offering a 50% discount on the full price for 3rd and subsequent attendees from the same firm. To secure this offer, email us at info@immilr.com.au
CPD
From 22 August 2016 an Australian legal practitioner receives 10 CPD points for registration as a migration agent on account of holding a current practicing certificate and meeting CPDrequirements for their practicing certificate.
Australian legal practitioners may obtain CPD points for attendance at seminars and workshops relevant to their practice area of the law.
Further information can be found at the NSW Law Society and the Law Institute of Victoria
Presenters
David Prince
David Prince is an accredited immigration specialist with an established reputation for successfully solving difficult immigration cases. David has been recognised in the Australian Financial Review from 2008- 2017 as one of the country's finest immigration lawyers through inclusion in Best Lawyers – Australia, Immigration Law. In 2012 and 2017/2018 he was voted Lawyer of the Year, Immigration – Sydney.

Joanne Kinslor
Joanne Kinslor is a specialist immigration lawyer who has extensive experience and exceptional knowledge of immigration law. Joanne has been recognised in the Australian Financial Review in 2008- 2016 as one of Australia's finest immigration lawyers through inclusion in Best Lawyers – Australia, Immigration Law. She was voted the 2016/2017 Lawyer of the Year, Immigration – Sydney.


What Previous Attendees Have Said
"It's wonderful to have good quality CPD in this area of law"
"Joanne and David are charismatic and engaging presenters with a thorough understanding of the law"
" A highly informative and entertaining session. Comprehensive and well presented"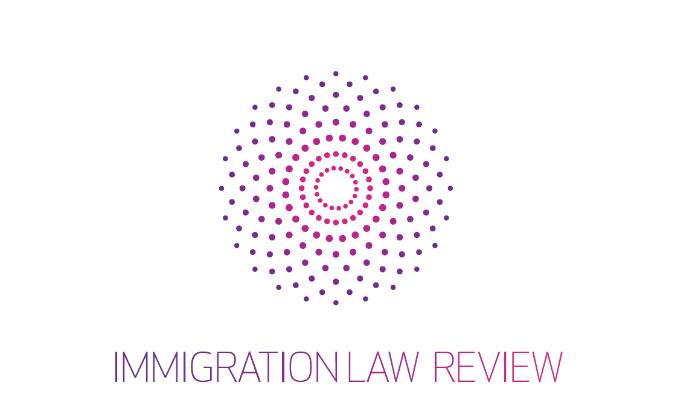 Contact
P: (02) 9223 4242
E: info@immilr.com.au
W: immigrationlawreview.com.au