Description

Immigration Law Review 5
Join us for in depth analysis and discussion of immigration law developments.
Morning - Review of legislative changes and caselaw developments
The morning workshop will provide detailed consideration of legislative changes in the immigration portfolio from November 2016 to April 2017 including coverage of:
• changes to employer sponsored visas announced on 18 April 2017
• New Zealand stream skilled independent visa commencing 1 July 2017
• character amendments; and
• bridging visa changes.

In addition, we will provide in depth caselaw analysis and reflect upon trends in judicial review.
Afternoon – Judicial review workshop
We will be joined by Brenda Tronson for afternoon workshop. Our afternoon session will workshop case examples to develop grounds of judicial review and strategies for running judicial review cases. This will be an opportunity for participants to obtain insights from experienced practitioners about how to analyse decisions of the Administrative Appeal Tribunal and Department of Immigration and Border Protection according to judicial review principles. We will workshop judicial review pleadings. We will discuss the methodology of judicial review analysis. We will examine the importance of strategic decision-making to successful outcomes.
This workshop will benefit practioners seeking to develop their judicial review practice. It will also improve practitioners' advocacy before decision-makers of the DIBP and the AAT.
Interested in our Judicial review workshop? Find out more in our Q/A with David Prince: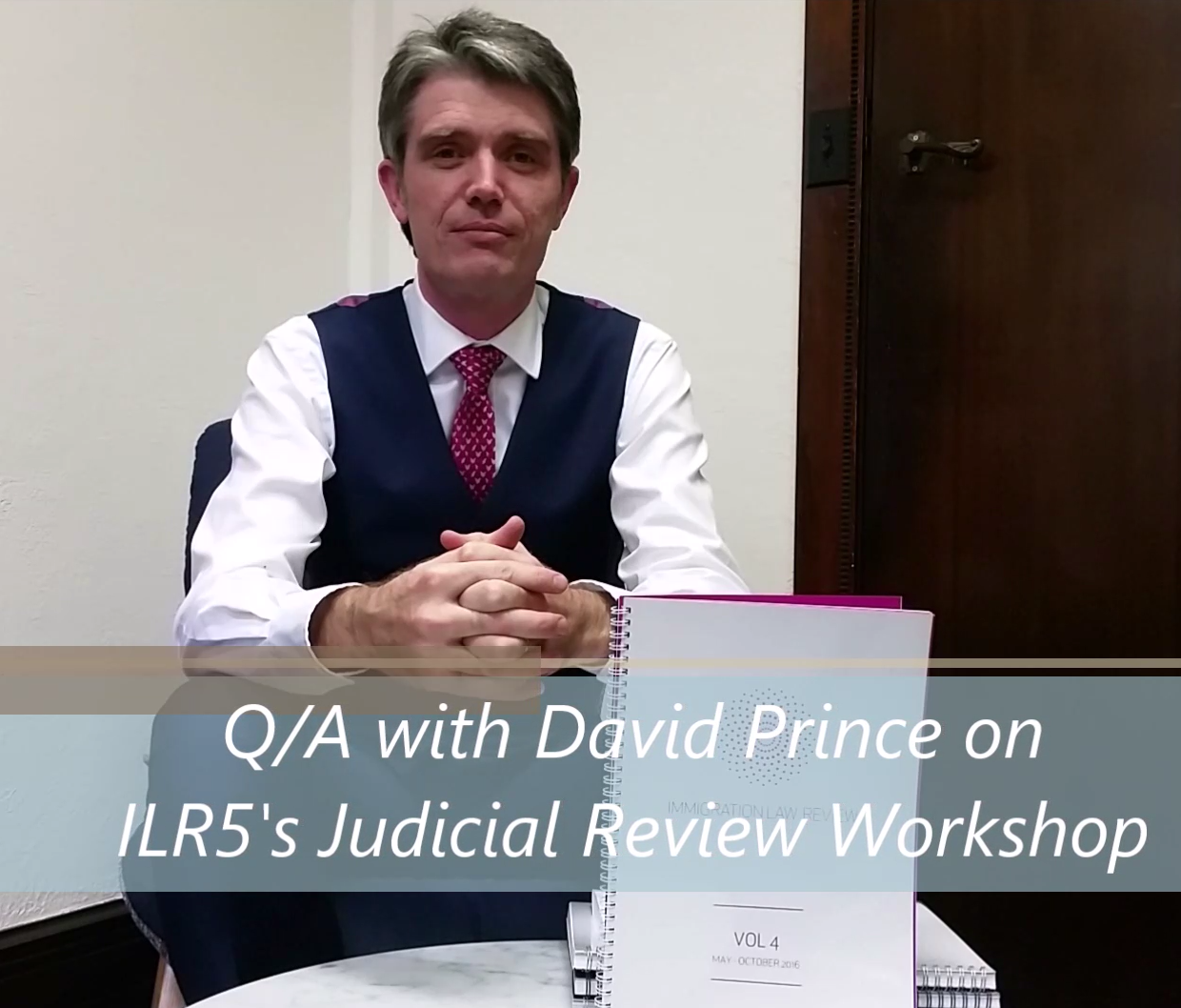 Program
Morning Workshop: 9:00 AM – 12:00 PM.
Lunch and professional networking: 12:00 PM – 1:30PM.
Afternoon Workshop: 1:30 PM –4:30 PM.
Cost
Full day workshop including lunch, $715 including GST.
Morning workshop only, $495 including GST.
Afternoon workshop only, $330 including GST.
Morning attendees, being those who attend the full day or morning workshop, will receive a complimentary edition of our publication, Immigration Law Review Vol. 5, valued at $110.00.
Firm Discount
We are offering a 50% discount on the full price for 3rd and subsequent attendees from the same firm. To secure this offer, email us at info@immilr.com.au


Judicial Review Guest Speaker
Brenda Tronson
Brenda Tronson is a barrister at Level 22 Chambers, practising in public law and commercial law, with specific areas of practice including migration law, general administrative law, disciplinary law, contract law, equity and discrimination. She was called to the Bar in 2008, reading on Sixth Floor Selborne Wentworth Chambers, before which she completed the BCL and MPhil in Law at Oxford University and worked for Justice Crennan at the High Court of Australia and for Freehills in Sydney. Significant cases in which Brenda has appeared include Wainohu v State of New South Wales in the High Court and Kutlu v Director of Professional Services Review and Minister for Immigration and Citizenship v SZSNW in the Full Federal Court.
Presenters
David Prince
David Prince is an accredited immigration specialist with an established reputation for successfully solving difficult immigration cases. David has been recognised in the Australian Financial Review from 2008- 2017 as one of the country's finest immigration lawyers through inclusion in Best Lawyers – Australia, Immigration Law. In 2012 and 2017/2018 he was voted Lawyer of the Year, Immigration – Sydney.

Joanne Kinslor
Joanne Kinslor is a specialist immigration lawyer who has extensive experience and exceptional knowledge of immigration law. Joanne has been recognised in the Australian Financial Review in 2008- 2016 as one of Australia's finest immigration lawyers through inclusion in Best Lawyers – Australia, Immigration Law. She was voted the 2016/2017 Lawyer of the Year, Immigration – Sydney.


What Previous Attendees Have Said
"It's wonderful to have good quality CPD in this area of law"
"Joanne and David are charismatic and engaging presenters with a thorough understanding of the law"
" A highly informative and entertaining session. Comprehensive and well presented"





Contact
Christina Wulf: (02) 9223 4242
E: info@immilr.com.au
W: immigrationlawreview.com.au