IIBA® Brisbane Business Analysis Professional Day 2017

Friday, 20 October 2017 from 8:00 am to 5:00 pm (AEST)
Event Details
Business Analysis Professional Day
The official conference of IIBA® Australia Chapter
One of the great things about being a business analyst is having the opportunity to drive change in both your world and the worlds of those around you. As business analysts we're always looking for ways to refine our craft and take our skills to the next level.
IIBA® Australia Chapter is proud to present the Business Analysis Professional Day in Brisbane for all levels of professionals practicing business analysis.
Don't miss this opportunity to hear industry experts share their experiences and leading edge thinking while offering practical tips that can immediately be put to use.
Come and widen your perspective, connect with your local BA community and meet like-minded individuals across a diverse range of industries to share ideas and talk about what's next for business analysis.
Attendance at the Business Analysis Professional Day will also qualify for Professional Development (PD) hours and Continuing Development Units (CDUs) required for IIBA® certifications. To learn more about IIBA® certifications refer to the IIBA Australia Chapter website.
Keep an eye on the Business Analysis Professional Day website for up to the minute conference information and session details as they are released: www.baprofessionalday.com
Opening Keynote Announced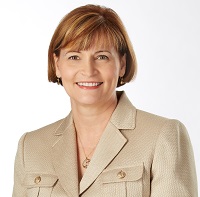 IIBA® Brisbane is delighted to welcome Rosemary Vilgan to Brisbane's BA Professional Day 2017. Rosemary will open the conference with her keynote presentation with a CEO's perspective on change, innovation, leadership and service. For more information, see Rosemary's keynote page on the BA Professional Day site.
Rosemary Vilgan is an inspiring and experienced leader. She is one of Australia's top CEO's, a multiple award winner, including Telstra Australian Business Woman of the Year.

Rosemary has had a long and distinguished business career. At the age of 33, she was appointed CEO of QSuper, one of the largest superannuation funds in Australia. Rosemary is recognised both nationally and internationally for her leadership of transforming QSuper to an innovative, vertically integrated $90 billion financial services organisation.

Highly regarded in the superannuation, financial services and business communities, Rosemary regularly works with government, industry and business. Currently Rosemary is a Director at Commonwealth Bank Group Super and Queensland Divisional Councilor for the Australian Institute of Company Directors.
Full Program Announced
Update: This year's conference will now feature four streams for the first time, covering presentation, workshop and quick bite formats. Speaker biographies and session abstracts can be viewed from the Brisbane BA Professional Day Speaker page, or browse the full program with session times.
Brisbane Convention and Exhibition Centre
This year, the Brisbane BA Professional Day is being held at the Brisbane Convention and Exhibition Centre (BCEC) for the first time. BCEC was recently awarded the title of World's Best Conference Centre, and offers increased venue space for delegates, speakers and sponsors. BCEC also offers free WiFi, mobile phone charging points, undercover parking, and central location for bus, rail and ferry transport.
The 2017 Brisbane event is presenting three streams of presentations, workshops and quick bites to offer an increased conference program and delegate capacity.
Networking Plaza - Sponsor and Exhibitor opportunities
Throughout the event the Networking Plaza will be open with refreshments and exhibits. There are a number of sponsorship and exhibitor opportunities available for each of the Brisbane, Melbourne and Sydney events and enquiries can be sent to Events@australia.iiba.org

The Brisbane Sponsor Package has been released and can be found on the BA Professional Day website.
Event Details
Date: Friday 20 October 2017
Time: Registration opens at 8:00 am and the event begins at 9:00am. The event will conclude at 5:00pm.
Venue: Brisbane Convention & Exhibition Centre, Merivale St and Glenelg Street, South Brisbane QLD 4101


Ticket Details
Tickets can be purchased through Eventbrite with Early Bird prices for the Brisbane Conference applying until 15 September 2017 only. After this date regular ticket prices will apply.
Ticket prices (incl. GST) are as follows:
With IIBA Australia Chapter Member discount*:

Early Bird Price - $275

Standard Price - $325

Regular tickets:

Early Bird Price - $375

Standard Price - $425



*This is an IIBA Australia Chapter event and discounts are offered to IIBA® Australia Chapter Members (ACM). Please note that when purchasing ACM discount tickets you will be required to provide details of your membership.
To add an IIBA® Australia Chapter membership to your current IIBA® Global membership for just $33 (inc. GST) - join here
If your organisation has an IIBA® Corporate Membership, please check to see if you qualify for a Corporate Member discount by contacting BAProfDay@australia.iiba.org

Enquiries

If you have any questions please contact the Business Analysis Professional Day committee at BAProfDay@australia.iiba.org
Sponsors
Thank you to the sponsors of IIBA® Brisbane BA Professional Day 2017.
When & Where

Brisbane Convention & Exhibition Centre
Merivale St & Glenelg Street
South Brisbane, QLD 4101
Australia

Friday, 20 October 2017 from 8:00 am to 5:00 pm (AEST)
Add to my calendar
Organiser
International Institute of Business Analysis® Australia Chapter Ltd ABN 97 139 072 389, PO Box A892, Sydney South NSW 1235, Australia
Read more IIBA® Australia Chapter news and events at australia.iiba.org. Join today at www.iiba.org. Become a Certified Business Analysis Professional™ (CBAP®) or obtain Certification of Competency in Business Analysis™ (CCBA®).
The IIBA® Privacy Policy can be found at www.iiba.org.