Learn the fundamentals of brand marketing and handy tools on how to ignite your brand so your perfect customers are knocking down your door.
About this event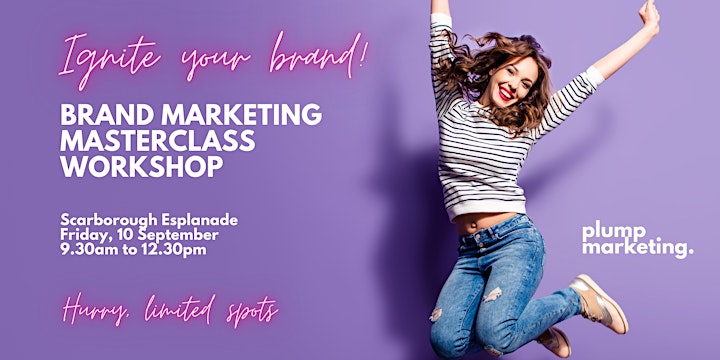 Are you about to launch a new business or been in business a while and feel your brand doesn't stand out, is lack-lustre or just looking to gain a competitive advantage with your brand marketing?
Join international Brand Marketing Consultant and Plump Marketing Director, Kate Paratore, on Friday 10th September at the Stirling Community Centre on the Esplanade at Scarborough Beach for our Ignite Your Brand: Brand Marketing Workshop – a masterclass on how to emotionally engage your audience, develop and articulate your point of difference and nail your brand marketing.
Gain valuable knowledge on brand marketing and learn handy tools and tips on how to ensure you maximise your marketing and social media efforts to attract new customers.
What will you learn?
The fundamentals of brand marketing and why it's important to emotionally connect to your audience
Ways to ignite your brand and find your brand voice
Ideas on brand story-telling on social media
How to define your perfect customer and develop strategies to meet their needs
Workshop how to develop your point of difference and refine your brand strengths that you can use to market your brand effectively
Learn how to nail writing a killer brand elevator pitch that you can use on your website, business cards, social media channels and client calls.
A differentiated, unique brand is a winning one
Learn how to differentiate your brand so you stand out from your competition. We'll help you find your brand voice and define your unique qualities that make up your point of difference. You'll leave with a killer brand elevator pitch and a set of tools to build a brand that takes you places.
Find your brand voice so you stand out from the pack
How well are you selling yourself? Are you struggling to promote your compelling customer benefits and gifts, too afraid to be bold in fear of judgement or just not sure what makes you so fabulously amazing? We'll help you!
Who should attend?
If you work for or own a small to medium size business and hungry to learn more about how to increase the effectiveness of your marketing, in particular how to emotionally engage your audience and win over hearts and minds, this workshop is for you.
WHAT'S INCLUDED
This masterclass run by Kate Paratore is part education and part interaction and a whole lot of fun! You'll get access to valuable knowledge and handy templates that help you articulate your brand proposition and guide you on what to start working on the second you walk out!
We'll have snacks and refreshments available for the duration of the 3 hour workshop.
ABOUT THE PRESENTER
Brand and Marketing Strategist and Consultant, Kate Paratore, is an experienced, award-winning and highly accomplished growth and brand marketer who has over 16 years experience managing high profile brands in both Perth and London, including HBF, RAC, Crown Perth, Silver Chain, Ventura Home Group, Link Residential Group, Sky TV, Transport for London and Royal Bank of Scotland.
Kate, Plump Marketing Founder and Director, now consults for start-ups, small and medium size businesses on brand and marketing strategy, digital advertising and campaign planning, website optimisation and social media.
Kate has also spent many years sharing her knowledge, tutoring and lecturing Edith Cowan University advertising and marketing students in Perth on brand strategy and foundations in advertising.
A brand workshop you can't afford to miss
Win hearts, minds and market share with our 3 hour brand marketing masterclass on 10th September. But get in quick, limited spots are available.
Organiser of Ignite Your Brand - Brand Marketing Masterclass