Ignite Program One-on-one Mentoring Session
About this event
These mentoring sessions will be held on Thursday and Friday.
You can also email Business@cgd.vic.gov.au directly to book a session outside of the allocated time.
Ignite participants can book into a 45minute session with a mentor to discuss your business idea, ask questions or request advice.
These sessions must strictly be booked in to via Eventbrite.
* If you are unable to attend the mentoring times listed above, please contact the program coordinator via Business@cgd.vic.gov.au, who may be able to organise a different time for you at their discretion.
Our Mentors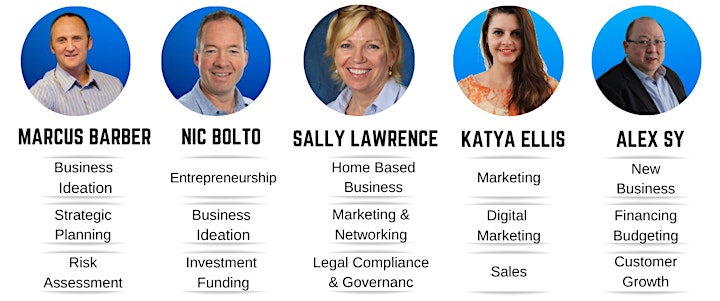 Marcus Barber
Marcus Barber is an experienced strategic futurist and strategy development consultant helping clients across all industry sectors. His client list extends beyond Australia with international engagements in the USA, Singapore, Sri Lanka and across the ditch in New Zealand. Marcus has proven success in strategy design & planning, strategic risk and business development. He has invested over 20 years in running his own small business riding the many ups and downs and has worked with the City of Greater Dandenong for 15 years.
Nic Bolto
As a Winston Churchill fellow, graduate of the Melbourne Business School, member of the Australian Institute of Company Directors and with Chairman and CEO experience with human service companies, Nic brings expertise to entrepreneurship strategy and goal achievement through the delivery of new market entry assignments, coaching, mentoring and critical reviews. Nic has founded seven enterprises and coached and mentored over 300 clients in all phases of their startup goals, from ideation to validation, from go-live to closure and from investment to acquisition
Sally Lawrence
Truly passionate about achieving outstanding outcomes for her clients and with over 12 years' experience in the consulting, coaching and business training sector, Sally established her first consultancy in 2011 and launched her first small business in 2014. Since then, she has provided support, coaching and change management either one-to-one or in seminars and workshops for over a thousand individuals and numerous organisations. Sally has authored several business-related eBooks and has written and co-authored articles for Success Business Magazine and major regional newspapers.
Katya Ellis
As a talented retail and marketing all-rounder, Katya is well placed to help most small businesses with her extensive experience and exceptional people skills. Katya has held many marketing and business management roles with an emphasis on digital marketing; project, event, staff and partnership management, both locally and internationally. She is passionate about what she does and loves helping others.
Alex Sy
Alex has over 30 years hands-on experience in Senior Management and Board Advisory roles in small and medium size businesses in helping them grow and taking them to the next level. Alex focusses on key outcomes for his Clients in the areas of: improve business performance, managing growth and change, and business sustainability. Alex is passionate in helping his Clients grow and remain sustainable, and his mantra is: Always think and stay positive and empower people to become effective Leaders.
Agreement/Disclaimer
Participants must be over the age of 18.
I understand and agree that as a mentee (participant) of the City of Greater Dandenong Ignite Program for small business, that:
• the purpose of providing mentoring is an informational resource to voluntarily discuss general matters and assist me with decision making processes
• any advice provided as part of the Ignite mentoring program is not to be perceived or relied upon in anyway as professional business, financial and/or legal advice;
• the information provided through this program is not intended to be a substitute for professional advice that can be provided by a suitably qualified accountant, lawyer, financial and/or business advisor and I should use my own independent judgment and professional opinions;
• individual mentors and/or Council cannot and do not guarantee that any mentee will attain a particular result, positive or negative, financial or otherwise, through use of this mentor program and are not responsible for mentee earnings, the success or failure of mentee business decisions, the increase or decrease of mentee finances or income level, or any other result of any kind that any mentee may have as a result of information provide through the Ignite mentor program;
• before acting on any information, advice or guidance provide as part of the mentor program that I will obtain my own independent professional advice;
• I agree to keep all conversations and session content between myself and respective mentor confidential;
• in no event, will I begin legal proceedings against or otherwise attempt to hold liable for damages arising out of or in connection with any advice or guidance derived from the Ignite mentor program, which has been provided to me in good faith by any mentor, or the City of Greater Dandenong.
Dispute Resolution
Any disputes in relation to this Agreement shall be dealt with in accordance with the City of Greater Dandenong Dispute Resolution Guidelines, a copy will be provided to Mentees (participants of the Ignite Program) upon request.
Photography Agreement
During this program, Council may take photos of participants for the purpose of promoting the Ignite Program to the community. Its use can include, but is not limited to, the website, social media, council publications, signage and in newspapers. It will not be used for commercial purposes.
If you do not want Council to use images of you please advise the Ignite Program Co-ordinator in writing
Opt Out
Mentees may opt out of the Ignite program at any time by notifying the administrator program coordinator in writing. If you choose to opt out you will no longer receive information about this program. If you wish to withdraw your consent for the future use of your photographic images by Council this must also be done in writing to council@cgd.vic.gov.au.
Privacy Statement/Collection Notice
Personal information collected by Greater Dandenong City Council is used for municipal purposes as specified in the Local Government Act 1989 and the Local Government Act 2020. Personal information will be held securely and used solely for the purpose it is collected for or a directly related purpose. It will not be disclosed to any external party without your written consent, unless required or authorised by law. If you fail to provide the requested information, Council may be unable to provide certain services. If you wish to access or amend your personal information, or if you believe your personal information has been breached, please contact Council's Information Privacy Officer on 8571 1000. Greater Dandenong City Council is strongly committed to the responsible handling of personal information and is compliant with the Privacy and Data Protection Act 2014 and the Health Records Act 2001. A copy of Council's Privacy and Personal Information Policy is available on Council's website at www.greaterdandenong.vic.gov.au