Description
IGNITE FITNESS BUSINESS EVENT MELBOURNE
SAVE $50
ENTER 'FITREC' AT CHECKOUT
GYM OWNERS, MANAGERS, TRAINERS, SALES AND HR TEAMS, LEISURE CENTRES AND STARTUPS ARE IN FOR A JAMMED PACK DAY OF EDUCATION THAT WILL INCREASE PROFITS IN BUSINESS.
SIX FITNESS BUSINESS ROUNDTABLES EACH HOSTED INDIVIDUALLY ON SELECTED BUSINESS TOPICS, YOU WILL SPEND 25 MINUTES ON EACH TABLE THEN MOVE TO NEXT BUSINESS ROUNDTABLE. EACH TABLE RUNS A DIFFERENT SESSION OF EDUCATION AND TOOLS.
NEW TO OUR FORMAT - THREE PANEL DISCUSSIONS
*FITNESS TECHNOLOGY *FITNESS BUSINESS LAW *BUILDING BOUTIQUES AS BUSINESS MODELS
YOU HAVE A NEW ERA OF CUSTOMER, THEY WANT EXPERIENCE, SHORT TERM MEMBERSHIPS, AND THEY WANT FRESH EXCITING WORKOUTS IN SHORT BLOCKS. WE ALSO HAVE A NEW ERA OF FITNESS PROFESSIONAL AND THAT MEANS CHANGES TO THE WAY WE RUN OUR BUSINESS. VIDEO AND FACEBOOK MARKETING IS GETTING MORE DIFFICULT SO WE HAVE SOME GREAT TOOLS FROM LIAM ROBERTSON AND OWEN BOWLING TO HELP YOU ACHIEVE LEADS AND CONVERSIONS. AS MORE BOUTIQUES AND CLUBS OPEN RETENTION GETS TOUGHER, KEEPME.AI WORKS WITH YOUR EXISTING CLUB SOFTWARE. IMAGINE KNOWING A MEMBER IS ABOUT TO LEAVE BEFORE THEY DO! KEEPME.AI WILL SAVE YOU MONEY AND MAKE YOU MONEY. DEBIT SUCCESS WILL BE BACK FOR ANOTHER YEAR WITH UPDATED ANALYTICS AND METRICS ON COLLECTING SUCCESSFUL INCOME IN YOUR CLUB.
OUR DAY HAS ALL THE ASPECTS OF BUILDING A SUCCESSFUL BUSINESS COVERED.
A GREAT OPPORTUNITY FOR ALL FITNESS PROFESSIONALS AND CLUB TEAMS - BOOK NOW TO SECURE A PLACE AT IGNITE FITNESS BUSINESS EVENT. LIMITED SPOTS PERSONALISED SETTING.
BIGGER BOLDER BETTER BUSINESS FOR YOU IN 2020 AND BEYOND.
Download The Flyer
https://meltempest.net/wp-content/uploads/2019/11/ignite-melbourne-2020.pdf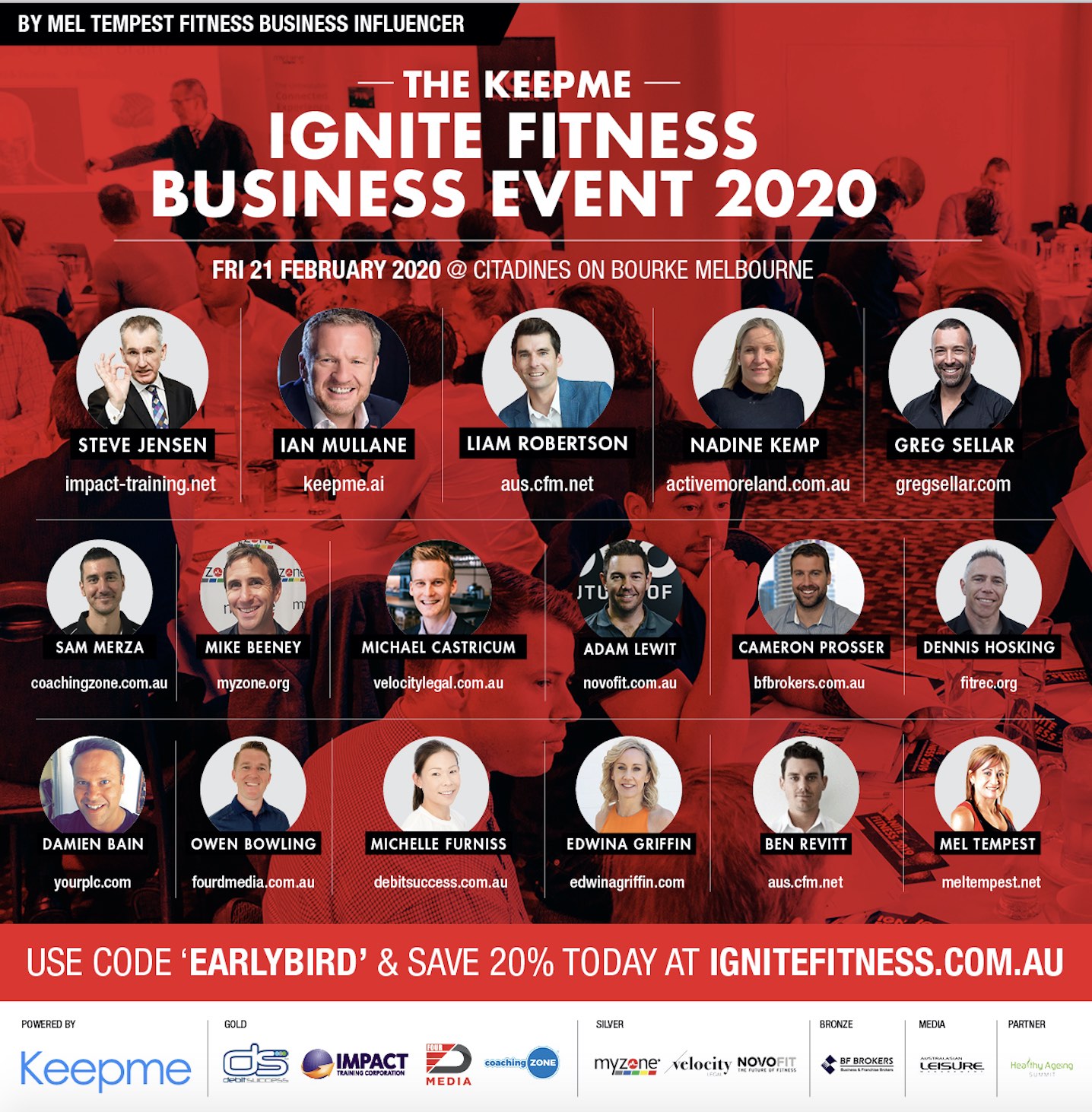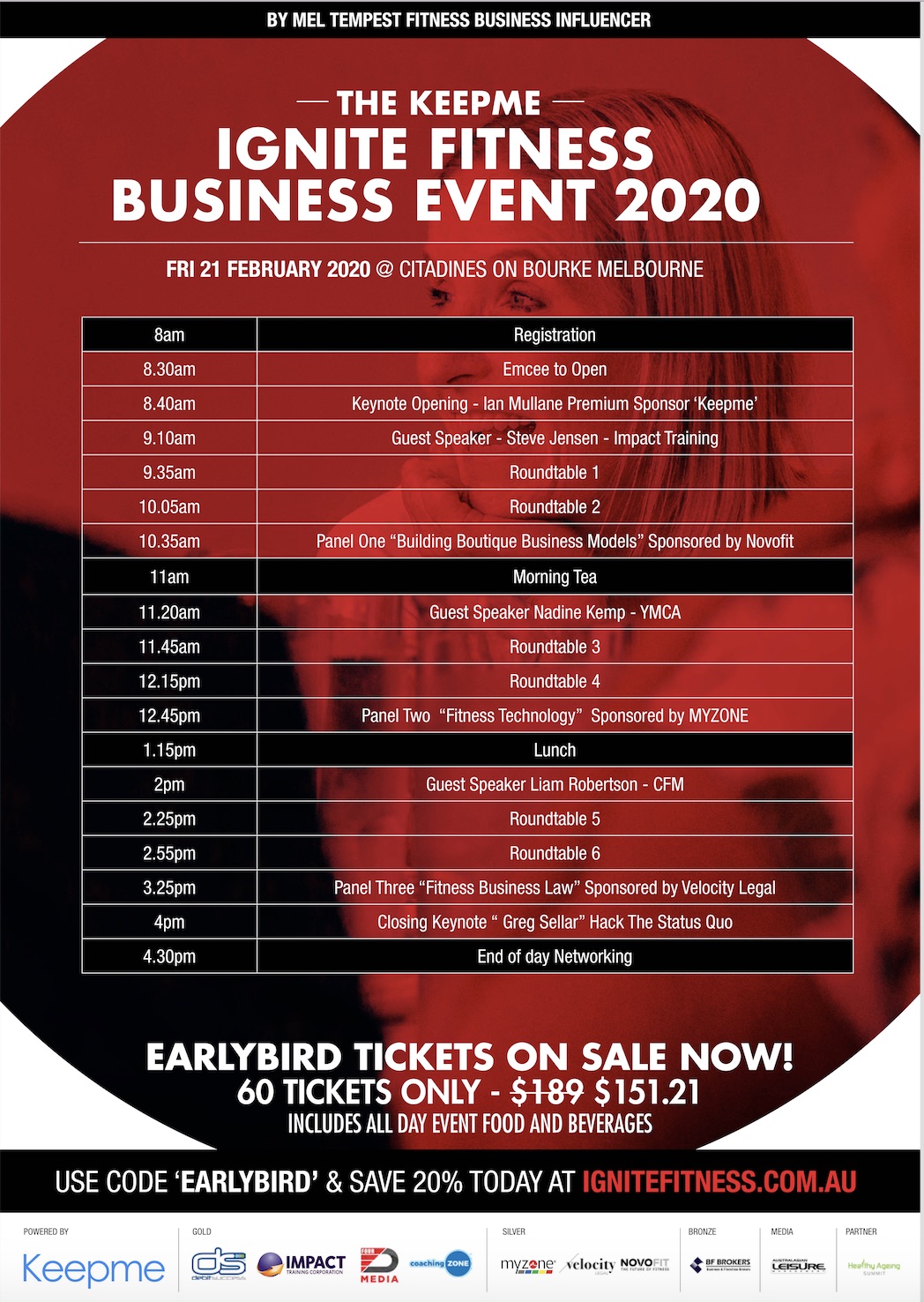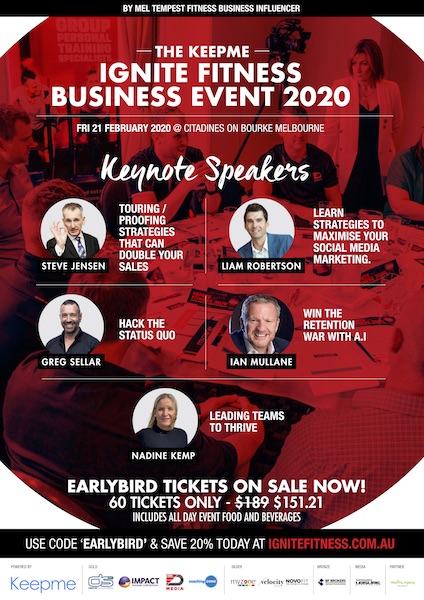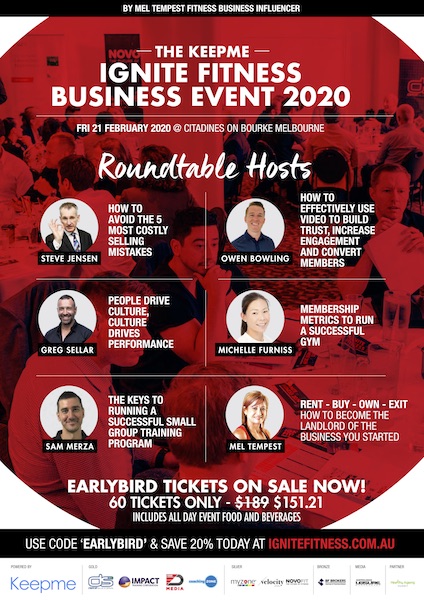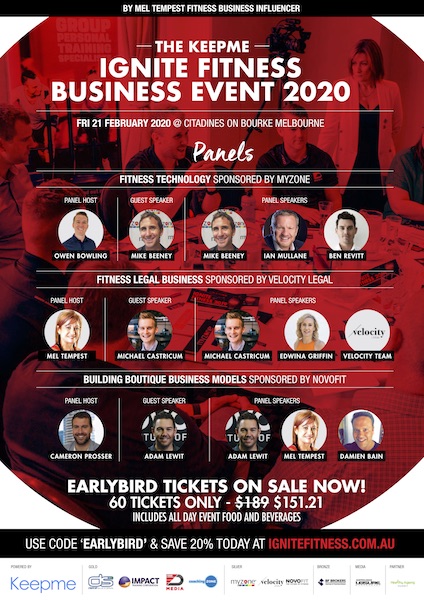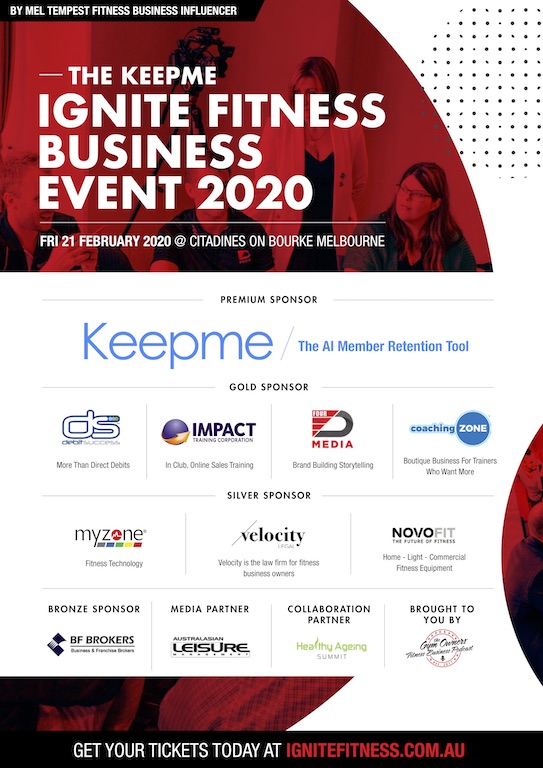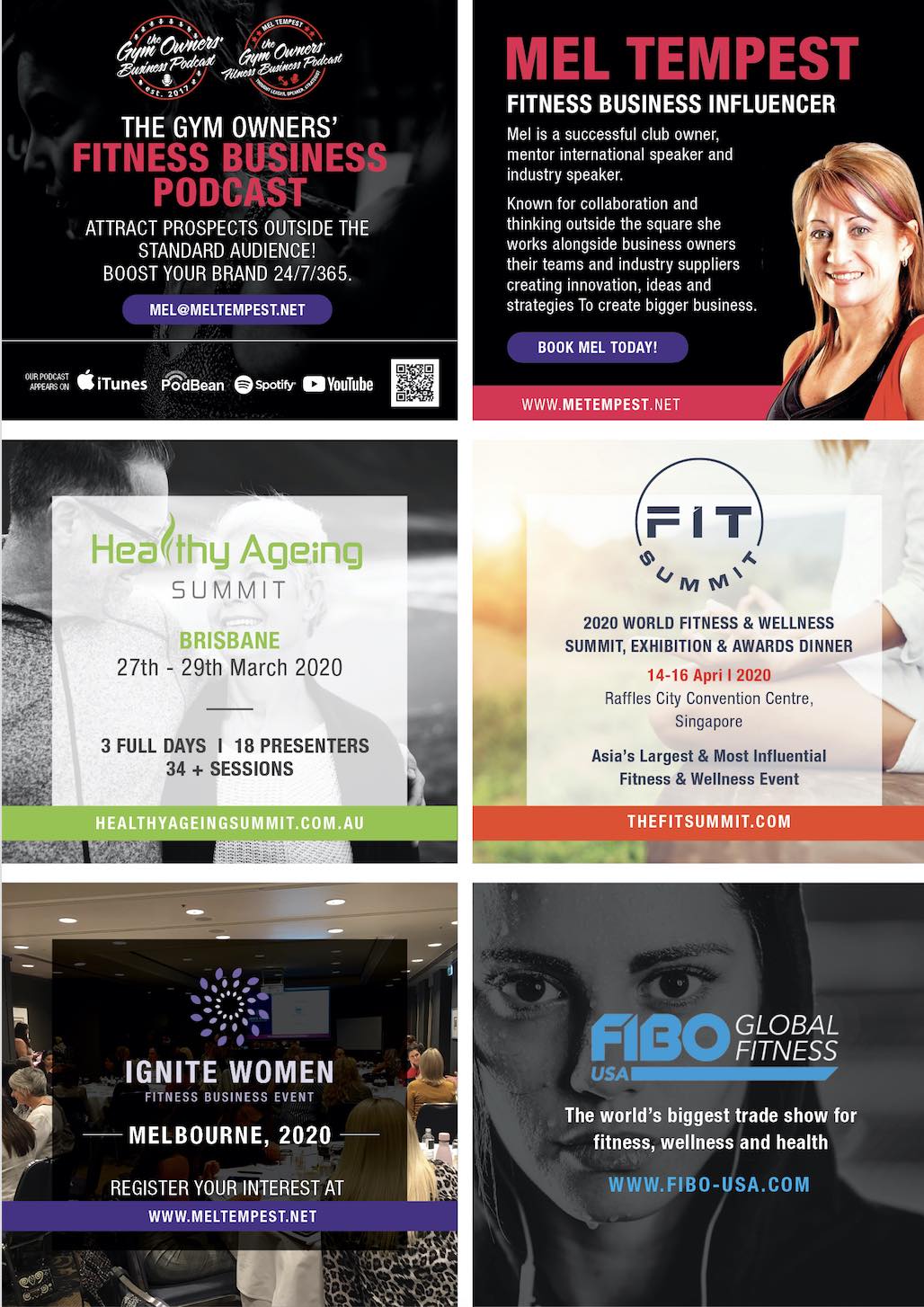 Sam Merza

Coaching Zone

Nadine Kemp

YMCA

Damien Bain

PLC Franchising General Manager

Mike Beeney

Myzone Director Asia Pacific

Owen Bowling

FourD Media Co-Founder

Michael Castricum

Velocity Legal Associate

Michelle Furniss

Debit Success General Manager Sales & Marketing

Edwina Griffin

Edwina Griffin CEO

Steve Jensen

Impact Training CEO

Adam Lewit

Novofit Director

Davin Miller

Debit Success CEO

Ian Mullane

Keepme Founder

Cameron Prosser

BF Brokers Director

Ben Rivett

Creative Fitness Marketing Business Manager

Liam Robertson

Creative Fitness Marketing Director

Greg Sellar

Greg Sellar Founder

Mel Tempest

Mel Tempest Fitness Business Influencer Founder