Description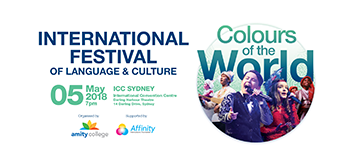 International Festival of Language and Culture ('IFLC') is an annual celebration that showcases the diversity of linguistic talents from across the globe, with the sole vision of uniting nations of the world through universal human values. The celebration promotes cultural and linguistic diversity and the values of universal peace, love and friendship through the medium of song and dance.
The IFLC Australia has been staged in several iconic venues, including The Melbourne Exhibition Centre in 2015 and 2017, in which it attracted more than 5000 people, and the Sydney Opera House in 2016 with more than 2000 people attending with many dignitaries including the Governor General of Australia Sir Peter Cosgrove and Governor of NSW Sir David Hurley. With more than 300 students from 50 different countries having performed so far in Australia, IFLC promises to cement Australia's position as the premier country to host the IFLC and, in doing so, embrace and celebrate inclusiveness and diversity.
In 2018, the global IFLC franchise will celebrate its 16th year and it will be the 4th IFLC in Australia. Amity College, in co-operation with Affinity Intercultural Foundation will be co-hosting the 2018 International Language and Culture Festival on Saturday, 5th May 2018 at Sydney's new landmark the ICC Sydney in Darling Harbour.
You can watch IFLC's previous performances at our website. www.IFLC.org.au