Description
The Future of Working and Living
With the advent of Industry 4.0, digital disruption, artificial Intelligence and developments around robotic and autonomous systems, the future of how we will live and work in Australia is uncertain. Academia, industry and government need to consider how to prepare the workforce and society more broadly for the future.
Design and technology are critical in how we adopt, adapt and implement new approaches, processes and products. This event aims to foster a connected and dynamic discussion about the development of skills, training and the question of how to shape future technologies.
Hosted by QUT's Institute for Future Environments and the Design Lab, this breakfast event brings together a panel of industry and academic leaders who will discuss the future of working and living from a range of different perspectives, and examine how we can work together more effectively to embrace the potential of the future.
Questions to be addressed include:
Why and how are companies in Australia using design and technologies to drive the future of working and living?
How can Australian universities and industry work together to develop design and technologies for the future of working and living?
How can Australian universities and industry work together to foster skill development to address the how we will live and work in the future?
How does policy impact and inform the future of working and living?
Speakers

Sean Gallagher (Keynote)
Director, Centre for the New Workforce - Swinburne University
Sean focuses his research on the skills and challenges required to address the future of work. He recently published the National Survey Report Peak Human Potential.
Paula McDonald
Associate Dean of Research, QUT Business School
Paula's research addresses the profound social implications arising from a globalised, 'collaborative' economy. Her work spans topics including education to work transitions; public/private boundaries; digital platform work; and social media in employment.

Matthew Tobin
Founder and managing director, UAP
Matthew has played an integral role in UAP's evolution from a small Brisbane workshop to an international brand, fostering an outlook that embraces all creative possibilities. His primary focus is strategic business growth, and UAP's engagement with advanced manufacturing techniques and Industry 4.0.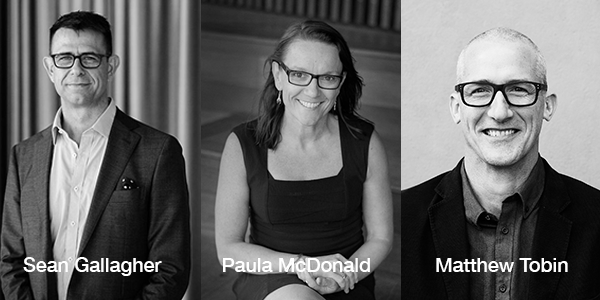 Organiser of IFE-QUT Design Lab Future of Working and Living Breakfast
At the Institute for Future Environments (IFE), our mission is to find ways to make the world more sustainable, secure and resilient. Hundreds of QUT researchers and students from across science, engineering, law, business, education and the creative industries collaborate on large-scale research and development projects to solve the world's grand challenges.