IFE Grand Challenge Lecture: Agents of change - the economy of algorithms
Description
OVERVIEW
Agents of change: the economy of algorithms

In 2016, a Reddit user called FiletOfFish1066 confessed. He had automated all of his work tasks and spent about six years "doing nothing." When his employer found out, FiletOfFish1066 was fired. What the employer did will be remembered as one of the worst management decisions ever.
Algorithms do not just power applications and scripts, or automate tasks. Increasingly, they are becoming our agents and making decisions on our behalf. For instance, Boston-based Quantopian, an investment firm focused on crowdsourcing, allows people to submit simple algorithms that make fund allocation decisions on behalf of investors. Quantopian is not an outlier. Today, many similar algorithms act as our economic agents: investing, buying, requesting services and even selling 'our' data.
Remember the 'old' economy, where large corporations dominated? Did you notice the 'new' economy, where individuals use platforms to reach customers globally? These two economies are set to be overshadowed by an emerging economy where algorithms play the central role: the economy of algorithms.
Let's talk about the economy of algorithms. What is this new world, where the confluence of the 'Internet of Things', algorithms as economic agents and new business models changes the way we live, work, and think? What new opportunities does it bring? What could go wrong? And what is our role - as academics, citizens, customers, humans - in this new world?
In the first IFE Grand Challenge Lecture for 2019, Professor Marek Kowalkiewicz will challenge your thinking and inspire ideas for the next steps: whether it is a new business model (how do you advertise to a fridge?), a research question (who is liable if something goes wrong?), or just a life-changing decision (I need to hire an army of robots).
ABOUT THE SPEAKER
Marek Kowalkiewicz (Professor and Chair in Digital Economy; Leader of IFE's Embracing the Digital Age research theme)

Professor Marek Kowalkiewicz is an academic and industry leader with extensive experience in conducting academically sound research, co-innovating with industry and university partners, and delivering innovative products to the market. As Professor and Chair in Digital Economy, as well as Leader of IFE's Embracing the Digital Age research theme, he leads QUT's research agenda to inform and influence a robust digital economy in Australia and the region.
Marek manages a contemporary research portfolio and converts industry-driven opportunities into research outcomes of global relevance. He is an invited government expert, university lecturer and project lead, as well as an inventor and author.
Marek joined QUT from Silicon Valley, where he led innovation teams for SAP. Before that he worked in Singapore, where he helped set up the global Machine Learning Centre of SAP; in Australia, where he launched the first ever SAP app in the AppStore (that one day made it to third place in the AppStore rankings); and in Beijing, where he worked for Microsoft Research Asia on natural language processing tools. He has a hierarchy of algorithms at home, but he treats them as humans, not algorithmic slaves.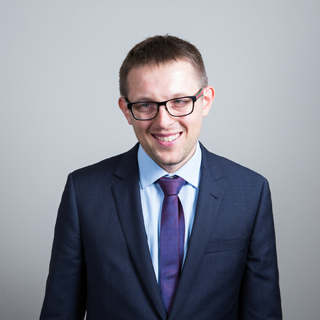 This lecture will be livestreamed at: www.qut.edu.au/live-streaming?stream=ifegrandchallenge