IFE Distinguished Visitor Lecture: Why scientists and politicians are incom...
Description
OVERVIEW
Why scientists and politicians are incompatible
Although there would be great benefits to both sides were they to work productively together, scientists and politicians sing from different pages of the hymn book. In general, politicians have been taught the well-known, unchanging aspects of science. Good scientists, working at the edge of their discipline, know that some questions, even if relevant and interesting, cannot (yet) have definite answers.
Their time-scales are different. A scientist thinks in terms of lengthy investigations of important new questions, while a politician wants the best, and correct, answer immediately. A scientist might evaluate that the possibility of an event occurring is, say, 20 per cent. The politician wants to know the absolute answer - and, again, immediately.
Politicians often only think in terms of election cycles and generally don't care what will happen many years down the track — as evidenced by their response to climate change. Presented by Professor Herbert E. Huppert, recipient of the Australian Academy of Science 2019 Selby Fellowship, this Distinguished Visitor Lecture will examine the often knotty and difficult relationship between science and politics.
ABOUT THE SPEAKER
Herbert E. Huppert is Emeritus Professor of Theoretical Geophysics at the University of Cambridge, and the recipient of the Australian Academy of Science's 2019 Selby Fellowship. Born in Sydney, he graduated in Applied Mathematics from Sydney University with first class Honours, a University medal and the Baker Travelling Fellowship in 1964. He then completed a PhD at the University of California, San Diego, and went as an ICI Post-doctoral Fellow to the University of Cambridge in 1968 for what was meant to be a one-year sojourn. He has not yet left!
Professor Huppert has researched and published extensively across a range of disciplines including applied mathematics, crystal growth, fluid mechanics, geology, geophysics, oceanography, meteorology and science in general. In particular, his research focuses on carbon dioxide sequestration and applying fluid-mechanical principles to the Earth sciences. His published work has more than 17,400 citations and an h-index of 72.
Professor Huppert was elected a Fellow of the Royal Society in 1987. In 2005 he was awarded the US National Academy's Arthur L. Day Prize Lectureship for contributions to the Earth sciences – the first Australian to win this prize. He has been elected a Fellow of both the American Geophysical Union and the American Physical Society, was awarded the Murchison Medal of the Geological Society of London in 2007 and delivered the Bakerian Prize Lecture of The Royal Society in 2011.
The Australian Academy of Science's Selby Fellowship is awarded to distinguished overseas scientists to visit Australia for public lecture and seminar tours, which are intended to increase public awareness of the natural sciences and scientific issues.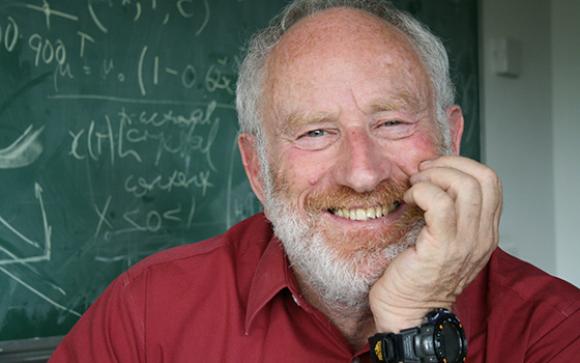 This lecture supports Institute for Future Environments research.