IFE Distinguished Visitor Lecture: Porous materials for energy and environm...
Description
OVERVIEW
Porous materials for energy and environmental applications

Porous materials have found many applications, such as porous silicon for optoelectronics, porous catalysts for petroleum refining and hydrocarbon conversions, porous membranes for gas separation and purification, and porous adsorbents for wastewater treatment. Emerging applications such as sustainable energy technology, desalination and nanotechnology require advanced porous materials with well-defined structural, interfacial, compositional and morphological properties.
This new paradigm presents challenges and opportunities for the design and preparation of advanced porous materials. In this talk, Professor Zhao will discuss his recent research work on porous materials for energy storage, photocatalytic water disinfection and detoxification, and photonics.
ABOUT THE SPEAKER
Professor George Zhao (University of Queensland)
Professor George Zhao is an ARC Laureate Fellow with the School of Chemical Engineering at The University of Queensland. He was previously a UQ Postdoctoral Research Fellow (1999-2001), an ARC Future Fellow (2010–2014) and a UQ Vice-Chancellor's Research and Teaching Fellow (2015-2017).
Professor Zhao completed his BSc degree at the School of Chemistry and Chemical Engineering at Shandong University, China, in 1987. He then joined Dalian Institute of Chemical Physics (Chinese Academy of Sciences) where he started his research career to work on zeolite and activated carbon materials for energy conversion and environmental control. In 1995 he moved to UQ as a Visiting Scholar to work on mesoporous materials in Professor Max Lu's lab. Between 1996 and 1998, Professor Zhao was a PhD candidate under the supervision of Professor Lu to work on mesoporous adsorbents for VOC control. After receiving his PhD degree in 1999, Professor Zhao worked as a UQ Postdoctoral Research Fellow. In 2001, Professor Zhao moved to National University of Singapore as an Assistant Professor and was promoted to Associate Professor in 2006. In 2010, Professor Zhao was awarded an ARC Future Fellow and he joined UQ in 2011.
Professor Zhao's research focuses on porous materials for energy and environmental applications. The overall objective of his research program is to develop tailor-designed advanced porous materials with prescribed structural, interfacial and morphological properties for applications ranging from electrochemical energy storage (sodium-ion batteries, supercapacitors, hybrid ion capacitors, and solid oxide fuel cells), heterogeneous catalysis (including photocatalysis) and adsorption, to photonics technology.
Professor Zhao is a world-leading scientist in materials science and chemistry. He is a Thomson Reuters highly cited researcher in materials science, a Fellow of The Royal Society of Chemistry (FRSC), and Thousands-Talent Professor of Qingdao University, where he has been involved in setting up a research and teaching hub focusing on materials for energy and environment.
For more info about Prof Zhao's research and teaching, please visit:
http://www.chemeng.uq.edu.au/zhao
http://www.chemeng.uq.edu.au/clean-energy-water-research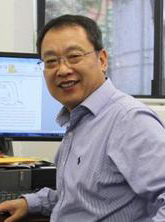 This lecture supports Institute for Future Environments research on Manufacturing with Advanced Materials.