IFE Distinguished Visitor Lecture: Micro-Nano Technologies for Analysing Ti...
Description
Micro-nano technologies for analysing tiny samples & manipulating single cells
Micro-nanotechnology has enabled the informatics and communication revolution by contributing to the quantitative understanding, miniaturization and manufacturing of semiconductor devices. Can a similar approach help us to analyse smaller and smaller biological samples? Examples for such concepts will be presented in this talk with special focus on tools that can analyze and manipulate tiny amount of complex solutions and single cells.
At present, microarrays, especially protein microarrays, are gaining importance because they provide unique insight into gene regulation and protein expression of cell cultures or tissues. Here, we demonstrate a new approach, which combines the advantages of capture and reverse arrays and enables multiplexed detection of small sample volumes (down to 1 µL) without compromising assay sensitivity. This paper based system is simple, robust and inexpensive which makes it a suitable tool for heel-prick, tail-vein or cell lysate analysis. [1,2]
High-avidity sensing is an interesting new concept because it is based on a truly "nano" phenomena and it has the chance to address an important limitation of current sensors. Today, biosensors are mostly limited by the affinity of receptor molecules that are available to capture a specific target. Plasmonically active, high-avidity particles can overcome this problem enabling the determination of specific mRNA sequences in single cells without PCR. [3]
Most current biosensing techniques are limited by the non-specific adsorption of biomolecules from complex solutions. Molography, is a novel concept that overcomes this issue by positioning receptors on a nanoscale coherent pattern, ie. creating a molecular hologram ("mologram") that can be used for the scattering based label-free detection of biomolecules.[4]
Nanotechnology also provides the possibility to interface cells in their natural environment at the nanometer scale. The FluidFM is a nanosyringe that can be used to inject, patch, or manipulate single cells without compromising their integrity. [5-9]
ABOUT THE SPEAKER
Professor Janos Vörös (Institute for Biomedical Engineering, ETH Zurich, Switzerland)
János Vörös has been a Professor in the Institute for Biomedical Engineering of the University and ETH Zurich (Department for Information Technology and Electrical Engineering) heading the Laboratory for Biosensors and Bioelectronics since 2006.
János Vörös studied Physics at the Eötvös Loránd University in Budapest. After receiving a diploma in Physics in 1995, he was a doctoral student at the Department of Biological Physics of the Eötvös University (in collaboration with Microvacuum Ltd.) where he received his PhD in Biophysics in 2000. Since 1998, he has been a member of the BioInterface group in the Laboratory for Surface Science and Technology at the Department of Materials of ETH Zurich as visiting scientist, postdoc, and from 2004 as group leader of the Dynamic BioInterfaces group until 2006. Prof. Vörös also has an adjunct appointment at the Department of Engineering Science and Mechanics of the Pennsylvania State University.
Professor Vörös is interested in research and teaching in the areas of Biosensors, Bioelectronics, Nano-Biotechnology, Biophysics, Biomaterials and Neurosciences with special focus on the understanding, monitoring and controlling of molecular and cellular processes at biological interfaces. His research group focuses on the development of novel biosensor techniques for diagnostics and drug discovery; on using nanobiotechnology for interfacing neural networks; as well as on implanted stretchable electronic devices.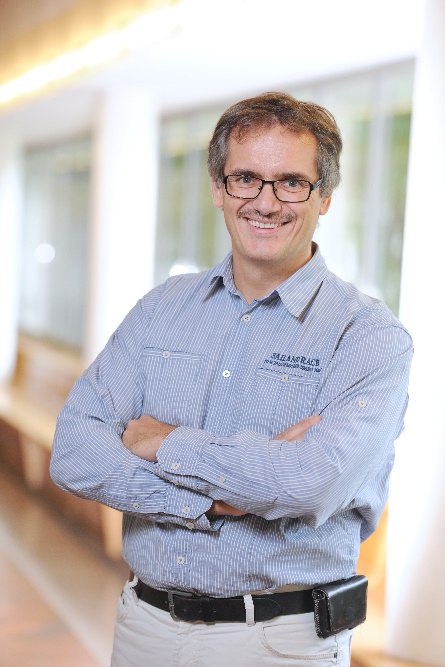 References
Unique Features of the FoRe Array for Tuneable Sensitivity and Multiplexed Whole Blood Analysis; V. de Lange, M. Habegger and Janos Vörös, ACS Sensors, submitted 2016.
Twist on Protein Microarrays: Layering Wax-Patterned Nitrocellulose to Create Customisable and Separable Arrays of Multiplexed Affinity Columns; V. de Lange and J. Vörös, Analytical Chemistry, 2014.
A one-step assay and its optimization for gold nanoparticle based oligonucleotide sensing on the femtomolar level; P. Rajendran, S. Kaufmann, J. Vörös, M. Zenobi-Wong, L. Demkó, Colloids and Surfaces B: Biointerfaces, 135, 193-200 (2015).
Focal Molography: Coherent Microscopic Detection of Biomolecular Interaction. Fattinger, C., Physical Review X 2014, 4 (3), 13.
FluidFM: Combining Atomic Force Microscopy and Nanofluidics in a Universal Liquid Delivery System for Single Cell Applications and Beyond; A. Meister, et al., Nanoletters 9(6), 2501-2507, 2009.
Force-Controlled Fluidic Injection into Single Cell Nuclei; O. Guillaume-Gentil, et al.; Small, 9:1904, 2013.
Local polymer replacement for neuron patterning and in situ axon guidance; H. Dermutz et al., Langmuir, 2014, DOI:10.1021/la5012692.