If you can't breathe, you can't function. Integrating Cardiopulmonary and postural control strategies in paediatric and adult populations
About this Event
If you can't breathe, you can't function - Integrating Cardiopulmonary and postural control strategies in paediatric and adult populations
THIS COURSE HAS BEEN RESCHEDULED to September 9-12th, 2021.
This course, developed by Mary Massery, will challenge the practitioner to make a paradigm shift: connecting breathing mechanics and postural control with management of trunk pressures. Using Dr. Massery's model of postural control (Soda Pop Can Model), the speaker will link breathing mechanics with motor and physiologic behaviors (a multi-system perspective). The speaker will present novel research demonstrating the role of vocal folds as postural stabilizers, extending the concept of "core stability" from the vocal folds on the top of the trunk to the pelvic floor on the bottom. Numerous interventions will be presented that use positioning and ventilatory strategies to optimize motor performance. Neuromotor breathing retraining techniques, manual assistive cough techniques, and musculoskeletal techniques related to breathing, will be the focus of treatment labs. Multiple patient cases will be presented throughout the course, as well as two live patient demonstrations if possible. The emphasis of the course will be on developing practical, quick clinical solutions for pediatric and adult patients in all practice settings.
This course is offered as:
1 day of Theory - Thursday 9th September 2021 or
1 day of Theory plus 3 days practical - Thursday 9th September- Sunday 12th September 2021.
The course will be presented by Mary and her faculty.
Course Objectives:
At the conclusion of Day 1, participants should be able to:
1. State how the mechanics of breathing and postural control are inter-active and inter-dependent components of normal movement strategies.
2. Contrast normal musculoskeletal development of the chest in infants and the concurrent motor skill acquisition to that observed in patients with impaired trunk function resulting from multiple different diagnostic categories.
3. Position patients for optimal cardiopulmonary function (physiological and biomechanical) with simple equipment such as towel rolls and pillows in recumbent and upright positions for use in and out of hospital settings.
4. Optimize patient function by integrating appropriate ventilatory strategies with all movements from low level activities to athletic endeavours.
5. Apply theoretical concepts to multiple clinical cases.
6. Integrate the cardiopulmonary system into a multi-system physical and physiologic evaluation approach to motor dysfunction.
At the conclusion of Day 2-4, participants should be able to:
7. Identify numerous different breathing patterns and evaluate their efficiency for use while moving, talking and eating.
8. Evaluate breath support and postural control needs for verbal communication and perform therapeutic techniques to improve respiratory and/or trunk muscle support for phonation.
9. Design an airway clearance program targeted to a patient's particular need using the principles of mobilization, expectoration and management.
10. Demonstrate multiple airway clearance techniques and state when each would be applicable for a particular patient.
11. Participate in a live patient demonstration (if a patient is able to participate) and suggest possible evaluation and treatment ideas based on the course material.
12. Demonstrate pulmonary therapeutic exercise techniques geared toward modifying inefficient breathing patterns and state when each would be applicable for a particular patient.
13. Demonstrate the integration of a multi-system approach to patient's motor deficits by designing an individual evaluation and intervention program for specific clinical problems and share the findings with the class.
14. Perform a trunk-spine-shoulder musculoskeletal screening evaluation looking for restrictions related to breathing difficulties that may have developed from 1) a primary pulmonary dysfunctions such as cystic fibrosis, asthma, or other chronic lung conditions or 2) a secondary breathing disorder arising from neuromuscular disorders, postural mal-alignment, pain, injuries, anxiety, etc.
15. Demonstrate the use of thoracic cage/spine exercises and hands on techniques to enhance rib cage and thoracic spine mobility and/or pulmonary function and state how this could lead to improved physical participation and health.
16. Participate in a live patient demonstration (if a patient is able to participate) and suggest possible musculoskeletal evaluation and treatment ideas based on the course material.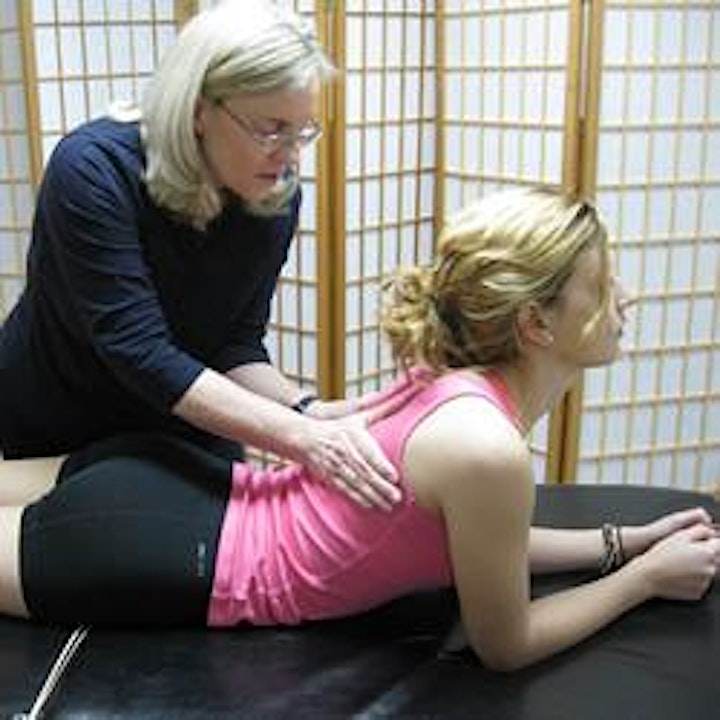 Instructor: Mary Massery, PT, DPT, DSc or Faculty
Email: mmassery@aol.com
Website: www.masserypt.com
BIOGRAPHY
Dr. Massery received her BS in Physical Therapy from Northwestern University in 1977, her DPT from the University of the Pacific in 2004 and her DSc from Rocky Mountain University in 2011. Her publications and interests focus on linking motor behaviors to breathing and/or postural mechanics in both pediatric and adult patient populations.
Dr. Massery has been invited to give over 900 professional presentations in all 50 US states and 18 countries worldwide, including more than 100 presentations for the American Physical Therapy Association, and a full-day post-conference program at the World Congress of Physical Therapy in Singapore. Mary has delivered keynote and major addresses on topics such as cystic fibrosis and posture, neuropulmonary deficits, pectus excavatum (chest deformities), connections between posture & breathing, and PNF (Proprioceptive Neuromuscular Facilitation).
Mary has received national awards from the APTA, including its highest clinical award, The Florence Kendall Practice Award, honoring "one's outstanding and enduring contributions to the practice of physical therapy." She has been honored as Outstanding Alumnus of the Year by each of her 3 universities. She was also awarded Northwestern University's Alumnae Research Achievement Award. Mary continues to maintain a private practice in Chicago, specializing in breathing and postural dysfunction.